A new minor, launched in the fall semester, aims to reflect the interests and experiences of Southern's student body, with a close look at global Black history and contemporary Black people's lives.
The new Africana Studies minor provides both a historical and a current-day understanding of African diasporic people's history, politics, and cultural contributions. The minor draws inspiration from the ethnic diversity of the Black student body and takes an interdisciplinary approach to teaching and research.
In a recent meeting of the first course taught in this program — AFR 100 – Introduction to Africana Studies — taught by the minor's co-coordinators, English Professor Brandon Hutchinson and History Professor Siobhan Carter-David, students discussed their reading of the poem "Brother" by Pat Parker and an essay by renowned scholar and critic Barbara Smith, "Homophobia: Why Bring It Up?"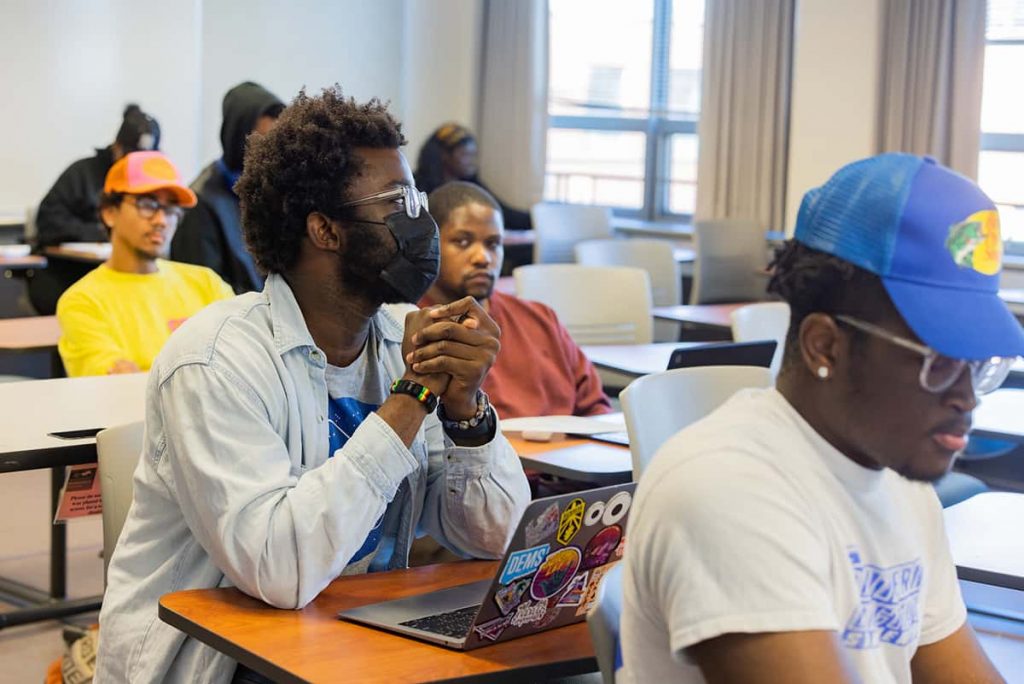 During a lively discussion of intersectional oppressions, Carter-David explained the thinking behind the creation of the Africana Studies program, recounting that years ago at Southern, an African Studies minor was created by a professor who taught African history. That professor is now retired, leaving the faculty without an African history specialist. Given the interests and experiences of both the student population and the current faculty, it made sense, Carter-David said, to broaden the scope of the earlier program to draw in other disciplines. Africana Studies looks at experiences of people with African roots who may have moved elsewhere in the world and pulls in such disciplines as economics, public health, history, literature, politics, social work, among others.
Carter-David said that in developing the new minor, she and Hutchinson wanted to offer courses that were diasporic in nature so that the program is reflective of Southern's student body. "With a diversity of knowledge, scholarship, and teaching, we're able to offer students a rich experience," Carter-David said.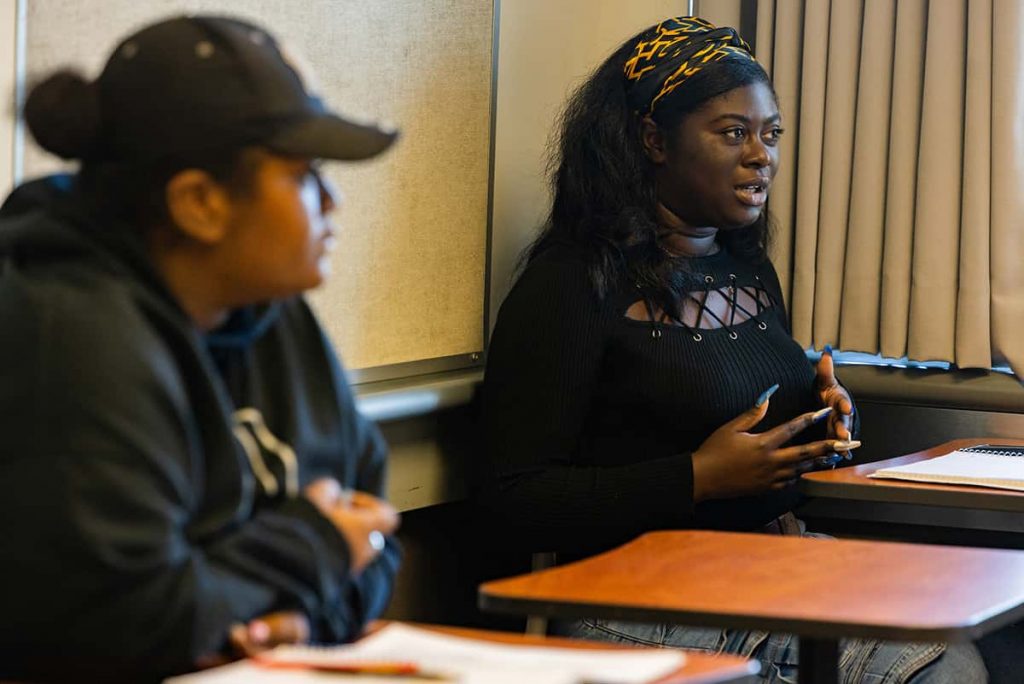 Hutchinson agreed, adding that the minor is interdisciplinary in design. "We're trying to create something that students want to take and can see it benefiting their lives," she said. "We're paying attention to where students seem to be alive, where they have the most energy."
Students in the class are responding positively to the new program. Abdul Osmanu, a senior, said he took the intro course because it's interdisciplinary in nature. "There's open space in Africana studies to bring in your own experience alongside the academic work," he said.
Anthony Jenkins, a sophomore, said he enrolled in the course because he wants to "get a better understanding of myself and my heritage. In this class, we can share our opinions in a safe setting."
Sophomore Leeasya Lindsey said she chose to attend Southern in part because she had heard about the Africana studies minor. "I also appreciated the diversity of the student body," she added.
Hutchinson and Carter-David are inspired by their students, and Hutchinson said, "This class is our first go at this. It's aspirational. We want to create more courses that breathe life into Africana studies. We need support from the university to help us create these courses."
Two courses are required for the minor – both AFR 100 – Introduction to Africana Studies, offered Fall semester, and AFR 475 – Seminar in Africana Studies, offered Spring semester. In addition, students must take four more courses approved by program directors or from a list of pre-approved courses.
For Black History Month, the Africana Studies Program is co-sponsoring an exhibit of works by seven Black artists in the Lyman Center Lobby Gallery. The exhibit, "Seven Lenses: Documenting Black Culture," will be on display at Lyman from January 30-March 4, 2023, with a reception on Thursday, February 16 from 6-7:30 p.m. Read more about the exhibit here.