Charliana Criscuolo
Sophomore
Healthcare studies major
(pre-nursing focus) with a minor in sport studies

Owl Football, student assistant wide receivers coach
and operations manager

Getting started: As a high school student, Criscuolo was the team manager
for several sports, including football at both North Branford and Guilford high
schools. She wanted to continue working with athletics in college, so she
reached out to the football coaches at the three universities she applied to,
including Southern.

One got back to her: Criscuolo chose Southern. Soon after, Thomas Godek, '88,
head football coach for the Owls, found a YouTube video that Criscuolo had
created for her high school senior capstone project; it highlighted her many
contributions to the teams she worked with. Impressed, Godek reached out —
and she took the call while getting a manicure in preparation for the North
Branford senior prom.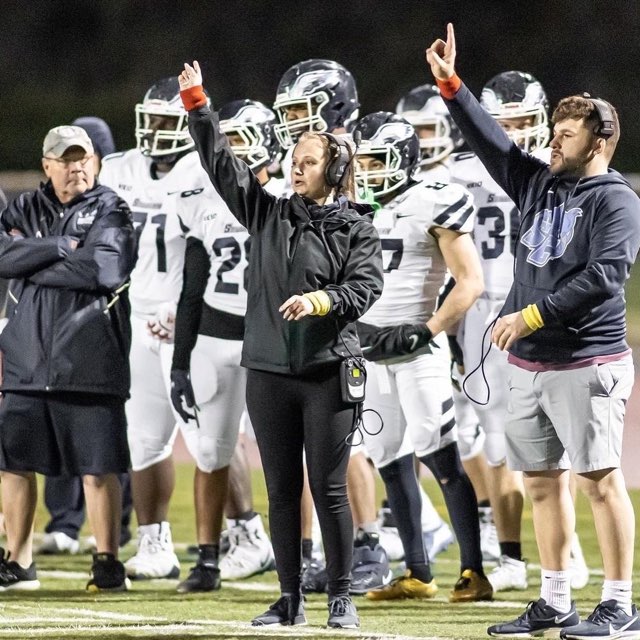 She joined the Owls football staff: as an operations manager in summer 2021. Her first task was helping with summer football camps held on campus.
It meant long days, often in blistering heat. She loved it.

A promotion: From the onset, Godek asked about her interest in coaching as a
potential career. "I thought he was joking at first," says Criscuolo. He wasn't
and, in spring 2022, she became the student assistant wide receivers coach
while continuing as the operations manager.

The days are long: In addition to attending practices, games, and events,
Criscuolo often works in the field house before and after class. A typical day
might find her assisting with scheduling and paperwork, breaking down films
to prepare for games/practices, running drills with players, or supporting
recruitment and scouting efforts.

Connecting: Criscuolo comes to coaching from a unique vantage point. Beyond
being a woman, she's younger than most of the players, and, as a fellow
student, a peer. "People ask me about the players, especially the wide
receivers," she says. "Wide receivers can be stereotyped as hotheads, cocky.
But they are the most calm, respectful people I have ever met. They help me
with everything. They know I am still learning with them."

Feeling proud: "There was a moment last spring — the first play I was signaling
[from the sidelines] — that really stands out," she says. "Knowing that the guys
were looking at me to lead them in the right direction and that they were
trusting in my ability was amazing."

Why Southern: "I like that Southern is close to my home in North Branford, and
the nursing program is great," says Criscuolo. "It is a big, beautiful campus, but
it feels small in the very best sense. It is a community."
*U.S. Department of Education Office of Postsecondary Education, Equity in Athletics Disclosure Act