Jordan Davis initially had zero interest in throwing a javelin. As a student at Mark T. Sheehan High School in Wallingford, Conn., he was a star football player and track sprinter. He also had played baseball since childhood. "Center field, so I had a good arm," he says. So, it made sense when his high school coach asked him to give the javelin a try.
Davis, then a junior, took some persuading. "But he finally convinced me to do it — and right away it just clicked," he says. Davis closed out that first year of javelin training by winning both the 2019 Connecticut Interscholastic Athletic Conference (CIAC) Class M and State Open championships — then placed third at nationals.
The stage was set, when his last year of high school competition was canceled due to the COVID-19 pandemic. Further growth in the sport would have to wait until college — and Davis knew he wanted to play college football as well. He had helped Sheehan football win a 2019 state title and was a Walter Camp Foundation All-Connecticut First Team selection. As a freshman, he'd teamed up alongside his older brother Zach, who went on to play for Fordham University. Davis' early dream, he says, was to compete collegiately in track and field and football at a national sports-powerhouse university. "But I wasn't there [at that level] for both sports," he says.
Enter Southern, his first "official" college visit. He talked with the football coaching staff as well as head coach of track and field John Wallin. Once again, "it just clicked," he says. "Right away, I told my mother. 'This is where I want to go. It feels like home.'"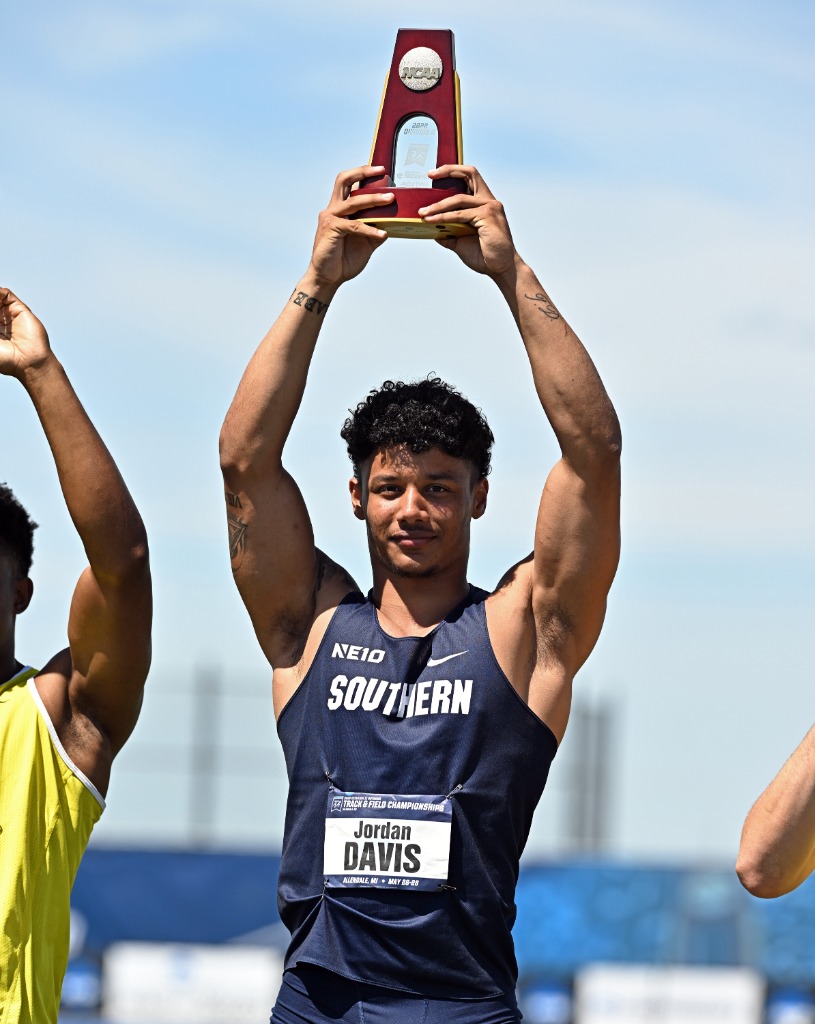 Building a Champion
Davis settled in at Southern, majoring in business administration with a minor in computer science. He aptly balanced the demands of two sports: football with a focus on high-energy, team-based training as well as track and field with an emphasis on self-growth, he says.
The javelin throw brought immediate success. As a freshman, Davis was first at both the 2021 New England Championships (64.30 meters) and the Northeast-10 (NE10) Outdoor Championships (62.39 meters). The NE10 named him the "Outdoor Men's Field Rookie of the Year."
Then it was on to the 2021 NCAA Div. II Outdoor Track and Field Championships, where he placed ninth — a strong performance that nonetheless disappointed the competitive student-athlete. "I held it as a personal grudge. A challenge," recalls Davis, of watching the top finishers receive their awards.
The following year brought sweet vindication: Davis standing atop the podium at the NCAA Div. II Championships to receive the gold medal in the javelin throwing event. "It was awesome, a blessing, and somewhat indescribable," says the athlete, who, earlier in the season, had successfully defended his NE10 and New England championship titles. Overall, the program was equally successful, winning the NE10 indoor and outdoor championships as well as the New England title.
At the 2022 NCAA Championships, Davis won with his second throw, which came in at 72.54 meters. "I knew it was going to be a personal record," he says of the throw, which is a Southern program record as well. "For javelin, when the throw is good, you know immediately. It's a feeling that runs through your body," he says.
Davis had entered the NCAA tournament seeded second — with a year of college experience under his belt. It made all the difference. "Last year, was a huge learning period. Each meet was about coaching. This year was about competing," he says. He notes a change in mindset, developing the self-confidence needed to be "that dude," the one who sets the bar.
His coach concurs. "From the moment he came to Southern, we've discussed being in control of your emotions, thinking logically not emotionally — which is difficult for every young man on this planet," says Wallin, who alongside assistant coach Brian Nill earned regional year-end awards from the U.S. Track & Field and Cross Country Coaches Association.
"Being strong and fast are critical. But being able to perform your best when it matters most is a different challenge entirely," he adds.
As illustration, the coach recalls Davis' earlier performance at the New England Championships. He was not winning when he stepped up to take his final throw — and unloaded the meet record for the victory. "I know he had butterflies in his stomach, and I'm sure he was very nervous," says Wallin. "But everyone else thought he was a cool customer."
It was another world-class performance from the talented student-athlete who, only a few years ago, had to be convinced to play the game.