As a university committed to social justice and anti-racism, Southern strives to support first-generation students, who comprise about 39% of the undergraduate student body. They're a diverse group, representing different economic backgrounds, ages, races, and nationalities. But all are united by a single definition at Southern: neither parent has completed a four-year college or university degree.
In the spring 2022 semester, the university reached out to these students with a short questionnaire. Our goal: to learn a bit of their stories — the successes and challenges. The motivations that illuminated their journeys and the stumbling blocks along the way.
They also were invited to participate in a photo shoot conducted by Isabel Chenoweth, university photographer, and Callie Newberg, a student photographer and sophomore special education major. The resulting exhibit is online at SCSUphotography.exposure.co.
In the fall issue of Southern Alumni Magazine, we spotlight five of these first-generation students. All are inspiring — and all show a firm commitment to earning a college degree. A lot is at stake, most obviously, income level. Consider a report released in May 2022 by the U.S. Bureau of Labor Statistics aptly called, Education Pays, 2021. The median weekly earnings for those with a bachelor's degree was $1,334 — significantly more than for those with only a high school diploma ($809) or some college but no degree ($899).
There are, of course, more benefits — both personal and societal. When compared to those with only a high school diploma, graduates who have earned a bachelor's degree are significantly less likely to live in households affected by poverty or participate in public-assistance programs. The boons continue: bachelor's degree recipients are more likely to have employer-provided health insurance, enroll their children in preschool programs, volunteer, vote, and even exercise.*
But it's the personal satisfaction that comes across most strongly in many Southern first-generation students' stories. Beatrice Tartt-Warren is a telling example. In her 50s, she returned to college part time after facing formidable obstacles, including a life-threatening disease. Today, she's a senior with a stellar academic record, inching ever closer to earning a college degree. "It feels so good," she says, which in this instance, is everything.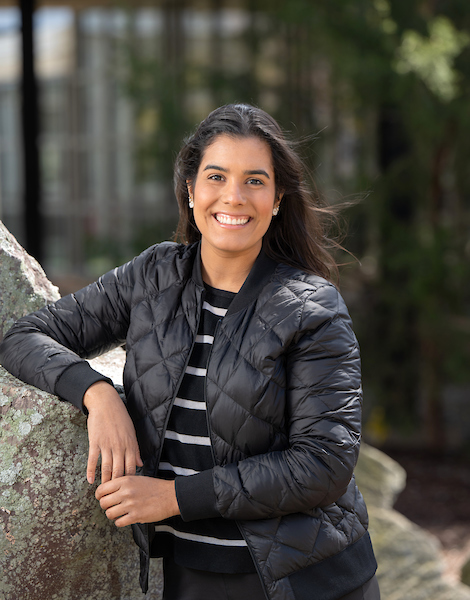 Camila Ramos, '22
Earning a university degree was a journey for Camila Ramos — in every sense of the word. Born in Brazil, she came to the United States with her family as a high school student, determined to succeed. "My parents didn't have the same opportunities as me, so my main motivation was to honor their sacrifices and show that their hard work would not be in vain," she says.
When it came time for college, challenges abounded. "There were language and cultural barriers as well as financial ones," says Ramos. Even commuting was a hurdle. "Until the end of junior year, I'd spend nearly three hours of my day — every day — just on transportation," she says, of the commute that included a train ride from Bridgeport to New Haven to catch the free shuttle to campus. She'd arrive at about 8 a.m. — and, often, wouldn't get home until 9:30 p.m. or later, after studying and completing homework.
"If I said that I didn't cry many times due to stress, that I didn't doubt myself or my choices, I'd be lying," she says. Still, while Ramos knew she didn't have the advantages of some of her classmates, "I did have everything I needed to succeed," she says.
A biology major with minors in chemistry and medical Spanish, she grounded her studies in research. In summer 2020, she was named a Werth Entrepreneurship Industry Academic Fellow, a team-based program funded by Peter J. Werth that explores the intersection of innovation, sustainability, and science. The following year she presented research on epithelial tissue from seals' nasal cavities at Southern's Undergraduate Research and Creativity Conference. (The study touched on the semiaquatic animal's sense of smell.)
Along the way, Ramos worked on campus as a Peer Academic Leader (PAL) with the Center for Academic Success and Accessibility Services. PALs support Southern students in a variety of academic disciplines. She also was a Presidential Ambassador, representing the university at key functions. "Looking back at my freshman year, I'm a completely different Camila," she says of her growing campus involvement.
In May 2022, Ramos graduated cum laude — and the next month, she started as an intern with Biohaven Pharmaceuticals, which targets neurological and neuropsychiatric diseases, including rare disorders. She's now a medical assistant, and her long-term aspiration — to become a physician assistant — is in sight. "Commit yourself to the journey, fix your eyes on the target, and don't look back," she says.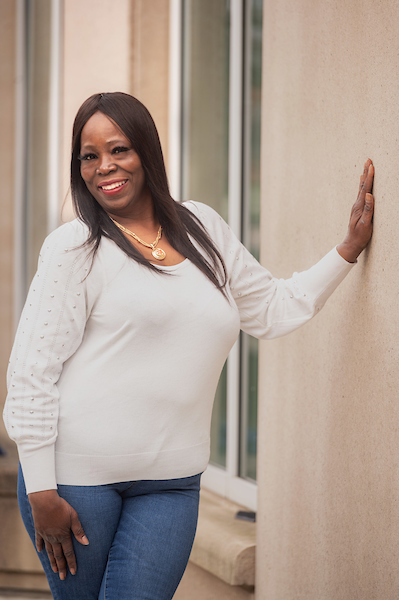 Beatrice Tartt-Warren
Beatrice Tartt-Warren could teach a master's class on perseverance. "Out of six children, I am the first to attend college to earn my degree," says Tartt-Warren, an adult student who is majoring in healthcare studies. Her road to Southern was laden with profound challenges, including the death of her husband from a heart attack in 2009. She is from New York but relocated to Connecticut to raise their two children alone. Then, in 2013, Tartt-Warren was diagnosed with breast cancer.
"Today, however, I am eight years cancer free," she says. "I decided to go back to school to finish my degree and do something for myself. I was a wife, a mother, and a patient with a life-threatening illness. Once I overcame life's obstacles there was nothing holding me back."
Tartt-Warren enrolled at Southern in 2020, with transfer credits from several institutions of higher learning, including the City University of New York system and Gateway Community College. Her knowledge and experience show in her advice to students: use the services Southern offers. [At the national level, first-gen students are less likely to access most services than continuing-generation students.] "I had a problem with making ends meet and lacked food supplies in my household. I cannot tell you how much the food pantry at school has helped," she notes.
Studying part time at Southern, she is now a senior — a commitment to excellence is her hallmark. She starts the fall 2022 semester with a 3.71 [out of 4] cumulative grade point average. "It feels so good," she says.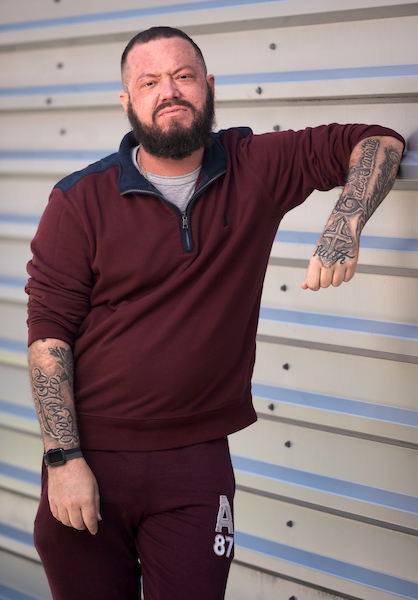 Carl Dellarocco
For Carl Dellarocco, earning a college degree is part of a comprehensive plan to change his life — nearly every aspect of it. "I was a high school dropout, got in trouble, and never cared about my future," he says, adding a string of former self-descriptors: overweight, depressed, a pack a day smoker, "always at the bar, and in poor health both mentally and physically," he says.
A lot has changed for Dellarocco. He's lost 80 lbs., has been smoke- and alcohol-free for more than two years, attends church weekly — and, at age 38, he's a college sophomore and Dean's List student.
The journey was not always easy. Dellarocco had not set foot in a classroom in 20 years when he arrived on campus. "The challenges were everywhere," he concedes. But a simple formula led to success: go above and beyond. His attendance record is close to perfect, he says — and then there's the Math Emporium. A new classroom and lab space on the lower level of Buley Library, it's designed for students in "MAT 100P, Introductory and Intermediate Algebra," who are required to spend five hours per week there, a combination of instruction time and labs; Dellarocco devoted three to four hours a day.
The staff noticed his commitment and hired him to work at the front desk. Elizabeth Hart in the Department of Mathematics is a mentor, he says, "a main reason for my college career heading in the right direction." Hart is equally inspired and recommended that Dellarocco share his motivational story with students. Dellarocco — who is majoring in tourism, hospitality, and event management and minoring in English literature — has given more than 40 talks.
The hard-working student takes nothing for granted. "This is my second chance at a good life and a good future," he says. "The best advice I can give anyone is show up and try your best. The rest will take care of itself."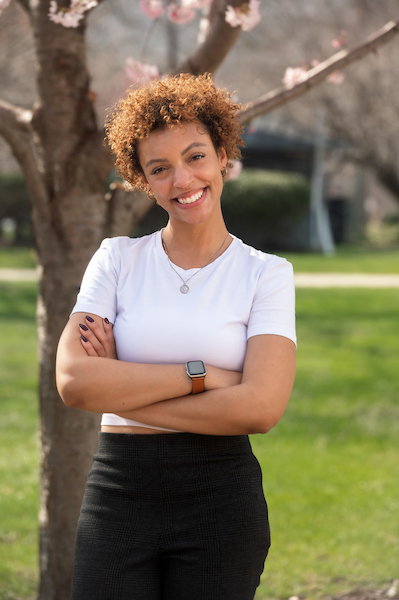 Leana Mauricette, '22
A month after graduating summa cum laude with a 3.96 grade point average, Leana Mauricette was named a CTNext Governor's Innovation Fellow, a program that places the "most promising college graduates" with innovative companies throughout Connecticut. More than 400 applied for the initiative, with only 33 ultimately selected, Mauricette among them — an achievement made even more impressive considering her uncertain path to college.
"I was not expected to pursue higher education. It had never been talked about growing up," she says. The overriding belief in her household, as she recalls: college was important only if you planned to be a doctor, nurse, or lawyer.
Mauricette did not tour prospective colleges and was unsure how she'd pay for her studies. But she forged ahead. "My experience at Southern as a first-gen student was filled with teachable moments, joyful experiences, and some difficult times," she says.
The challenges included financing college, virtual learning during the COVID-19 pandemic, and "finding my place as a woman of color in STEM [science, technology, engineering, mathematics]," says Mauricette, who majored in environmental systems and sustainability and minored in business administration.
She found support through community. In addition to connecting with faculty and peers in her major, she turned to the Office of STEM Research and Innovation at Southern, which offers professional development and entrepreneurship opportunities; the Bioscience Academic and Career Pathway (BioPath), a partnership between Southern and the city of New Haven, which provides academic and experiential programs (internships, boot camps, and research opportunities); and University Access Programs, dedicated to serving academically motivated first-generation, low-income, and other historically underrepresented students.
Mauricette, in turn, became a resource for others. Weeks before graduating, for example, she joined experts from Pfizer and Boehringer Ingelheim as a panelist for an on-campus forum, Connecting Students and Professionals of Color, which highlighted careers in STEM fields. Her advice to students: take every opportunity to connect. "By putting myself out there and asking for help when I needed it most, I created my own academic family," she says.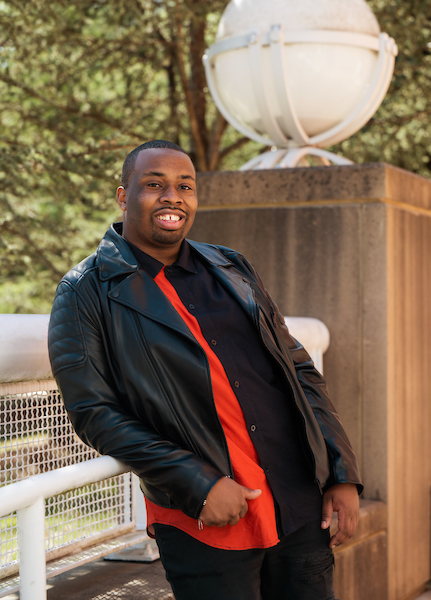 Kyle Augustine, '19, M.S. '22
Kyle Augustine has earned two Southern degrees: a bachelor's in history (2019) and a master's in education (2022). But he's quick to stress the challenges facing first-gen college students. His parents came to the U.S. from Trinidad and Tobago in the 1990s, having both graduated from high school. They were fully supportive of Augustine's college aspirations. But when it came to navigating the application process, finalizing his college admissions essay, and applying for financial aid, he was largely on his own.
The Southern Educational Opportunity Program (SEOP) helped him orchestrate college life. "This was my foot in the door," he says of the program, launched at Southern in 1972, with the belief that underrepresented students' success is determined by their motivation, regardless of personal circumstances.
Still, Augustine struggled as a new student. "I was barely attending class and partying with my friends three nights a week," he says. Broke and failing two classes at midterms, he took it to heart when, "my [SEOP] advocate gave me a reality check," he says. Augustine signed on for tutoring at what's now Southern's Center for Academic Success and Accessibility Services. He joined the Caribbean Student Association (becoming president), the Black Student Union, the Organization of Latin American Students, and B.R.O.S.E (Brotherhood of Scholarship and Excellence). He also took part in an on-campus protest after Police Officer Darren Wilson was acquitted for the 2014 shooting of Michael Brown in Ferguson, Missouri.
Along the way, Augustine emerged a prominent leader of color on campus. Life came full circle when he became a graduate intern and advocate with University Access Programs at Southern — the umbrella office which operates SEOP and other programs that support first-generation, low-income, and other historically underrepresented students.
Augustine's commitment to student success continued post-graduation. In July, he became a college and career counselor with Achievement First, a network of nonprofit, high-performing, college-preparatory, K-12 public charter schools in Connecticut, New York, and Rhode Island. Among his messages: I made it, so can you.
* Education Pays 2019, The Benefits of Higher Education for Individuals and Society, The College Board
MORE AT SouthernCT.edu/first-gen