The Division of Diversity, Equity, and Inclusion will celebrate the official opening of its new suite of offices in Engleman Hall with an open house on Thursday, October 20, 3-4 p.m., followed by a book talk in the Adanti Student Center Theater from 5-6:30 p.m. The talk is a conversation with the editors of the book We're Not OK: Black Faculty Experiences and Higher Education Strategies, which looks at the unique struggles of being a Black educator at a predominantly white institution.
The grand opening will begin at 3 p.m. in the Engleman Hall Inner Courtyard and later move inside for refreshments in the DEI office spaces in Engleman B110. Anyone wishing to attend the grand opening is asked to RSVP here.
The unveiling of the new DEI space is a milestone for the university, which established the institution's first DEI Division just over two years ago. Diane Ariza, vice president for diversity, equity and inclusion, who joined Southern in the summer of 2020, said, "We often utilize Diversity, Equity, and Inclusion (DEI) programs as a vehicle to get the conversation started by creating space through awareness. Having this new designated DEI space goes beyond awareness. It is an intentional space where students, faculty and staff share stories, ask questions and build relationships with our staff to co-create, be co-conspirators, and transformational agents of change. This space allows for us to build bridges, to connect the broad spectrum of diverse experiences for a more inclusive, equitable, and social justice Southern. Then… you can hear the collective voice of Southern."
Along with Ariza, the DEI staff includes Kelvin Rutledge, associate vice president for institutional inclusive strategies and change management; Paula Rice, director of Diversity and Equity Programs; Daisy Torres-Baez, faculty and staff diversity recruitment and retention specialist; Patricia Gagliardi, director for inclusion and restorative justice education development; and Cindy Cardozo, administrative assistant.
The discussion of We're Not OK with editors Dr. Antija M. Allen and Justin T. Stewart will be moderated by Dr. Steven Hoffler, SCSU associate professor of social work.
Allen is director of the Pellissippi Academic Center for Excellence (PACE) and a tenured assistant professor of psychology at Pellissippi State Community College. Stewart is a risk management advisor in corporate banking, a faculty career coach at Allen Ivy Prep Consulting, and a former entertainment journalist.
We're Not OK: Black Faculty Experiences and Higher Education Strategies shares the experiences of Black faculty to take the reader on a journey, from the obstacles of landing a full-time faculty position through the unique struggles of being a Black educator at a predominantly white institution, along with how these deterrents impact inclusion, retention, and mental health.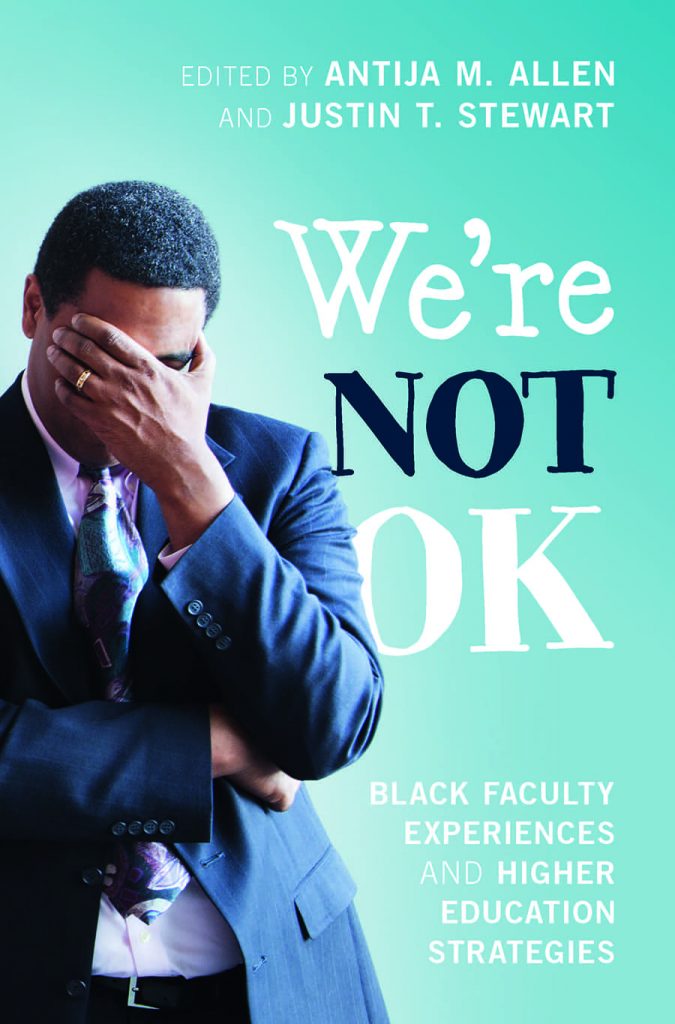 The book provides practical strategies and recommendations for graduate students, faculty, staff, and administrators, along with changemakers, to make strides in diversity, equity, and inclusion. More than a presentation of statistics and anecdotes, it is the start of a dialogue with the intent of ushering actual change that can benefit Black faculty, their students, and their institutions.
A book signing with the editors will follow the conversation.