There is nothing typical about Johnathan Moore's '21, performance of "Beautiful Dreams." Sitting beside his black cello in his YouTube video, the talented cellist holds your gaze as he deftly plucks, strums, and even drums his instrument, all the while infusing his original composition with reverbs, delays, and trompe l'oeils.
The mesmerizing performance is funky, re-envisioned, and absent of the usual trappings associated with classical music. It is exactly what Moore, a recent graduate of Southern Connecticut State University's Applied Music program, wanted.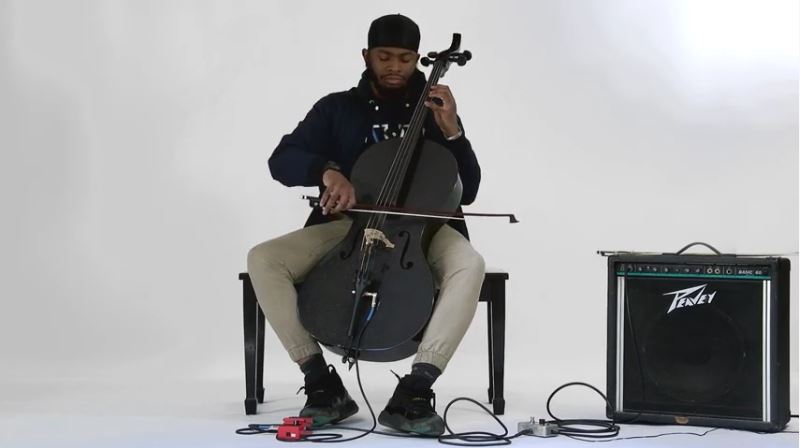 Moore didn't set out to pursue a degree in music, though he has been playing the cello since fifth grade, when he was a student at Betsy Ross Arts Magnet School. He enrolled in college in New York to study cartooning, but after just one semester realized it wasn't the right fit.
"I came back to Connecticut and took a little break and my mom said, 'You should go to Southern for the cello. You love playing the cello.' At first I was hesitant, but I gave it a shot. My first semester was good, so I said, 'Why not?'"
Pursuing a degree in music, on the surface, might not seem like the most bankable option, but make no mistake: the music industry is ripe with opportunity, and Moore was getting career advice from experts.
"I'm inspired by my family, they're all musicians," he said. "My mom is a singer and recording artist, my dad is a bass player, my brothers play instruments. My mom saw that art wasn't for me, but she said music is the right path for me."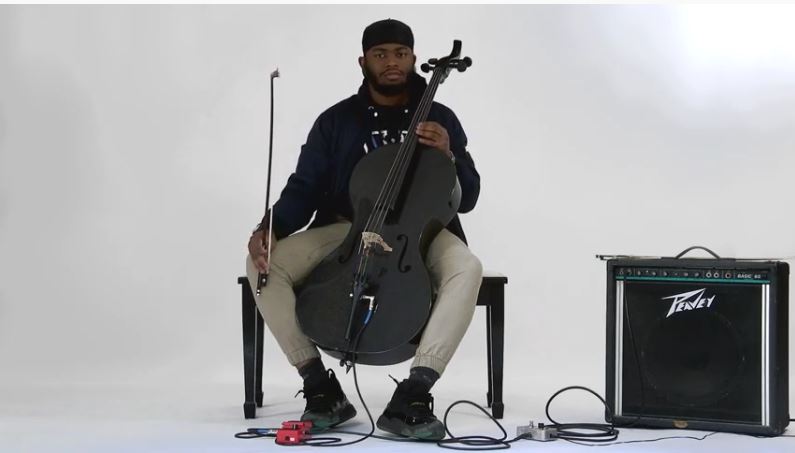 Support for musical-minded students seeking a similar path at Southern to Moore's has never been more accessible. The Stutzman Family Foundation, established by Walter Stutzman, '09, has donated generously to Southern's music program since its inception. The Stutzman Family Foundation's most recent pledge of $1,000,000 will fund Southern's music program, in addition to providing merit-based scholarships and summer music lessons. Walter Stutzman is an adjunct faculty member with the Music Department and the First Year Experience (FYE) program; the foundation was named in tribute to his parents, Geraldine and Jacob Stutzman.
Despite lugging his cello around campus, which Moore said can be "a pain," one of the reasons Moore connected so deeply with Southern's music program is that it gave him the ability to bring a unique sound to his music, which is why he chose the cello in the first place.
"My first instrument was the drums, but the cello spoke to me," Moore said. "I loved the sound. I wanted to be different and stay unique. My approach to my music is to use modern-day techniques to create live music. I use different types of systems for different types of effects. It's more fun and it gives you a sound that sounds like I have other instruments playing with me."
In addition to the Stutzman Family Foundation's newest gift, the foundation also has outfitted the program with amenities such as enhanced digital audio work-stations, practice rooms, and computers, as well as music scholarships and free weekly voice or instrument lessons.
Top-rated musicians (who appear regularly as performers of jazz, classical, opera, and musical theater) teach in the department, which is just one of five in Connecticut to receive accreditation from the National Association of Schools of Music (NASM). Rebecca Patterson, New Haven Symphony Orchestra principal cellist, taught Moore and helped him prepare the YouTube videos that feature his composed songs, "Journey" and "Beautiful Dreams."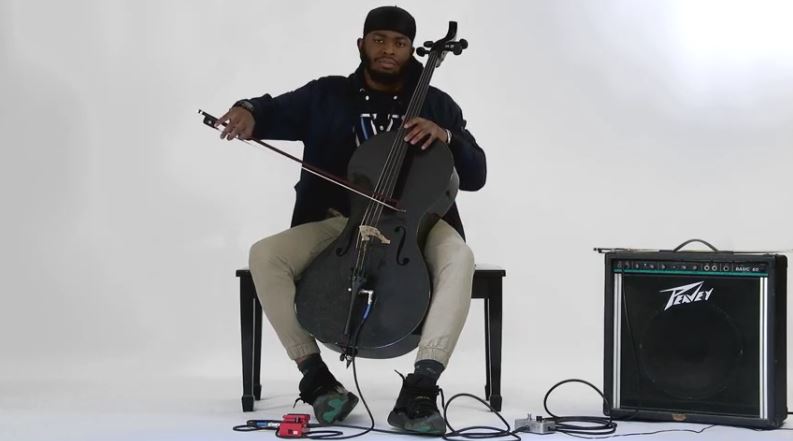 The technology and contemporary production course offerings that enabled Moore to mix traditional and non-traditional techniques has helped keep the music curriculum relevant – and students like Moore engaged.
"This really reinforces my thought when we started the music program," Stutzman said, "that we want it to enable musicians to become the musicians they want to be, and our foundation is delighted to support that.
"John is making music in his own way," Stutzman said. "He is an example of the whole thing. He is talented and has a particular vision, and he articulates that vision and presents something that's cool and unique. We still have many majors who study classically and traditionally. But you can do whatever you want with music."
That's not to say instruction is free-form.
"The music program is more than just playing music, it's breaking it down into systems and thinking beyond the song," Moore said. "It takes it to a higher level. The [instructors] want you to think, 'How is this song constructed?'"
In addition to bolstering emerging technologies, the Stutzman Family Foundation's latest gift also will help support its upcoming Music Therapy program, the only of its kind in the state.
Associate Professor Joshua Groffman, who became Music Department chair in August 2020, said, "As we build the program we're excited to make use of the support, of which the applied lessons program is a big part. Applied lessons are incredibly expensive and it's almost seen as a luxury, but we can offer free, individual instruction, and many other schools can't say that."
There are between 50 to 60 lessons taught each semester. Students study everything from jazz and classical voice, to piano, guitar, percussion, violin, cello, conducting, and even computer music production. Students also perform "juries" at the end of each semester to demonstrate what they've learned.
"There are so many viable careers in music," Groffman said. "Think about how much music you hear every day between movies, television, radio, and now on social media. There's music around us every second of every day. Someone has to perform, edit, refine, produce, and record that music. Beyond that, music organizations need writers and composers and grant writers. Those are all the skills that our music department teaches."
Moore's talents will be on display when he plays "Beautiful Dreams" at a September music festival in New Haven. He's never played on the stage before, but that isn't stopping him.
"I've been doing it for so long," he said, "I'm not nervous. I just want to be involved in the arts."
To Stutzman, that's the only thing he ever wanted in return for his generosity.
"The greatest thank you I get is hearing people play or sing and getting excited about music," Stutzman said. "If you're serious about music, we will get you there."