Students in Assistant Professor of Public Health Marian Evans' Women's Health class at Southern are getting hands-on writing experience with a New York Times best-selling author.
Rachel Kauder Nalebuff is the author of My Little Red Book, an anthology of stories about first periods, collected from women of all ages from around the world which was widely acclaimed and published in 2009. New Haven-based Nalebuff is at work on a second rendition, "Our Red Book."
Not only did students get the chance to experience a guided writing exercise led by Nalebuff, they are writing pieces that the class will review, and they'll pick some of the best stories to send to Nalebuff for possible inclusion in the book.
Nalebuff's collection started in 2003 as a family oral history project, when she learned that her great-aunt got her first period on a train while fleeing Nazi-occupied Poland. Authors such as Meg Cabot, Erica Jong, Gloria Steinem, and Cecily von ZiegesarIt contributed to My Little Red Book.
The subject matter is a good fit for Evans' course, which covers everything from women's health and consciousness, sexuality, menopause, health equity and privilege, women's rights and reproductive rights, and, of course, the menstrual cycle.
"I push students to think about menses and the messages that we receive from our society about our periods," Evans said.
Evans and Nalebuff met several years ago, when they worked on a choir in the New Haven area. Evans actually had been using Nalebuff's My Little Red Book in her curriculum; passionate about similar issues, the two developed a friendship.
Nalebuff reached out to Evans this fall when she began commissioning writers, artists, and activists to contribute pieces for My Little Red Book, which will include stories "that highlight period stories across gender identities, and the work of activists, writers and artists working today."
"I wanted to see if she had anyone to recommend for a contribution," Nalebuff said. "I was commissioning longer pieces, and so my starting place is trusted friends and colleagues, and Marian is one of them. She's an educator and mentor, and she also has thought about conceptions around menstruation, where they come from, and their origins and taboos."
Evans enthusiastically responded that her class could be a great starting point.
"Rarely do students get to work with a New York Times Best-selling author, and I wanted my students to be able to work with one," Evans said. "And hopefully there will be a few class submissions that will be included in the book. Rachel and I decided to build two sessions to make sure the students knew what she was looking for, it gave us an opportunity to read some of the new entries and to do a guided writing session."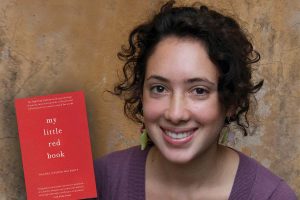 Michele Leite said the class and writing session have made her reflect upon how someone's experience of menstruation can shape their identity. (At age 61, Leite is a junior who is interested in self-designing a degree in health education and public health with a focus on women, gender, health and aging.)
"The experiences women have, they are important to share," Leite said. "They may be embarrassed or ashamed, and if they hear other people's stories, they understand that we are sharing a collective experience. Sometimes hearing a story can calm something in someone's head."
Nalebuff concurred: "I keep coming back to an interview in the book with musician Madame Gandhi, who says that stigma is one of the 'most effective' forms of oppression because it keeps us isolated, through our struggles and our joys. Sharing our words becomes a way to take our public health education into our own hands, and to collectively feel into an often hidden realm of the human experience."
Even if the students' contributions do not make it into My Little Red Book, Nalebuff has agreed to donate $1,000 to the class to give as a donation to a charity of their choosing, and Evans plans to "definitely build in a writing piece similar to what we have done with Rachel for this class and incorporate her book along with it."
"The world is crying for connection and relationship on simple things," Evans said. "It is my hope that students will take away a few messages. We all have stories about our periods and their experience and stories are important for the next generation. I also want them to know that we can take something so simple as the story of our first periods and turn it into a best-selling book."
Interested in Contributing to "Our Red Book"?
Nalebuff has an open call for submissions on her website (http://www.mylittleredbook.net/submit_story.php) for "Our Red Book," which will include stories that highlight first-period experience across gender identities and be published by Simon & Schuster in the U.S. and Virago in the UK in 2022. The deadline is January 2021. Written contributions should be under 1,000 words and or shorter. Contributions can take many forms (essays, interviews, poetry, comics, a hybrid form).
Stories can be about first periods, last periods, missing periods, not having a period, and other meaningful period stories across ages. New commissioned stories include perspectives on being trans and feeling "period negativity," one writer interviewing their two grandmothers, free-bleeding while running a marathon, a story from a father about caring for his daughter, and coming of age in a family separated by borders.