COVID-19 has presented countless obstacles and losses over the past nine months, and now, with the holiday season upon us, many folks are feeling the challenges of COVID even more intensely. Lisa Siedlarz, student loan coordinator in Financial Aid and Scholarships, is doing what she can to make the season a little brighter for veterans, a group that is close to her heart.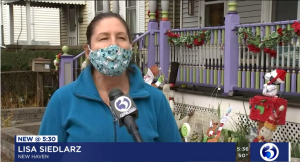 For the past 12 years, Siedlarz has coordinated a holiday stocking drive for veterans, collecting donations of treats and small gifts and organizing a team of volunteers to help her stuff and deliver the stockings to the VA Hospital in West Haven. She started making holiday care packages for soldiers when her brother was serving in Afghanistan, and after he returned home, she began making stockings for veterans at the VA.
WFSB interviewed Siedlarz recently about her work: "New Haven woman on a mission to bring joy to veterans this holiday season" (Dec. 1, 2020). She plans to shop and fill the stockings soon, and will drop them off at the VA in mid-December.