At a time when life has become more virtual than tactile, students in the HON 300 course, Introduction to Service Learning, at Southern Connecticut State University are finding that access to the Campus Community Garden is benefiting them as much as the local organizations they serve.
HON 300 gives students an experiential, hands-on approach to concepts like giving and collaborating, with a community focus. Most semesters, students work in local neighborhoods with community partners to build rain gardens, plant trees, and assist with habitat revitalization at several parks near Southern's campus in the Newhallville and Dixwell neighborhoods.
This year, Suzie Huminski, sustainability coordinator, said she and co-teacher Lisa Ott decided to have the class meet outdoors and in person in the garden as long as weather and daylight permit.
"The course content for HON 300 has always focused on access to high quality outdoor green space and connections to health and well-being for individuals and communities," Huminski said. "This is an important social justice issue as well as an environmental issue. Because of the pandemic, we decided to up our game with experiential outdoor learning. The garden is at the top of a large hillside, so there is room for us to spread out," Huminski said.
Surrounded by fresh air and their socially-distanced peers, students are thriving.
"This class is really special," Sam Martin, '23, said. "All of my classes are online this semester. It's the class I look forward to all week." Martin, a self-proclaimed outdoorsman who has years of gardening experience, said the gardening component doesn't relate at all to his Special Education major but that he "loves it anyway."
"Students appreciate so much spending time together," Huminski said. "In between their work planting a new pollinator pathway and a late season harvest that we'll donate to local soup kitchens, the students are engaged in sharing their perspectives with each other in a way that I have rarely seen in 10 years of teaching at SCSU: they talk openly about their own experiences as they relate to principles of service, leadership, and followership. They have fun together and are gelling as a group."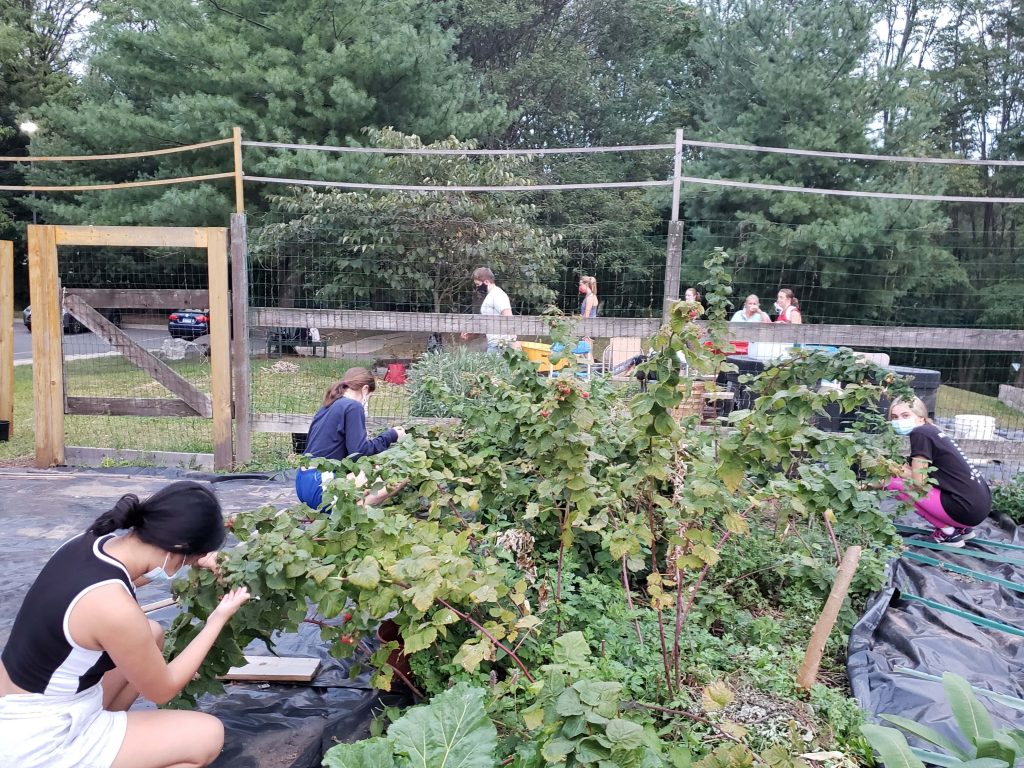 Ott added, "I think that the garden offers a safe environment to take chances. It's a novel opportunity for students to experience learning in a functional way. They can lay out plants in all sorts of combinations, as long as they take into account non-negotiable factors that nature sets in place. They see concrete examples that things don't always turn out as we plan and that sometimes the unexpected creates wonderful results; it's a safe atmosphere to share thoughts and to experiment with ideas."
The Campus Community Garden, located down the steps beside Davis Hall, was installed in 2012. The garden consists of a large fenced-in garden space used to grow vegetables, fruit, herbs, and flowers. This fall, HON 300 students are expanding the garden with a pollinator pathway to attract bees and butterflies. The garden is student run with support from the Office of Sustainability. Interested in volunteering, teaching a class, or becoming involved at the garden? Contact Derek Faulkner, faulknerd4@southernct.edu.