When 94-year-old Mildred Madison's absentee ballot was late arriving, she wanted to make sure her vote was counted. So her son, History Professor Julian Madison — drove her 350 miles each way, from Chicago to Detroit, so that she could cast her ballot. Mrs. Madison was featured in a news segment on CBS 17, a local CBS affiliate in North Carolina, as well as on CNN Politics.
Mrs. Madison is quoted in the CNN article as saying, "I've been voting in every election, whether it was city, state, county or national for the last 72 years." She has a long history in activism and politics and was the first black president of the League of Women Voters in Cleveland, Ohio, where she raised her children. In that role she worked to bring the final presidential debate between Ronald Reagan and Jimmy Carter to Cleveland.
In the video, Mrs. Madison emphasizes the importance of voting, "not only for your children, but for their children."
Professor Madison says, "While growing up, my mother insisted on two things: First, respect women. Second, vote in every election. Her explanations were simple. By voting, I take part in shaping my future as well as those who come after me. Second, it sets an example for others. Finally, by NOT voting, not only will my voice not be heard, but I will have no right to complain when things go wrong."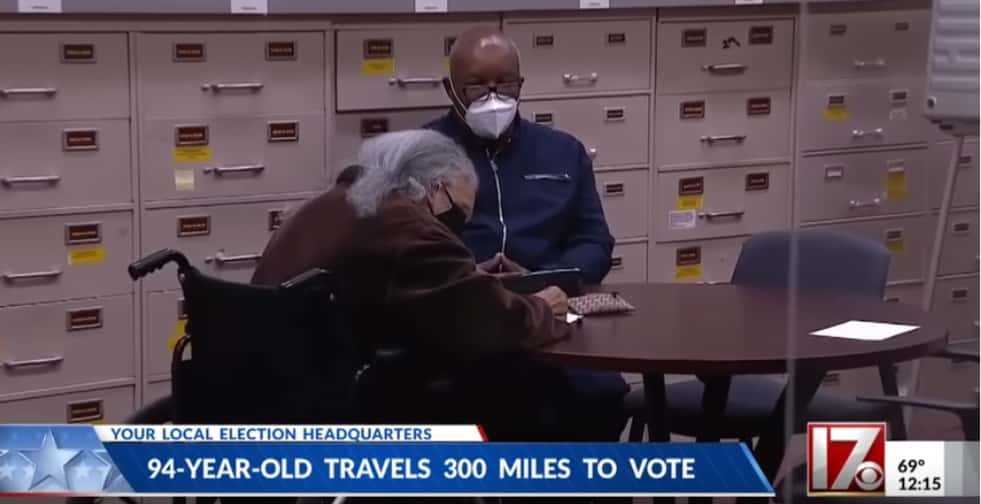 Mrs. Madison's story has caught the attention of many and has now gone viral. Professor Madison reports that news outlets in Vietnam, England, and France have picked up this story as have outlets in most states. The Daily Show covered her story on October 20, and she has been interviewed by phone by someone on the Oprah Winfrey Channel. She was also featured on the CBS Morning News on Election Day, November 3.
As Professor Madison says, "this is certainly an opportunity for my mother who has run for political office on several occasions and won, to continue to push people to vote."