It's one thing to have an idea. It's another to implement it, especially when there are multiple people involved — three — and other responsibilities call — full-time jobs — and a physical space is needed — a bright, airy gallery would do nicely — and bills need to be paid — rent! — and there are only so many hours in the day — 24, to be exact. But when Melissa Sutherland, '09; Jarryn Mercer, '09; and Symone K. Wong, '09, saw the need for a dedicated space for artists of color to express themselves, Wong says, "We made a decision and just went for it."
The women, who have been friends for 14 years, met on the track and field team at Southern and, as they put it, "immediately connected." They were in different academic programs at the university: Sutherland majored in studio art, Wong studied communication, and Mercer pursued a liberal studies degree. But alongside running, they also shared a love for the arts.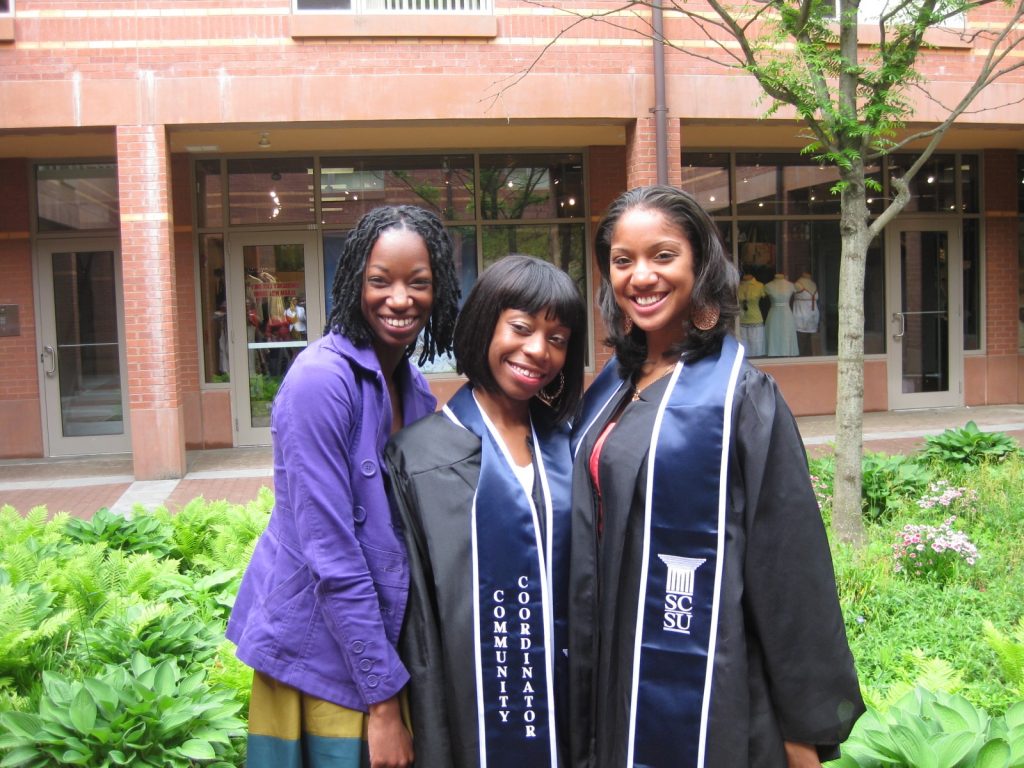 In 2015, after Sutherland and Wong headlined a two-woman show at VM Nation Studios, they began talking about having their own creative space, namely for black artists, to exhibit.
"Artists show art in places that don't align with their vision, like in bars and coffee shops," Sutherland says. "It takes away from the experience."
"The main point isn't the art," adds Wong. "We needed a place that represented a space for artists."
"We put the numbers together and said, 'We can actually do this. Let's do it,'" Mercer says.
By June 2016, sk.ArtSpace in Brooklyn was born. The two-level locale, which is bright and inviting, is one part gallery and one part event space, with a courtyard in the back. "It's much more like a traditional gallery space, with white walls and lighting," Wong says. "It's a blank canvas."
In addition to showcasing artists and musicians in the gallery, the women host product launches and wedding showers, and offer cost-friendly services to fellow creatives. The SK team also has launched successful events, including an annual Future Is Female exhibition, which features an all-women roster of artists from throughout New York City. Reaction to the show has exceeded the women's expectations, creating a conclave of artists with close bonds.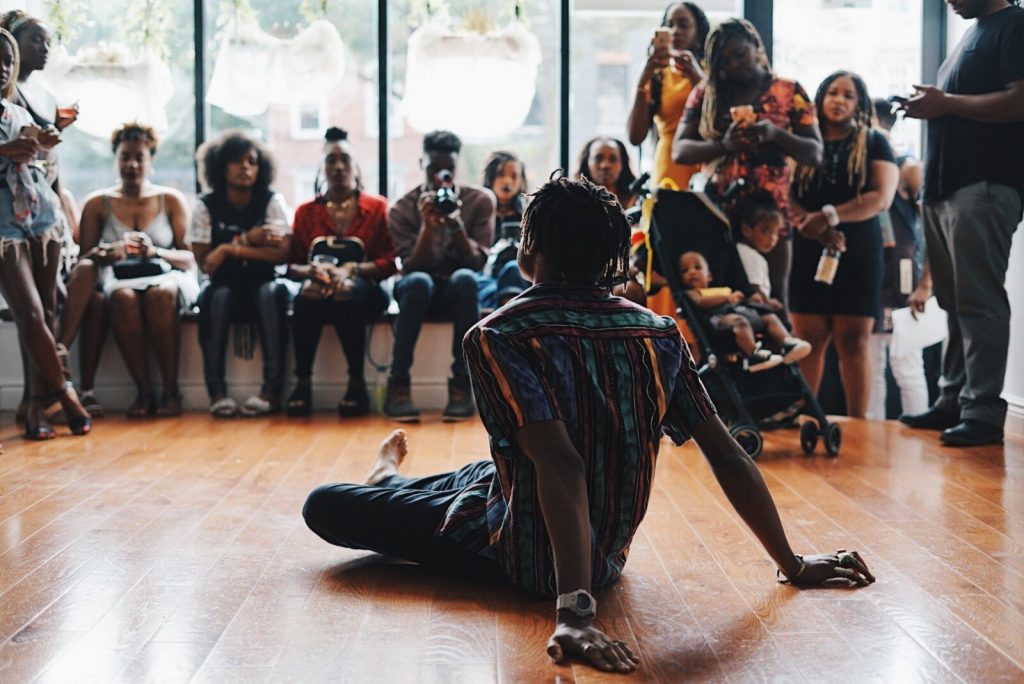 According to Sutherland: "Response has been quite amazing, sometimes overwhelming. People love and enjoy what we're doing, and they think it's something we really need, so they support us. There aren't many galleries in our neighborhood that provide this platform."
That's not to say there haven't been struggles. Before the women opened sk.ArtSpace they were working nine to five jobs as executive assistants in different industries. They still are: Mercer is with a wealth management firm; Wong and Sutherland at different marketing companies.
Says Mercer, "There are never enough hours in the day, but somehow the work always gets done." The friends manage the workload by dividing and conquering. "We pick up each other's slack. We all do whatever needs to be done, day-to-day," says Mercer.
Finances, too, are a critical consideration. The gallery combines an event-space business model with a traditional gallery structure. The women receive commission for some collaboration packages as well as group exhibitions they curate, and they rent the gallery for private events.
They are continually looking for support to keep the momentum going.
"Support doesn't always have to mean money," Sutherland says. The gallery relies on interns, for example. Support could also mean assistance from a videographer to help with marketing. "We're also trying to find sponsors and donors. We want to take the gallery and creative space to another level," says Sutherland.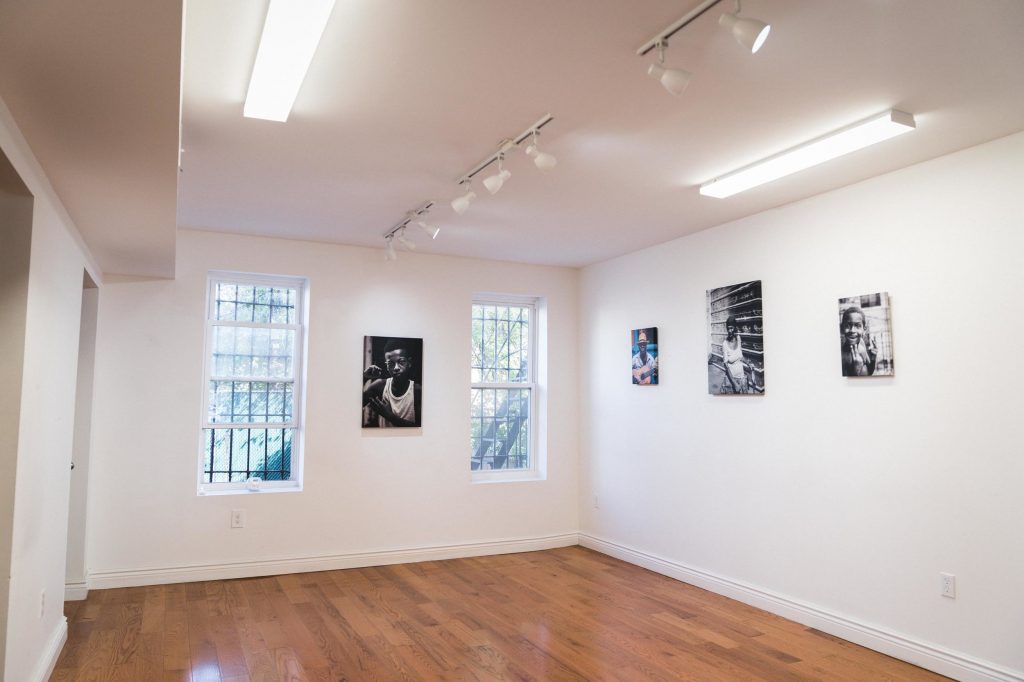 She continues: "One of our top priorities that we look forward to is offering services for beginning and emerging artists, like workshops on how to write an artist bio, and being able to coordinate panel discussions on how to become gallery artists, and the steps it takes to get there. We would love to connect with successful artists in the community and create spaces for artist talks."
Networking and building a community for black creatives — a place they can call home — was the impetus behind the gallery's creation. It will always take center stage. "We have a huge list of initiatives that would help with expanding the depth and knowledge of black artists," Sutherland says. "We are working on building a larger creative network where people are able to connect, collaborate, and expose each other to new opportunities."
If it sounds like a lot of work, it is, but Sutherland, Mercer, and Wong all hope to parlay their work at the gallery into full-time positions. "That's our ultimate hope, that we can make our own schedules and deep-dive into this," Wong says. "We think about it every day. Our conversations as friends have always been, 'How can we be our best selves and better ourselves and support each other and others?'" They've taken the first step by opening the gallery doors. ■