A $40,000 grant from Wells Fargo will significantly enhance initiatives offered through the Business Success Center at Southern Connecticut State University's School of Business — providing students with the "soft skills" most valued by hiring professionals. Soft skills, which encompass everything from time management to conflict resolution, are in high demand as revealed by a slew of business studies. For example, 91 percent of hiring managers agree that finding candidates with strong soft skills is increasingly important, according to LinkedIn, which also designated soft skills as the top business trend last year.
"The School of Business Success Center (BSC) was established based upon feedback from employers about the skills sets they were looking for in new hires. Employers report that college graduates are generally well-prepared academically, but lack the soft skills that are necessary to succeed," says Ellen Durnin, dean of the School of Business.
The BSC provides a wide range of professional-development programming and services to students and alumni. These include paid-internship placements, resume and interview preparation, and professional-development workshops and seminars. The latter are offered in a range of topics, including networking basics, managing your social media presence, and business communication.
The Wells Fargo grant will fund expanded services at the BSC, including face-to-face mentoring and mock interviewing. It will also provide software platforms so students can film virtual interviews and receive feedback.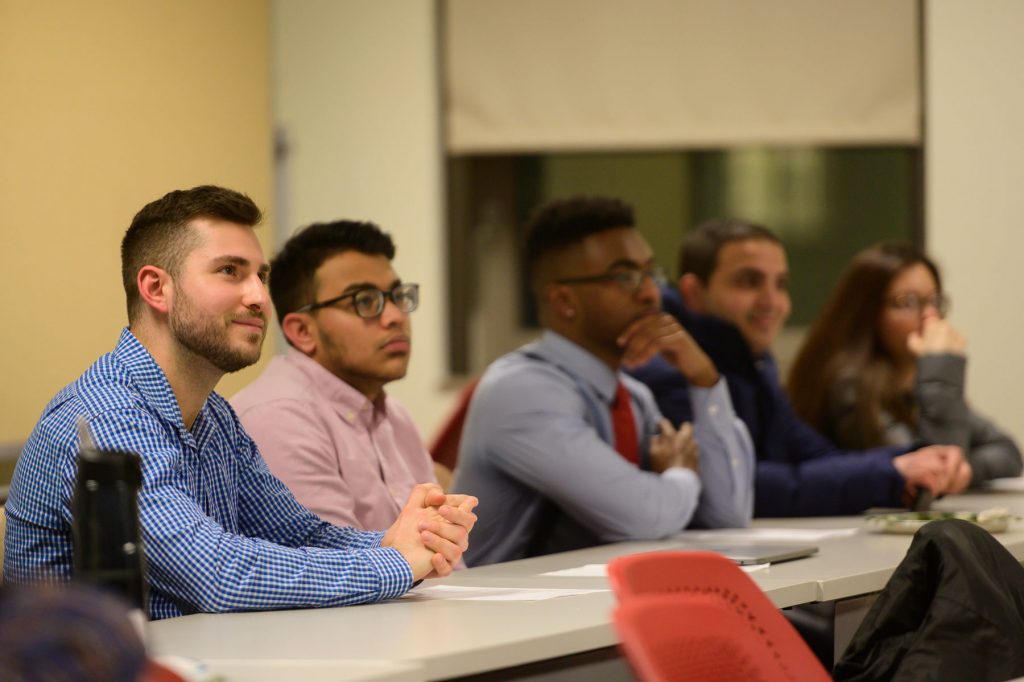 The grant was awarded in conjunction with Southern's Day of Caring, which took place on April 22. The School of Business designated the BSC as a key priority during the Day of Caring campaign. The Wells Fargo grant, along with gifts from alumni, faculty and staff, and friends provided vital funding.
"I am very grateful for this support for our students, which will be directed to offering them paid internships at New Haven-area nonprofits," says Durnin. Click here to see a video about a business major interning with Marrakech, a New Haven-based nonprofit organization.
The Wells Fargo Foundation cites financial health as a primary philanthropic focus, notes Kevin Burke, a senior vice president and market executive for Wells Fargo Commercial Banking in Connecticut and the New York Capital Region.
Burke is also a member of the School of Business Advisory Council. "In my experience one of the best ways to ensure financial health is through education," he says. "As the economy has evolved, the importance of a college education has become even more critical. Dean Durnin was passionate about the need for the Business Success Center and we at Wells Fargo are proud to contribute in a small way to the success of Southern's business students."
Like many in Connecticut, the Burke family has a personal connection to Southern. Burke's wife, Margaret, is a Southern alumna from the Class of 2002. She had earned an associate's degree immediately after high school. After raising two daughters, she returned to college at Southern and earned a bachelor's degree.
Durnin adds that the center and, indeed, the School of Business in its entirety have a particularly strong partnership with the regional corporate community. "More than 85 percent of our graduates live, work, pay taxes, and serve their communities in the state of Connecticut," she says.
She also emphasizes the need for the support to Southern students, many of whom are the first in their families to attend college.
"In these challenging times, our students and area nonprofits need our support more than ever as they prepare for their careers and help those in the community who need it most," says Durnin.