Have the latest headlines about COVID-19 made you want to run away? How about just run? How about at 2 a.m.? Probably not. Yet there David Martin, '20, was, dragging himself out of bed in the middle of the night to go for a 4-hour run.
"I was exhausted," the SCSU graduate student said. "My legs were swollen. I was dehydrated." Martin couldn't stop running, though. After hearing news reports that local food banks were struggling to stock their pantries, he wanted to help. He was unsure of how to, exactly, when he learned that his fellow Full Throttle Endurance teammates from New York City were doing a charity run.
He contemplated joining but was still reeling from having to leave Southern's campus suddenly, right before spring break, because of the coronavirus outbreak. As part of his thesis — he graduates this spring with a master's in exercise science — he had been studying the effects of heat on athletes in a tent on Southern's campus.
"We partnered with Nix [a company developing biosensing wearable technologies] and were using biosensors to test the sweat of elite athletes while they exercised," Martin said. "We were some of the first to use this new technology. Shutting that down and leaving campus was devastating."
The more Martin learned about his teammates' fundraising success though, the more he experienced "FOMO, or fear of missing out," he said. "So I picked a Connecticut charity because Connecticut is where I was born and raised, and I pledged to run 4 miles every 4 hours for 48 hours." (The challenge was created by David Goggins, a retired United States Navy SEAL.)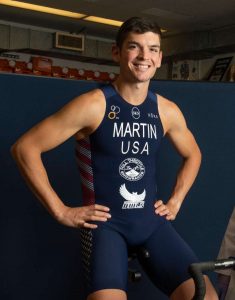 Martin focused on Catholic Charities of Fairfield County to help Bridgeport's Thomas Merton Center.
"The next day, after the website for online enrollment went up, we already had $800," Martin said. To date, Martin has raised close to $3,500, enough to operate a soup kitchen and food pantry for more than 100 days. He shared his story on Facebook, Instagram, and Strava, a social-fitness network, garnering support with each mile.
"That last run on April 5 was the hardest," he said. "But some of my fellow athletes showed up. Two ran in front to keep the wind off of me. It felt like a real race experience. People were beeping and shouting and honking their car horns. I collapsed on the ground when it was over, then I went home and slept for 13 hours."
Similar to Martin, Southern Student Loan Coordinator and alumna Lisa Siedlarz (M.A. in English, '07, with a concentration in poetry) found herself wondering how she could help after watching the news about the pandemic. She, too, belonged to a well-connected group who had the power to affect change — minus the nocturnal workouts.
"My East Rock neighborhood association is more than 600," Siedlarz said. "After some of my friends who are nurses said we could help by providing nurses with food, I started wondering how much we could raise."
Siedlarz kicked off her fundraiser to her neighborhood association on a Friday evening. She took her dogs for a walk. When she returned home 20 minutes later, she had almost $1,000. Five days later, she had $3,600.
The funds have gone to support Yale New Haven Hospital's 9-7 COVID unit, which has 15 to 16 people working at any given time — often double shifts. Siedlarz has partnered with Christopher Martin's Restaurant & Pub and Katalina's Bakery, which deliver the food directly to the hospital.
"It costs $210 a day to feed 16 people breakfast and dinner," Siedlarz said. "These people are working so hard and in a terrible situation. Providing food for them is not a big deal."
Although this isn't Siedlarz's first experience fundraising, she is "always inspired" by the power of giving. And while the idea of helping may start out as a solitary one, both she and Martin were humbled by the outpouring of support.
"My neighborhood association started 12 years ago when we got a grant to plant trees," Siedlarz said. "The next thing we knew, 20 people showed up. From there on out, we always had new people looking to join a community. Now, depending on how much more money we raise, we might be able to take on another hospital unit."
Martin, who is taking a much-needed rest from running, said, "I never asked anyone to run with me, and I had company on every single run. Even at 2 a.m. That final run with the support was such a high. I felt so awful but so inspired. It was a huge team effort."