Members of the Southern community step up to donate masks, gloves, food, supplies and more

Suzanne Huminski hadn't looked at her sewing machine in 17 years, but when she heard that area hospitals were running low on medical supplies and PPEs —  personal protective equipment, which is one crucial way to stop the spread of COVID-19 and keep healthcare workers safe — she dug out her machine.
Huminski, who is Southern's sustainability coordinator, is just one of the many faculty and staff at the university trying to answer the urgent calls put out by healthcare institutions and workers amidst the pandemic — including a plea from her own sister, who is a nurse.
"Hearing my sister say they were running out of masks was heartbreaking," Huminski said. "I'm a novice. I used to make pot-holders. The first mask took me three-and-a-half hours, but once I got that one done, now I can make a mask in 25 minutes." She is currently finishing up her 11th mask.
To help Huminski get the mask specifications right, she relied on information put out by Yale New Haven Hospital. She also watched a video tutorial put together by Southern colleague Michelle Johnston, director of donor relations and advancements events, a member of  the Alumni and Donor Relations team, who has experience as a seamstress.
Johnston herself has sewn about 100 masks and intends to keep going "as long as her wrists and elbows will let her." She tries to sew daily, carving out time in the early morning and evenings to cut and pin fabric and sew; she works during the day. She is sewing two types of masks: one is a cover for N95 masks (N95 respirator masks create a tight seal between the respirator and your face), and the other is a mask for everyday use. N95 masks are used by medical personnel and are in critical short supply; the homemade covers can be washed and sanitized like scrubs for reuse.
"The N95 mask covers have a pocket with a removable filter so you can put a surgical mask in the middle of it," Johnston said. "The others have a felt filter built in. They're cotton, then felt then cotton again. It will stop droplets from getting in and out."
Like Huminski, Johnston started sewing as soon as she heard the requests from healthcare professionals. She has delivered masks to Yale New Haven Health in Guilford and Killingworth and to Middlesex Health in Westbrook. She also has mailed masks to family and friends, as well as Southern donors and alumni who may be at an increased risk for serious complications should they contract the virus.
Recently, Johnston sent the mask-making instructions to a colleague at Chapel Haven Schleifer Center; now the clients, who are special needs adults, are learning how to make them. After she connected with a friend at the Hamden Regional Chamber of Commerce, the chamber began hosting a virtual group of sewers. Soon they'll be making masks.
"I don't have a cottage industry," Johnston is quick to point out. "There's a feeling of helplessness and 'What can I do?' This is something we all can do."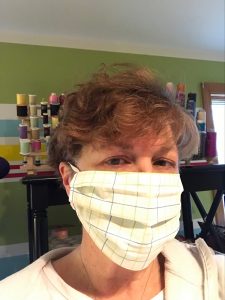 It's not just masks that are needed, of course. Virtually every segment of the population has been affected by COVID-19. Calls for help are being sent from anywhere and everywhere. Answers are coming in the same fashion.
When Southern's Medical Director Diane Morgenthaler heard that a student was having difficulty breathing and filling her nebulizer prescription after leaving the ICU at Waterbury Hospital, Morgenthaler personally drove a nebulizer from Southern's Student Health Services to the student's residence. When Heather Stearns, who runs the University Swap Shop, learned that a Woodbridge resident was making medical face shields using his 3D printer, she was able to donate 900 unused transparency sheets so he could continue his work.
When the Connecticut Hospice called about needed supplies, the university collected and donated 100 disposable thermometers and masks, according to Tracy Tyree, vice president for student affairs. Chartwells Catering Services at Southern and the Office of Sustainability donated about 300 pounds of food — following all safety protocols — and delivered it to three different sites in New Haven, including St. Anne's Soup Kitchen.
Sandra Bulmer, dean of the College of Health and Human Services, said that the Department of Nursing and the Communication Disorders Clinic have made donations to agencies that are currently hosting Southern students, including Yale New Haven Health, Cornell Scott Hill Health, and Elim Park Assisted Living Services.
"We've gathered everything across campus that we have," Tyree said. "When we learned that Yale New Haven was doing a satellite medical station in Moore Field House, our health-related labs gave donations. We've also donated gloves for our own custodians and campus police to use."
Although supplies are running low and demand is only expected to increase, improvising has been key to keeping up the momentum. Huminski turned to bedsheets when she ran out of fabric for masks, for instance. Sheets — which are bleached and washed — actually make for better-fitting masks because the fabric is so tightly woven. Johnston started using brand new hair elastics for her masks when she ran out of commercial grade.
"Elastic is the new toilet paper," Johnston said. "I have to stretch the hair elastic, but at least I can keep making masks while I'm waiting for my 70 yards of elastic to come."
To Tyree, it's this type of the tenacity and generosity from the Southern community that's helping to temper the unease.
"Some of these measures are life-saving," Tyree said. "It is stories like this, people just stepping up, that make me grateful to work in a community that cares about each other so much. We are not doing it for the accolades. It's who we are."
Other items donated by SCSU include:
Boxes of non-latex, nitrile and latex gloves
Gallons of hand soap
Antiseptic
Wipes
Goggles