Andrew Toce, '14, LPC, ADS, works in his own private counseling practice, with a focus on sports psychology. Read our interview with him and learn how he is continuing his work amidst the COVID-19 pandemic.
SCSU: Can you briefly describe your current employment?
AT: I am the owner and operator of my own private practice named Deep Breaths Counseling, LLC which is based out of South Windsor, Conn. Here I focus my work on sport psychology and co-occurring disorders. I have had the privilege of working with athletes of all ages and levels, from professional to youth athletes pursuing their dreams of playing at the next level.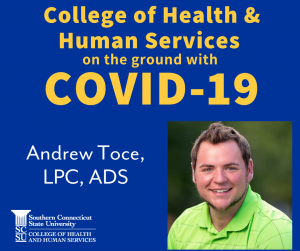 SCSU: How has your job changed in the past few weeks with the COVID-19 outbreak?
AT: My job has changed drastically in the past few weeks. I normally am open 3 days a week and see all clients face-to-face. Since the COVID-19 outbreak, things have changed from shaking hands to keeping 6 feet from my clients at all times and spraying everything down with disinfectant in between clients.
SCSU: Have you had to move any services or parts of your job online to support social distancing? How has this been?
AT: In the last week, I have had to move my entire practice to an online platform. This has been a challenge and very new. In our field, you need to be very particular as HIPAA rights for clients need to be followed at all times. I had to create special consent forms and documents that could be electronically filled out. I needed to find ways to send secure HIPAA-compliant emails. I also needed to find a platform that was HIPAA-compliant to do video and audio sessions, as everyday software like Facetime, Skype and Zoom do not have the correct level of security to qualify. On top of that, getting insurance companies to cover online services, named telehealth in my field, was a challenge and barrier up until the second week of March. Thankfully, as I write this, most major insurance companies have enacted special circumstances to meet the needs of their customers and the providers that give these services.
SCSU: From your professional perspective, what is the local impact COVID-19, so far?
AT: From my perspective, the impact has been vast and unwavering. Companies are closing, there are more layoffs happening every day, families are struggling, and small businesses are desperate for anything to keep them afloat. It is a reminder to me of how fast everyday life can change and how we take things for granted without even realizing it. People are scared of COVID-19, as am I, but I truly believe in the phrase, "Educate to Regulate." I started using this phrase when giving talks on substance use to local high schools, but it works in this context as well. We need to educate ourselves on COVID-19 and the facts about it. Only then will we regulate the way we do things and make it possible to flatten the curve. I have the utmost respect for doctors, nurses, respiratory therapists, lab technicians, paramedics, and so many others who don't have the option to work from home and are daily putting their own well-being on the line to help those struggling from COVID-19 and all other situations.
SCSU: What are your suggestions, personally/professionally, for getting through this pandemic?
AT: I think we are unprepared for the vast amount of ICU beds and ventilators that we will need, and I believe the answer is that companies who supply these need to recognize this is bigger than economics. In order to save lives, we need to come together as a human species and forget about any future profits and focus on the here and now. I think we need to listen to those that are on the front lines, we need to follow the advice given and recognize that if we all think, "This won't affect me," then it will affect all of us. Social distancing and self-isolation are the answer. We need to learn from China's experience and also Italy's struggles. Their government asked that everyone self-isolate and many didn't. They now find themselves ill-prepared to handle the vast amount of cases.
SCSU: What is the impact of moving to telehealth for patients and your practice?
AT: My goal is to make this transition as low impact as possible on my clients. We are all scared and the unknown is anxiety-provoking. The last thing I want to do is add to that and create more barriers for them. I did a lot of research and found a system that is user-friendly and compatible with any device. My client simply has to go to a specific URL and enter their name at the time of their session; once that happens I see them in my virtual waiting room and I initiate the session. All copays are collected through an online processing format and the rest is normal.