Adam Christoferson, '10, the founder and director of Musical Intervention in New Haven, is working with a group of Yale Researchers to study how music influences people with psychotic illnesses. The project is being forwarded by a $2.1 million grant from the National Institutes of Health (NIH) through its Sound Health initiative — a partnership between the NIH and the John F. Kennedy Center for the Performing Arts, in association with the National Endowment for the Arts. Philip Corlett, a cognitive neuroscientist and associate professor in the Yale School of Medicine, is the principal investigator of the Yale study.
For Christoferson, the research project will further a long-held commitment to helping others through music. At Musical Intervention, he shares the therapeutic power of music with the community, including New Haven's homeless and recovery population. The nonprofit organization, located in a downtown storefront on Temple Street, provides a drug- and alcohol-free space where people can write, record, and perform their own music.
Christoferson has felt music's healing power personally. Much of his childhood was difficult. His mother had schizophrenia, and he grew up in a rent-subsidized apartment on Rock Street in New Haven, on the edge of one of the city's roughest neighborhoods. His father, a Vietnam veteran, struggled with post-traumatic stress disorder. For Christoferson, music was a source of comfort and escape.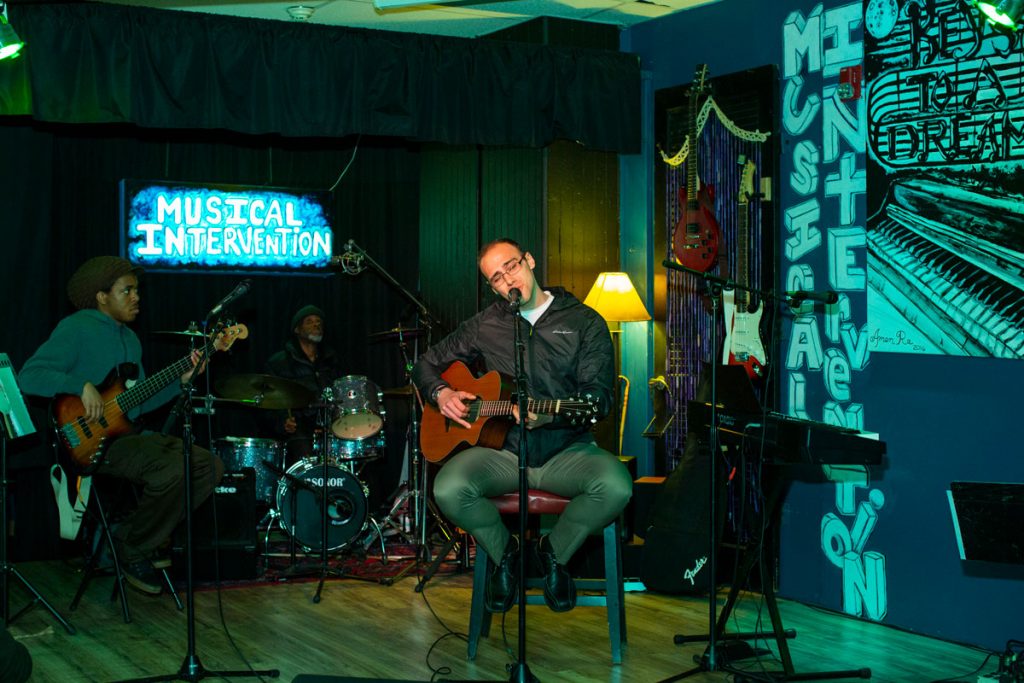 At Southern, he majored in recreation and leisure studies. (Today, it's the Department of Recreation, Tourism, and Sport Management.) His adviser, James MacGregor, now chair of the department, set him up with an internship at Yale New Haven Children's Psychiatric Inpatient Service unit, where he was later hired as a recreation therapist, a job that sowed the seeds for Musical Intervention. His first week there, Christoferson noticed a girl drawing a picture of someone singing. "I asked her if she wanted to make music with me," he recalls. His supervisor gave him permission to bring some recording equipment onto the unit. "And it was a hit," Christoferson says. "This girl completely transformed, being able to make music and record it."
His work was later featured in the World Congress of the International Association for Child and Adolescent Psychiatry, and Christoferson was invited to speak at international symposiums.
In 2015, he won a grant from the National Endowment for the Arts to work with the homeless population. The following year he opened Musical Intervention.
The organization remains his passion. "There are people who have been homeless for such a long time, they haven't had a guitar to play. That's what we provide. There are people who are in crisis with drugs or mental illness and they let [music] go years ago and missed it," Christoferson says. "While they're in treatment, they're able to come to us and regain all of that passion and creativity that was lost."
In addition to Corlett and Christoferson, the research team includes Michael Rowe, co-director of the Yale Program for Recovery & Community Health; Sarah Fineberg, MD; Al Powers, MD; and Claire Bien. The group is affiliated with Connecticut Mental Health Center, a clinical and research hub of the Yale Department of Psychiatry that is run in collaboration with the Connecticut Department of Mental Health and Addiction Services (DMHAS).