Born in the early '80s, Eric Michael Schrader, '10, spent much of his childhood dreaming up story lines and filming short parodies of Indiana Jones and Star Wars, starring his brother and friends from the neighborhood. Through the years, Schrader kept telling his tales — and in fall 2000, he enrolled at Southern, majoring in communication with a concentration in video production.
At Southern, he immersed himself in the world of media. Schrader worked at the on-campus Video Production Studio in Earl Hall (it's the Digital Production Facility now) as well as Wallingford Public Access TV and a local video store, learning on the fly while soaking up professors' expertise — even if he didn't always realize it at the time.
"I can remember transcribing interviews for projects at SCSU thinking to myself, 'I'll never need to do this in the real world.' Sure enough, I've transcribed multiple interviews for our own documentary films that have truly helped with the story telling," says Schrader. He adds that the department's focus on team projects also reflects the industry — and he quickly learned the importance of networking.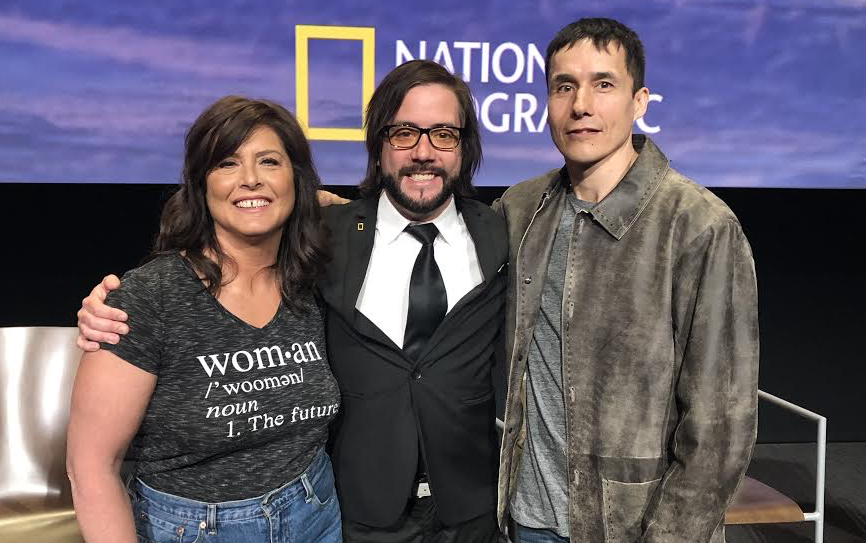 His first big break came from a friend who sold a show to National Geographic and then hired Schrader to work as a production assistant in Boston. Among the initial perks: a couch to sleep on. "I was in charge of all the grunt work," says Schrader of his earliest assignments, which included picking up food orders, setting up lights and tripods, and driving the producers around Massachusetts.
"That first show for me was grueling as much as it was educational and inspiring. I learned a lot about on-location shoots," says Schrader. In 2012, he headed to Los Angeles, armed with "some flashy-stylish business cards" and a reel that showcased his best work. He financed the trip by selling most of his belongings, including his DVD collection, Star Wars action figures, and memorabilia from The Simpsons television series.
Once in LA, he hit the local music scene, and found work filming and editing low-budget music videos. Then, two months to the day after moving to the West Coast, he had his Hollywood moment while waiting at a stop light on Melrose Ave. "I'm staring at the red light, suffering from anxiety 'cause money was drying up quick," says Schrader, recalling the minutes that changed his life. Gazing out his car window, he recognized a producer from his Boston days. The two shouted out greetings, which ultimately led to a job offer for Schrader to work on a new show, Life Below Zero, a documentary series about life in the remotest areas of Alaska.
Schrader was hired as a production assistant and, over three years, worked his way up to editor, garnering industry accolades along the way. He and his teammates were nominated for an Emmy Award for work on the series in 2017, 2018, and 2019 — and they won the award for "Outstanding Picture Editing for an Unstructured Reality Series" that first year.
"One of the greatest, if not [the] greatest moment in my life, shared with incredible co-workers and close friends," he says.
Schrader also continues to make pictures, including Zulu Summer, which he codirected with Joseph Litzinger. The documentary, about a Zulu prince's unlikely journey to Butte, Montana, to see the "real" America, premiered at the Santa Barbara International Film Festival and in the Northeast at the New Haven Documentary Film Festival.
Currently living the dream, Schrader's advice to would-be filmmakers is matter of fact: work on every possible project — indies, shorts, low-budgets, no-budgets. As for Hollywood? Get there, he says: "Make moves and make the move! Take the leap and at least try to make it out in Hollywood." Sequel expected.