Jacob Santos, '19, is one of only 14 Newman's Own Foundation Fellows for 2019-20 — and one of only three recipients to graduate from a public college or university. The Newman's Own Foundation, which was founded by the late actor and philanthropist Paul Newman, launched the 12-month fellowship to develop the next generation of leaders in the nonprofit sector.
Santos is serving as the managing director fellow with Westport Country Playhouse in Connecticut, a post he describes as his dream job.
Transferring to Southern: Santos started college at another university, majoring in pre-pharmacy, which he quickly realized was not a good fit. He'd acted in high school and remained drawn to the stage. So he decided to talk to his former adviser at that previous college about changing his major.
"That ended up being a very unfortunate conversation," says Santos. "They discouraged me from trying to become a theatre major, and the wordage they used made it seem like it was an elite club that took themselves seriously. Due to this, I wouldn't be a good match. This was upsetting . . . How could they know I wasn't good enough to be part of a department that valued high-quality work and talent? Looking back, it's even more disappointing because people of color often have many barriers and lack of access to theatre," says Santos.
Becoming an Owl: "With that experience I knew I had to go to an institution that would give me a chance and value me," says Santos, adding that he was drawn to the reputation of Southern's theatre program. "New Haven was a perfect location for the arts. It is close to many other local theaters and a short train ride away from New York City," he says.
A Southern mentor: Santos lauds Associate Professor of Theatre Kaia Monroe-Rarick, describing her as his professor, director, adviser, and supervisor. "I credit her with giving me almost every opportunity I've had in theatre. . . . She cast me in my first show, helped me get a job in the theatre office [at Southern], and gave me my first chance to go to the Kennedy Center American College Theatre Festival in our region," he says.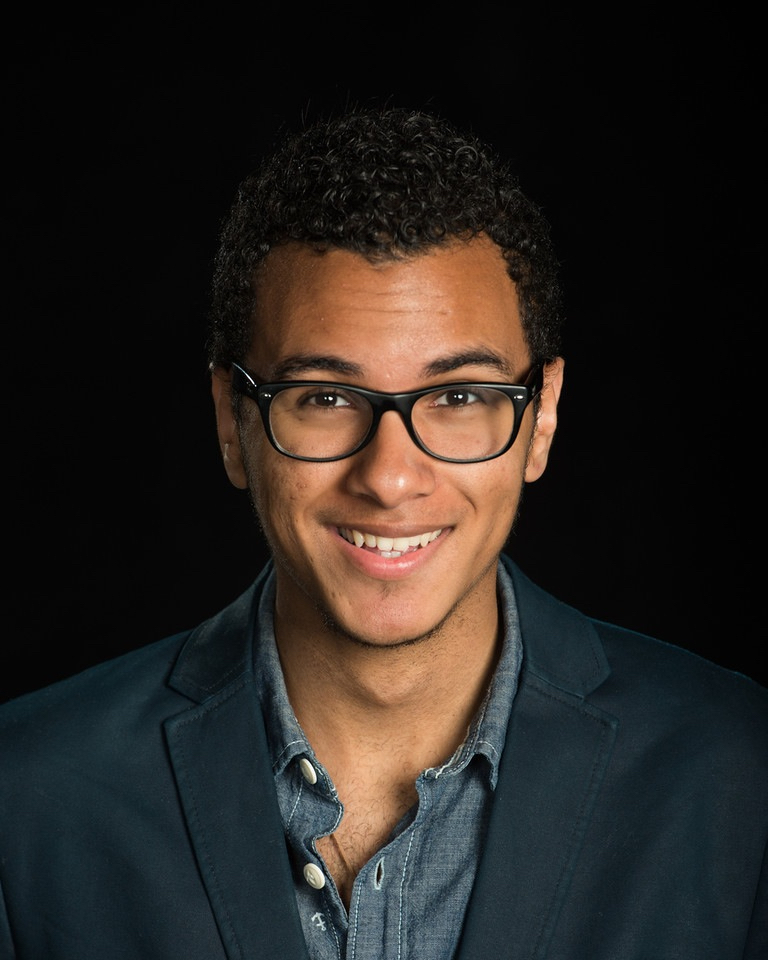 A new career goal: Santos dreamed of a career in theater management — and charted his course by pursuing two degrees (business administration and theatre). "I was lucky to have advisers and professors who cared enough to pave that road with me. People like Professor Kaia or Rebecca Goodheart [artistic producer of the Elm Shakespeare Company, Southern's theatre in residence] who gave me my first theatre management internship," he says.
An amazing senior experience: Completing an arts administration internship through the ASPIRE leadership program at the Kennedy Center American College Theatre Festival * The internship focuses on engaging people of color, women, and members of other groups that are consistently underrepresented in the field. "[Associate] Professor Michael Skinner knew of my interest in theater management and told me this was something I had to do," says Santos.
Biggest source of pride: "My work in creating the Crescent Players of Color Coalition was one of the most rewarding, out of class experiences I had at Southern. It was an exercise in advocacy for oneself and for one's community," he says.
Supporting inclusivity: "Issues of equity, diversity, and inclusion weren't unique to Southern's theatre department," says Santos. "It is an industry-wide issue with many theatres and institutions-at-large being faced with the question of 'how are you going to evolve in a world that is become increasingly diverse?' What was unique to Southern, however, was how they dealt with our questions. Speaking with other young leaders of color, many have faced backlash or apathy when they brought these issues forward to their universities. Our department, on the other hand, was completely game to hold as many conversations as needed to figure out specific actions we could do to change and grow," says Santos.
Every cloud has a silver lining: "I was able to do all of this — create a degree path that I wanted, be part of theatre, and engage in exciting opportunities — because of Southern. It makes that frustrating experience at my past university a bright one, because it led me to where I am now. I'm a proud Afro-Latino man with two degrees from SCSU, and I'm working professionally in theatre. I couldn't be more thankful or happier." says Santos.