One by one, members of the men's basketball team ran towards the Vertec vertical jump tester trying to see how high they could go. With teammates cheering on, each athlete jumped as high as they could. After recording all of the scores, Lonnie Blackwell began explaining how he would incorporate strength and conditioning to see these values rise during the off-season.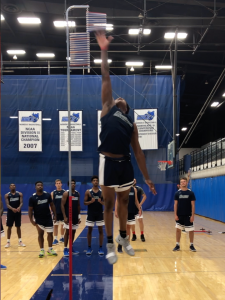 Blackwell is a graduate student obtaining his Master of Science degree in Exercise Science with a concentration in Human Performance. Blackwell also works for Jim Ronai's Competitive Edge Sports Performance, a company based out of Orange, Conn., as a strength and conditioning coach. He also has certifications such as the NASM CPT and NSCA CSCS. Blackwell acts as the graduate assistant strength and conditioning coach for men's basketball, men's soccer, and women's field hockey, with head strength and conditioning coach, Dave Hashemi.
The Department of Health and Movement Science's Human Performance Laboratory, offers numerous fitness, performance, and functionality assessments to members of the SCSU community. Men's basketball started the preseason by utilizing the lab with Blackwell to test their physical performance. These tests included: vertical jump, change of direction using the 5-10-5 test, and acceleration with the 10-yard dash. Blackwell used the lab's zybek lasers in order to precisely measure the 10-yard dash. The team tested strength with a 1-repetition maximum weight for the squat and bench press.
Men's soccer testing included the yo-yo intermittent beep test to evaluate aerobic fitness levels and to predict VO2max, and performed 1-repetition maximum for the squat and bench press to measure strength.
During the regular season, the girls' field hockey team comes into the weight room two times a week. The strength and conditioning system in place utilized six different lift options. Depending on each athlete's fatigue level and general fitness, they can choose a lift option that compliments them.
The soccer team and field hockey team is also utilizing GPS. The GPS technology operated by the human performance laboratory gives a researcher data such as distance covered, top-end speed, and work rate. The field hockey team uses this technology every Friday for practice, in order to estimate the training load. Men's soccer utilizes the GPS to grab data from their games, such as training load. It also allows them to monitor their performance throughout the season.
Blackwell is well versed in GPS technology, as he is using GPS for his master's thesis. His research will be utilizing data from various sports teams, to gain further understanding of how to prescribe programming to teams during the year and summer months.