With its award-winning faculty, diverse range of specialized internships, and innovative curriculum, Southern Connecticut State University has a long history of providing excellence in social work. In 2018, the university strengthened its commitment to training leaders in the field by adding a Doctorate in Social Work (DSW) degree, making it the only campus in the Connecticut State Colleges & Universities (CSCU) System, and the only institution in New England, to offer a Bachelor of Social Work (BSW) degree, Master of Social Work (MSW) degree, and DSW.
Social work can be a fulfilling field for those who enjoy helping others. It offers practitioners the opportunity to pursue different fields of interest, from mental health to rehabilitation, and to serve a broad base of society, whether it's in a private or public capacity. There's a real need for social work professionals: According to the U.S. Bureau of Labor Statistics, "employment of community and social service occupations is projected to grow 14 percent from 2016 to 2026, faster than the average for all occupations."
"Social work often appeals to someone who has the desire to help others because they themselves have been helped," says Diane Michaelsen, director of field education and MSW admissions, Department of Social Work, at Southern. "In the program it's about teaching students how to look at people in their own environments and to ask, 'What's getting in the way of their successful functioning?'"
The BSW prepares students for entry-level work in agencies such as child welfare, elementary/secondary schools, hospice, and community action agencies. Students in the MSW program choose from one of four fields of practice: children and families, elders and families, mental health and substance use, and social work in school setting. MSW graduates are prepared for clinical social work in a specialized field and for applying for the State of Connecticut LMSW Licensure Examination.
Both BSW and MSW students gain important experience in a field practicum, the cornerstone of a social work education. For BSW students, the practicum consists of a year-long, 400-hour on-site internship; for MSW, the practicum requires 1,100 hours. The internship is with an agency-based field instructor.
Field practice opportunities exist in more than 200 agencies throughout Connecticut, including Cornell Scott, a community healthcare agency; New Haven schools; Adelbrook, a residential, educational, and community-based treatment program for children and young adults; and Klingburg Family Centers, an agency providing group care, special education, and more.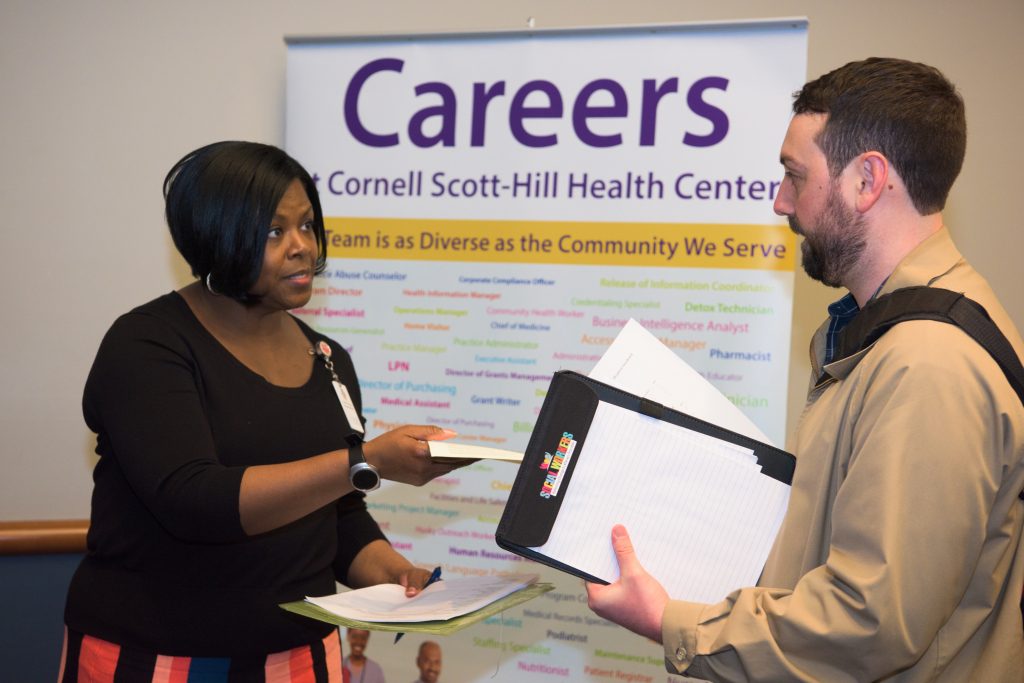 "The field placement helps immensely with job placement," Michaelsen says. "Thirty to 35 percent of graduates will be employed prior to graduation. Eighty to 90 percent will be employed before the summer is over. This has held true for several years in a row."
The DSW, new in 2018, prepares experienced social workers for leadership in agency or academic settings. Strictly online and in a three-year, part-time format, the degree caters to the needs of working professionals. Students visit campus just once annually, for a five-day residency. Students also take part in an externship based on their main focus.
"We're the only DSW program that offers externships," says Michaelsen.
The 180-hour externship is self-designed and conducted with a mentor. Students in the DSW program can select from three externship areas: teaching, leadership and management, and clinical.
"Students whose main interest is education will be mentored by a master teacher and learn how to develop syllabi and deliver lesson plans through co-teaching and supervised adjunct teaching," says Mary Acri, associate professor, Department of Social Work. "Leadership and management students will be mentored by a senior agency administrator like a CEO, CFO, clinical director or project director of state agency or a private non-profit. Those whose main interest is advancing a particular clinical method will be mentored by a master clinician in their chosen area."
Regardless of which social work degree students choose, they oftentimes will find that their mentor is a Southern alum or an adjunct faculty member.
"Southern's graduates are really loyal," says Michaelsen. "Because of their own positive experiences, a lot of our students feel compelled to give back to Southern and to mentor."