He's endured sweltering temperatures, swum in treacherous waters, hunted wild rodents for food, and encountered the occasional inhospitable native. And then there were the bugs — swarms of tiny sandflies eager to feast on any bit of exposed ankle or shin.
Welcome to the world of scientist James Kearns, who spends part of his professional life in the laboratory and a Southern classroom — and the other conducting research in the most remote corners of the world.
An associate professor of chemistry , Kearns travels deep inside the Amazon jungle for several weeks each summer, living with an indigenous tribe known as the Secoya. His research subject is the Paullinia yoco, a tropical vine that grows wild among the trees in the eastern Ecuadorian rainforest, near the Peruvian and Colombian borders.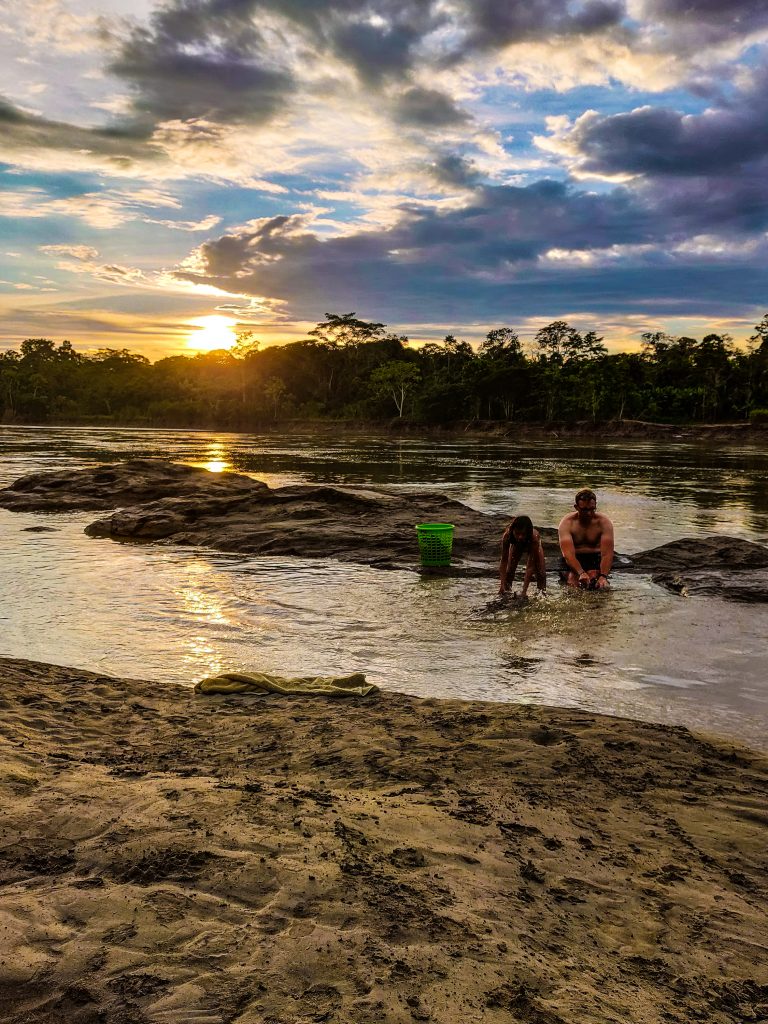 Kearns has studied the plant's chemical properties (its bark contains high concentrations of caffeine and theobromine, a stimulant found in chocolate) and is exploring its potential use in energy drinks. The Secoya make a tea from the bark and consume it early in the morning for sustained energy before a day of hunting or farming.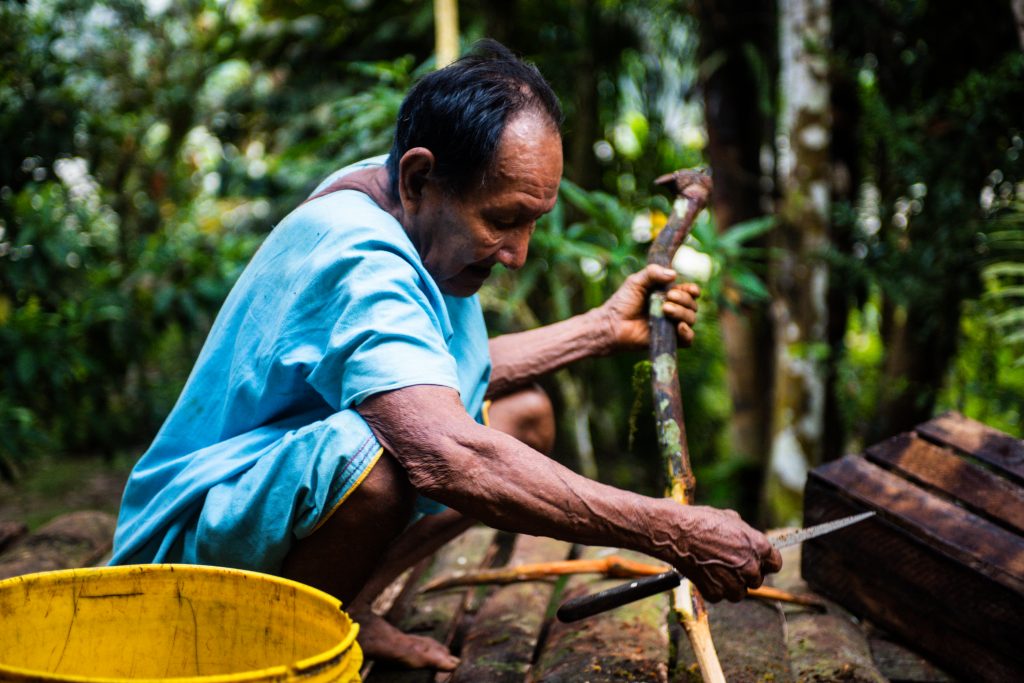 "It's similar to taking in a couple of cups of coffee, but the effects lasts longer because materials that are in the bark result in much slower absorption into the stomach," Kearns explains.
It's not unusual for scientists and academics to conduct fieldwork in remote places, or even to bring adventure-seeking students along. But Kearns describes his Amazon trips as "a totally different level of incredible insanity."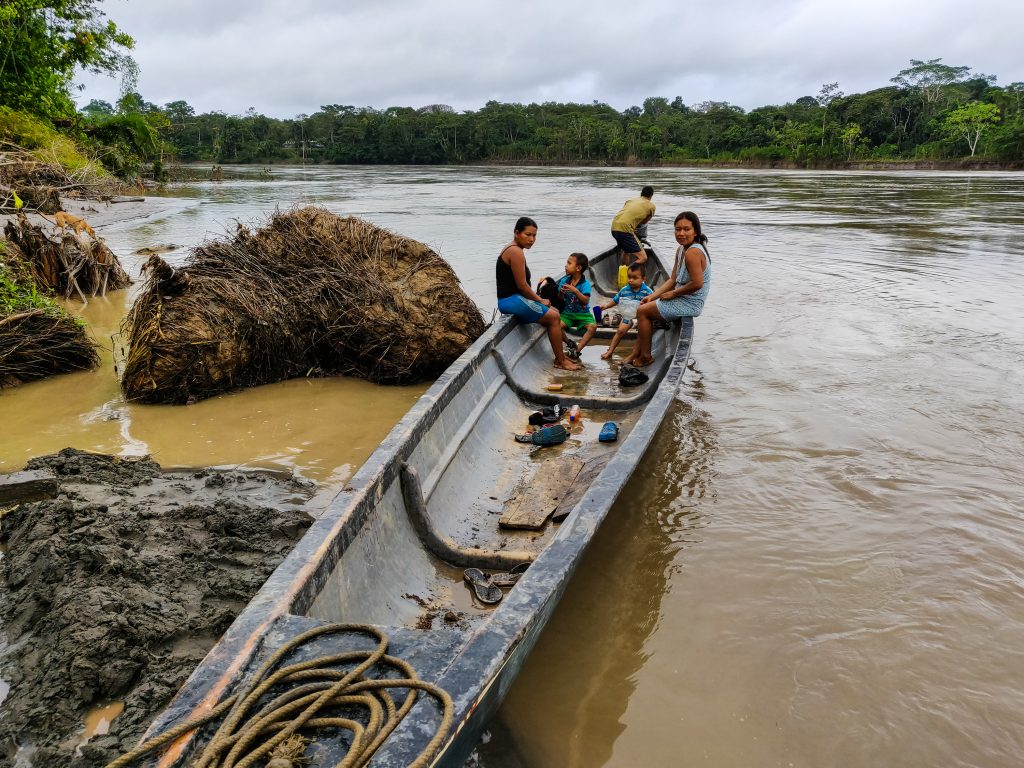 The journey alone is a test of mental stamina. Traveling to the village begins with an eight-hour plane ride to Ecuador's capital, Quito, followed by 12 hours on a bus to Lago Agrio, an oil city that developed in the 1960s as a base camp for Texaco. From there it's a two-hour taxi ride to the village of San Pablo, and another 40 minutes by motorized canoe to a Secoya settlement accessible only by boat.
"There are a lot of challenges and risks," Kearns says. He first learned about the Secoya as a college student in 1996. While studying biochemistry at the University of Massachusetts, he worked for an engineering firm that was developing a water-filtration system for the tribe.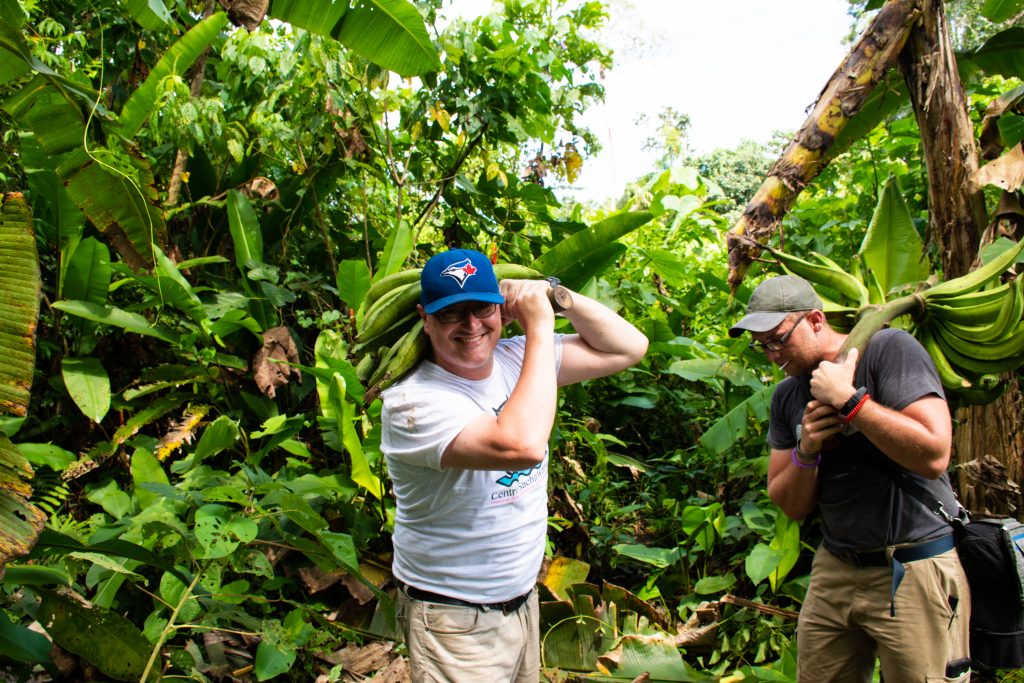 The Secoya live downriver from Ecuador's largest oil fields, and decades of drilling and exploitation by the petroleum industry has contaminated their water sources. In response, villagers have turned to harvesting rainwater, Kearns explains.
In 2012, shortly before joining the faculty at Southern, he first traveled to Ecuador for a separate research project that involved testing water samples for airborne pollutants. There, he met Luke Weiss, an American who had assimilated into the tribe and married a Secoya woman.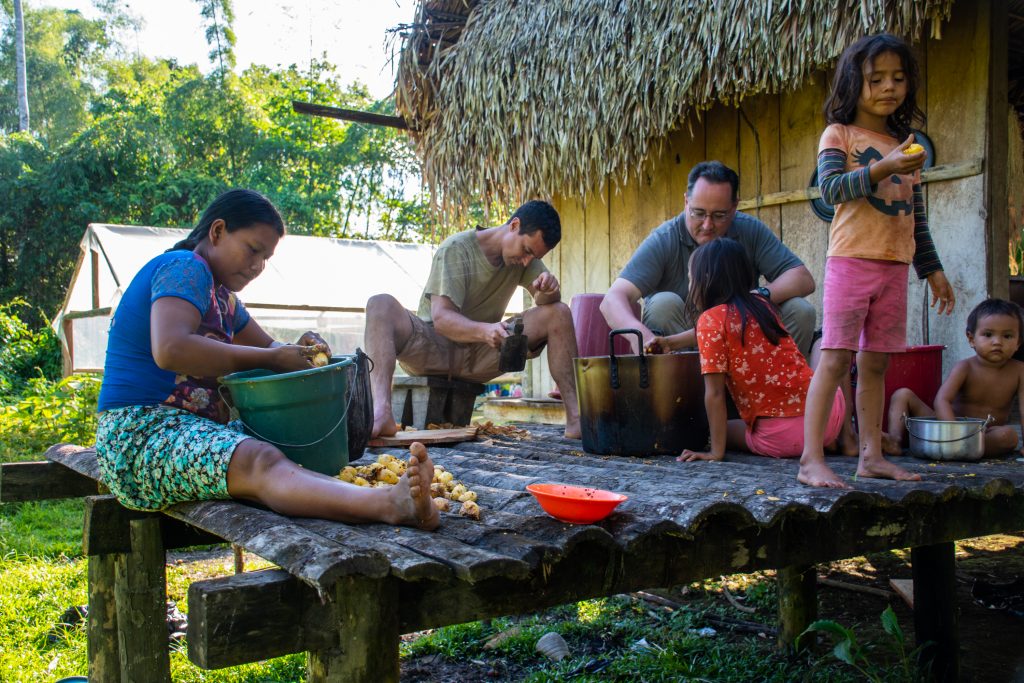 Weiss is working with Amazon Frontlines, a nonprofit organization that is helping the 500 or so Secoya and other nearby tribes reverse the devastation caused by industrialization and preserve their way of life.
The pair became fast friends (Kearns is now godfather to Weiss' daughter), and on a canoe trip one afternoon, Weiss led Kearns to a wild yoco vine entwined around a fallen tree. He showed him how to scrape off the bark with a machete and squeeze it into a gourd to make a cold-water infusion, similar to a tea.
The dream, Weiss told him, was to harness the plant's stimulant properties for use in an energy drink, turning the wild vine into a sustainable cash crop that could reduce the Secoya's dependence on oil drilling as an income source. (Many younger Secoya have taken jobs with oil companies in nearby cities, threatening the dwindling tribe's future.)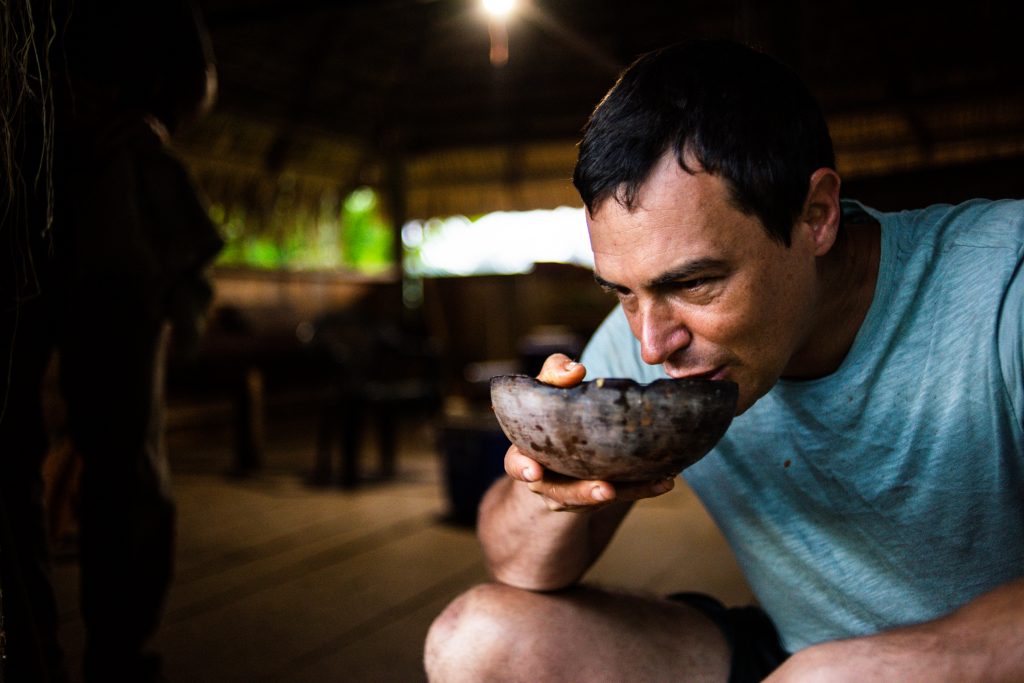 So in 2013, just as Kearns was settling into a new teaching job at Southern, Weiss enrolled in a master's program at the Yale School of Forestry and Environmental Science to study the plant's viability as an agricultural product — and he enlisted his friend the SCSU chemist to help with the research.
The pair spent the next two years analyzing samples of the woody vine in a lab at Yale, using a technique called high-performance liquid chromatography to measure caffeine and theobromine levels in the bark, seeds, and leaves. They found higher levels of the chemicals than initially thought, with the greatest concentrations in the bark. Perhaps not surprisingly, they also discovered that the most potent plants were those with the thickest stems. Their findings were published in the Yale journal Tropical Resources in 2015.
Amazon Frontlines has used the newfound knowledge to help pinpoint the yoco's optimal growing conditions, and is now helping the Secoya and allied tribes experimentally farm some 3,000 of the formerly wild plants. In August 2018, Kearns returned to the settlement with Southern student photographer and sociology major Brokk Tollefson to document their progress.
The pair also spent part of the trip in the Andean region of Ecuador, working with a women's cooperative that uses sap from the Agave Americana plant to make agave-based sweeteners. Kearns is leading a research project at Southern that involves testing the sap for the presence of toxic metals as well. (He received a provisional patent for a low-cost field kit that detects metal levels. It was developed based on research conducted in collaboration with then-student Cody Edson, '16, M.S. '17.)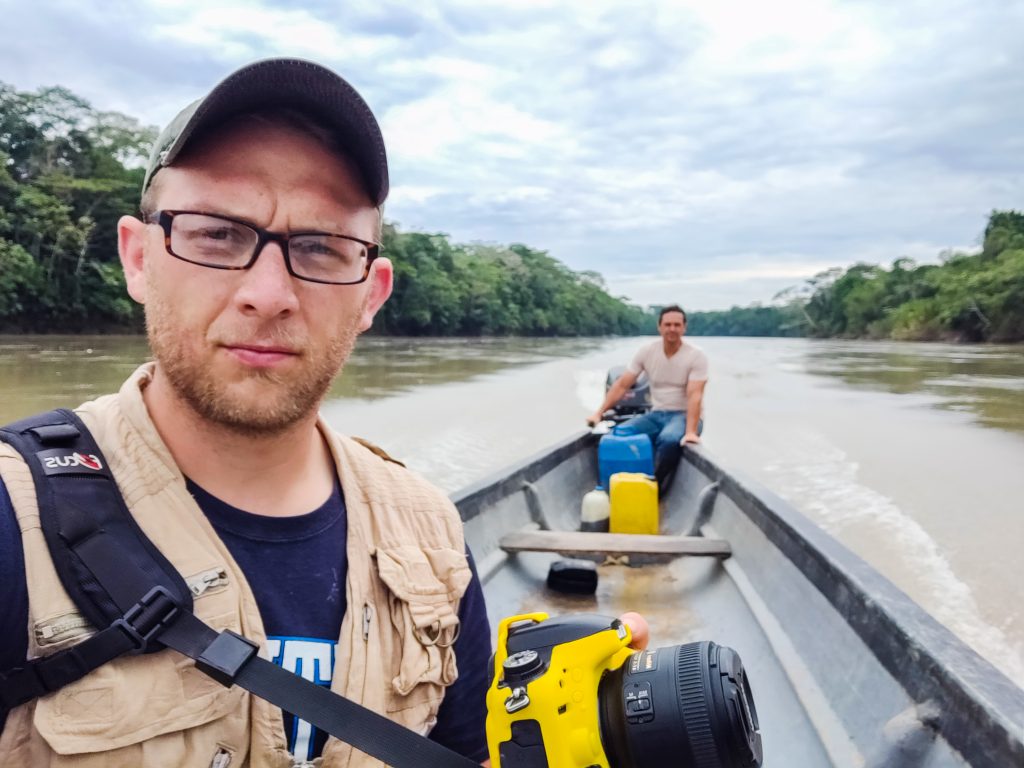 Embracing the Challenge
Because it's so demanding, Kearns usually travels to the rainforest solo. But he was confident the 26-year-old Tollefson, who served four years active duty in the Marine Corps, including a tour in Afghanistan, could handle the trip. Staying with Weiss and his family, they spent 10 days immersed in tribal routines, which included back-breaking agricultural work in extreme heat. Tollefson took more than 1,000 photos of the yoco farming and other aspects of Secoya life for an independent study project.
Even the military-trained Tollefson, however, wasn't fully prepared for life in the jungle. "The bugs were crazy, the weather was hardly bearable, and after waking up to a very large cockroach the size of my fist crawling on my arm, it was hard to sleep," he says. "It was the most sobering and surreal experience of my life."
But then he adds: "I'd love to do it again."
Photos by Brokk Tollefson, '19, who majored in sociology and minored in journalism.