If you talk to veterans who use the Veterans Center at Southern about what brings them back day after day, it's not amenities such as the large flat screen television or the comfortable sectional couches. Sure, those are nice, but what really makes the space is the people who congregate there.
"In the military it's all about the camaraderie and the support you give each other as soldiers," Veterans Center Director Jack Mordente, U.S. Army, says. "When vets get done with service, they either go to work or they go to school. If they go to school they maintain the camaraderie. They tell stories and joke with each other. It's all about support."
These days, more and more veterans are in search of support in higher education. Colleges have seen an increase in enrollment of veterans thanks to the conclusion of close to a decade of involvement in the wars in Afghanistan and Iraq. According to Department of Veterans Affairs, in 2013 more than a million student veterans were using their GI benefits to pursue advanced educational opportunities; that number was estimated to increase by 20 percent in just a few years. At Southern, approximately 300 veterans are enrolled (that includes veterans, National Guard, Reservists, and dependents).
Staffed by Mordente and work-study students who are also veterans, the Veterans' Center is open 8:30 a.m. to 6 p.m. Monday through Friday. There's a lounge, a refrigerator, a microwave, a separate computer lab, and ample space to study, network, watch movies, or simply to develop friendships.
"We get about 35 to 40 vets using it a day," Mordente says.
Lliam West is one of them. A junior at Southern, he is thinking that after he graduates he'd like to go on to Officer Candidate School, or OCS, the U.S. Army's main training academy for prospective army officers. Candidates who successfully complete the intense, 12-week OCS receive commissions as U.S. Army officers and assume the ability to command soldiers.
While Southern has been a good fit for West because he had friends who had also enrolled and because it was close to his hometown of Milford, he still struggled to create friendships. He found his niche at the center; in fact, you can find him there "every day, between classes."
"We all get along," West says. "There's a lot of debate and discussion, and people can feel free to be themselves. I come here every day. My friends are here."
Each public college in Connecticut has a veterans center, though it's commonly called an OASIS (Operation Academic Support for Incoming Service Members). Among Connecticut's community colleges and state universities — Central, Eastern and Western — Southern's center is the largest. Years ago, a women's group heard about Southern' s Veterans' Center. Using it as a model, they provided funding, furniture, and assistance at the other state schools. All the schools had to do was provide the space. Mordente, who has been involved with veteran's services at Southern since 1975, understands the connotation of an OASIS but states he's a "'60's" guy who prefers the more casual Veterans Center. Whatever name you call it, it leaves a lasting impression.
"I get feedback from students who transfer here that it's head and shoulders above the rest," Mordente says. "Vets see our center and say, 'This is incredible.' Veterans meet each other, they socialize, talk about their military experience with each other, then academic discussions happen. There's talk about different courses and professors. It's the kind of thing where they stop in between classes and keep coming back. Or vets are in classes with each other, and they'll talk about the center and sometimes there will be a vet who hasn't been using it, and they will" [based on someone's recommendation].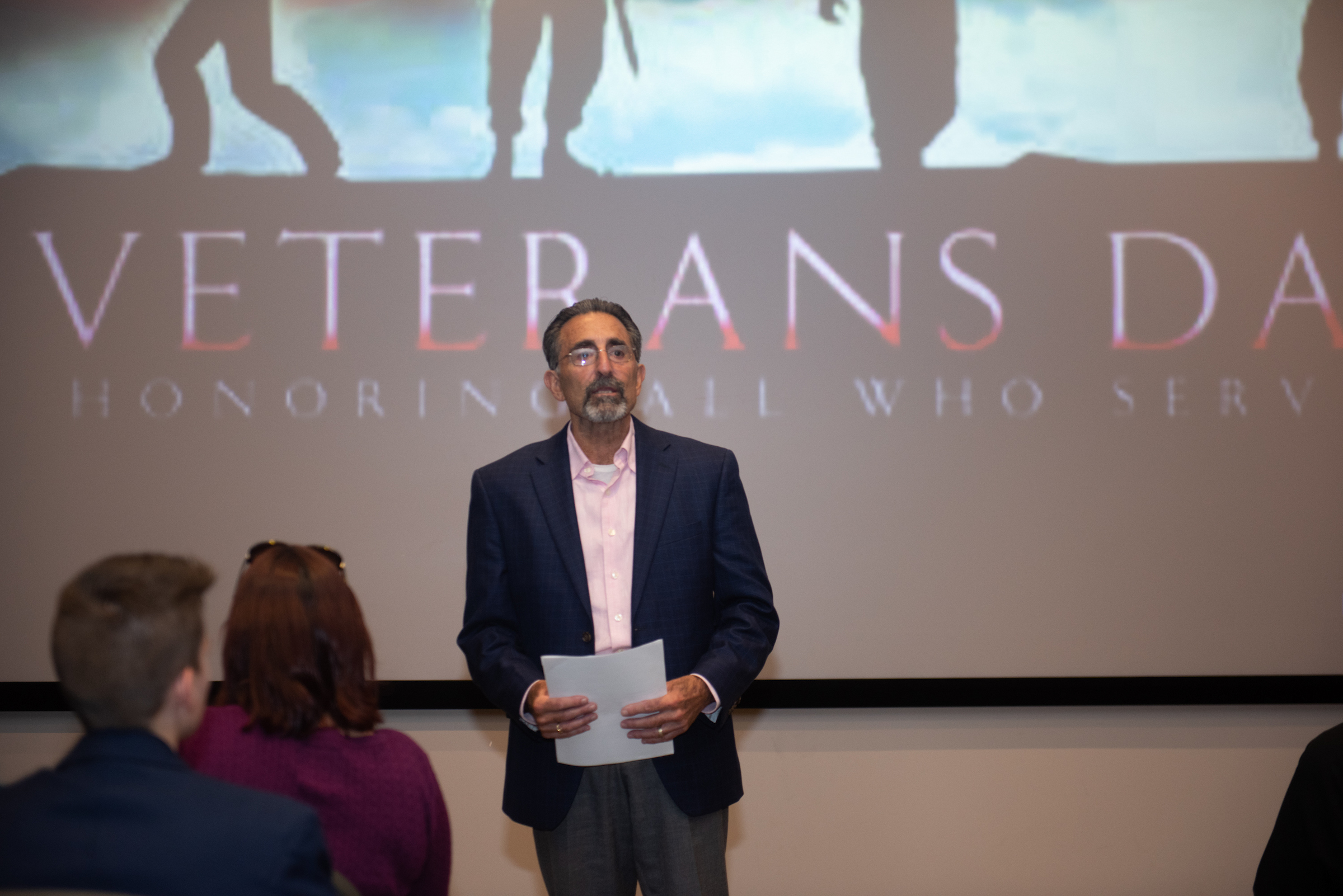 In addition to the Center, veterans can make use of other services offered through the Veterans Office, such as guidance, advisement, GI Bill and Connecticut War Veterans and National Guard Tuition Waiver Certifications support. The office acts as a liaison with local, state, and federal agencies. Also, in coordination with Southern's Academic Success Center, veterans can receive tutoring help from other veterans at the center.
Mordente finds that the connections made at the center are so strong that if a veteran is deployed or graduates from Southern, his or her relationship with the center goes on.
"There's an incredible wall outside the center with photographs of war-deployed Southern students, pictures of vets in the center, of Veterans' Day ceremonies and other activities," Mordente says. "It's the first thing you see when you come to the center, and it's pretty special." It was enough to draw in Lily, who recently transferred to Southern. She was looking for a quiet spot away from the crowds, where she could blend in, and she found it here.
"All of us appreciate it," she said. "It's a place where we all come and find someone who will understand us."