Like most college students after graduation, women's studies graduate student Allegra Itsoga wasn't sure what she wanted to do for a career. Her inspiration came from one of her economics professors, who was from Ghana and talked positively about being taught by Peace Corps volunteers. With a B.A. in French and development economics from the University of San Francisco, as well as an interest in Francophone countries, Itsoga's transition to Peace Corps volunteer made sense. The Peace Corps is a service opportunity for driven innovators to immerse themselves in a community abroad, working side-by-side with locals to address challenges of today.
In 2003, Itsoga, a native of Watertown, Conn., joined the Corps and was sent to Gabon, located in Central Africa, where she spent 27 months living with a host family. During those months she developed and implemented English as a Second Language curriculum for children, ages 11 to 19, and organized and implemented an AIDS Awareness March with 5,000 students, as well as increasing levels of AIDS education and awareness. "Because of my fluency in French, I was able to immerse myself in the culture really well," Itsoga says. She loved the experience so much, she decided to stay an additional 14 months.
Living abroad for Itsoga was easy; the harder part was coming back to the States. Her time in the Peace Corps ignited her passion for social justice and made her realize that interacting with communities and individuals was a must for her future employment. "After an experience like the Peace Corps, I knew I couldn't work for a for-profit company," she says. She found her next opportunity at the Connecticut Public Broadcasting Network, where she started as a customer service representative and worked her way up to events management. Itsoga believed in the mission of public broadcasting, which is dedicated to providing diverse communities with a mix of entertainment programs and services.
After CPBN, Itsoga worked at Juvenile Diabetes Research Foundation (JDRF), which is focused on funding Type I diabetes research. Itsoga's focus at JDRF was event fundraising with families who had a member with Type I diabetes and were passionate about funding research. Both at CPBN and JDRF, Itsoga enjoyed the development more than the fundraising, but was skilled at both. "It's all people skills, " she says. "It's all identifying the right people and working with them to make them feel passionate about the cause that you're working for."
Currently, Itsoga is director of Le Korsa, a nonprofit organization devoted to improving human lives in Senegal, Africa. Korsa translated from Pulaar, a Fula language spoken mainly by the Fula and Toucouleur peoples in the Senegal River valley area, to English means, "love from respect," and it shows in the work Le Korsa does. Le Korsa is unique because it works directly with the population to determine what the people want, and then designs projects around those wants.
"Most NGOs do a cookie-cutter project and keep repeating it over and over in other areas," Itsoga says. These fly-by-night organizations might build a hospital and be gone the next day, leaving the population with no knowledge or funding to run such an operation. "Community-centered development is the only development that is sustainable," she says.
One such project Itsoga led was the Women's Health Initiative, which resulted in the Keur
Djiguene Yi Women's Health Center in Dakar, the first free, government-sanctioned women's health care facility in Senegal. Itsoga thinks of herself as a facilitator; the real heroes, as far as she's concerned, are the people she's working with: The doctors that choose to stay in Senegal and work for practically nothing, the teachers that go into these tiny villages and live without power to help children, the farmers who are growing food and then giving it to the community, and the women who are getting together to do outreach.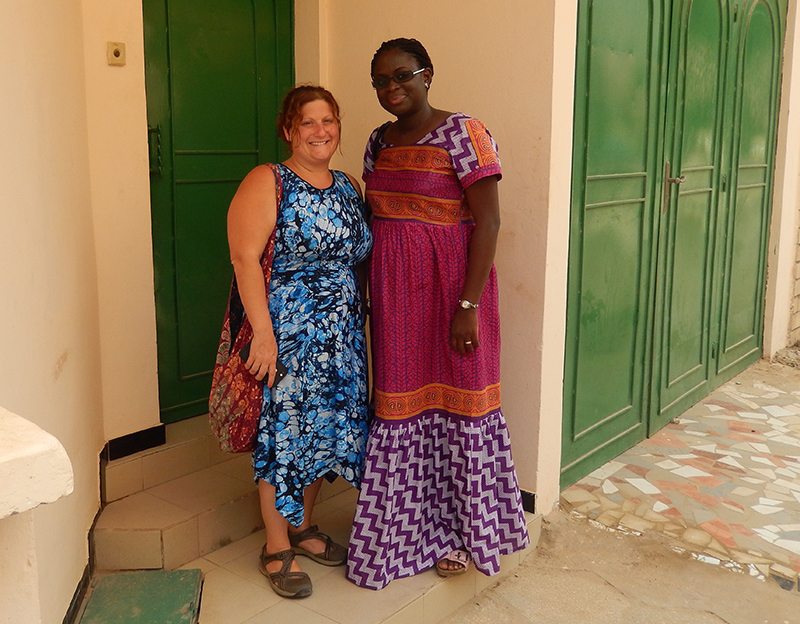 With the creation of the women's center, Itsoga realized she needed to further her education to learn more about why, precisely, projects like the women's center are so vital. "I knew I wanted to get my master's, I just wasn't sure in what," she explains. Knowing that Itsoga wanted to pursue women's studies, a friend of hers recommended Southern's master's program, where one of the most highly regarded professors in the field, Yi-Chun Tricia Lin, teaches.
Itsoga joined Southern's women's studies graduate program in fall 2017. While it's challenging balancing work with her master's program, Itsoga says, "the unique thing about the women's studies department is that they get what it's like for working women." Her work at Le Korsa and the curriculum of her master's program don't always intersect, although her most recent thesis, on how the patriarchal funding structure of NGO's disenfranchises small, women-led organizations, is inspired by her nonprofit work.
Her advice to students considering nonprofit work? Do an internship. "You will get so much more as an intern at a nonprofit than doing an internship at a for-profit because nonprofits need interns to breathe," she says. "We cannot survive without interns/volunteers. So much more responsibility, more interesting projects." Itsoga also wants to fight negative stereotypes about nonprofits, explaining, "The stigma about no money in nonprofits isn't true. You won't be a millionaire, but you can live comfortably. "Plus," she adds, "you go to bed feeling like you've made a difference. Can't put a price tag on that."