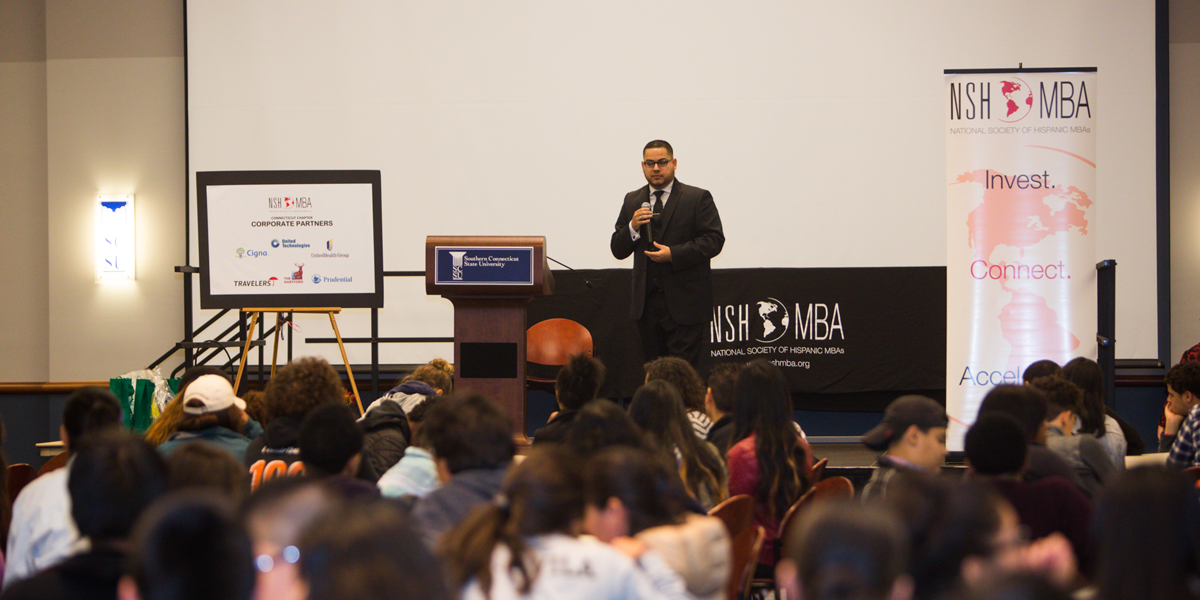 The university hosted about 300 Latino high school students on campus recently for The National Society of Hispanic MBAs (NSHMBA) Quest Education Summit 2015, a one-day event for Latino and other minority students run by a consortium of Hispanic professional and educational associations. The goal of Quest is to promote higher education and career development. The Connecticut chapter of NSHMBA organized and ran the summit, which included informational workshops, motivational speakers, a college fair, various networking opportunities, and a campus tour.
The Quest program provides students with a real-world connection between high school and college. Students engage with role models in the community who have overcome similar barriers to success and learn best practices for applying to and financing college; understand how to better market themselves to prospective colleges; build relationships with regional college recruiting representatives; discover the many resources available for educational and professional pursuits; and build confidence and self-sufficiency. This event is free to all attendees and includes a continental breakfast, lunch and transportation.

This year's Quest at Southern included breakout sessions such as "Snapshot of Life on Campus," "The Essay and the Recommendation," "Living Healthy," and "Balancing Life Skills," among others. A keynote address, "Education Matters," was delivered by Carlos Perez, principal and founder of Perez Technology Group, a Hartford-based solution provider delivering cloud and IT infrastructure services to small and midsize businesses, primarily marketing firms and law offices.
Perez, who was born in Rio Piedras, Puerto Rico, and now lives in Wethersfield, earned a Bachelor of Science degree in business information technology at the University of Connecticut. He has worked in many different industries, including finance, health insurance, airlines, Microsoft OME Partners, and nonprofits, among others.
Southern is one of the sponsoring partners of the Quest summit. Members of the university staff who serve on the Quest Committee include Anna Rivera-Alfaro, Academic and Career Advising, and James Barber, director of community engagement.