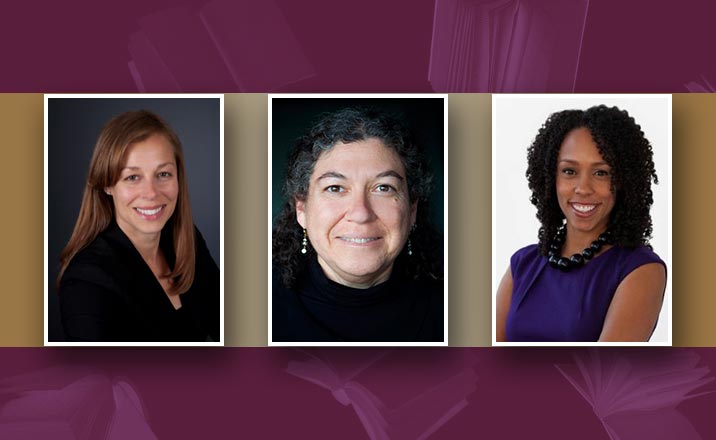 Members of local literacy organizations will gather on campus on November 19 for a research forum sponsored by the university's Journal of Student Psychological Research (JSPR). The forum, "Early Literacy Experiences, the Brain, and Child Development," will feature a panel discussion with Dr. Perri Klass, National Medical Director of Reach Out and Read and a New York Times columnist; Dr. Myra Jones-Taylor, commissioner of the Connecticut Office of Early Childhood Education; and Dr. Julia Irwin, psychology professor at Southern and senior research scientist at Haskins Laboratories. Their discussion will be moderated by Dr. Laura Raynolds, SCSU professor of special education and reading and research affiliate at Haskins Laboratories.
Klass is a professor of journalism and pediatrics at New York University, where she is co-director of the Arthur L. Carter Journalism Institute. She has written extensively on pediatrics, literacy, medicine, and ethics for many publications, including the New York Times.
Jones-Taylor oversees early childhood programs and early intervention programs serving more than 50,000 children in the state each year. Her research expertise focuses on the effects of early care and education reform in low-income urban communities.
Irwin is author of Preparing Children for Reading Success: Hands-On Activities for Librarians, Educators, and Caregivers, along with co-author and psychology colleague, Dr. Dina Moore. Irwin's research focuses on the development of audiovisual speech perception.
The event will take place from 5:30-8 p.m. in the Adanti Student Center Theater, with light refreshments from 5:30-6 p.m, the forum from 6-7:30 p.m., and a Q&A from 7:30-8 p.m. It is free and open to faculty, students, and any members of the community with interests in language, reading, child development, and education. Anyone interested in attending must RSVP by emailing JSPR@SouthernCT.edu. The forum is being held in collaboration with the SCSU Psychology Department, with special thanks to The Literacy Coalition of Greater New Haven for its assistance.
Cheryl Durwin, professor of psychology, is secretary of the coalition and the representative from Southern. The coalition is a group of literacy organizations in the New Haven area, says Durwin, whose own research involves assessment of and early intervention with at-risk early readers in grades K-2. Durwin, along with Patricia Kahlbaugh, professor of psychology, is a faculty adviser to the JSPR.
Durwin says the journal was launched a couple of years ago, the brainchild of a couple of graduate students who had the idea of showcasing the research of graduate and undergraduate students. The students approached Durwin about it, and she agreed to help. While the journal is currently funded by an outside donor, the students on the editorial board have also been fundraising and are working towards the journal becoming a university organization. The forum is the first event the journal has hosted.
Current and former students work on the journal — the editors are Jessica Franco, editor-in-chief; Kandice Green, associate editor; Whitney Hoffmann, associate editor; and Joshua Ryan, associate editor.  All editors are graduate students in the M.A. program in psychology. Durwin says the journal is seeking more interdisciplinary work related to psychology from students in other departments across campus.
"It is wonderfully rewarding to mentor the students through their research," says Durwin.