A Wish Come True for New Student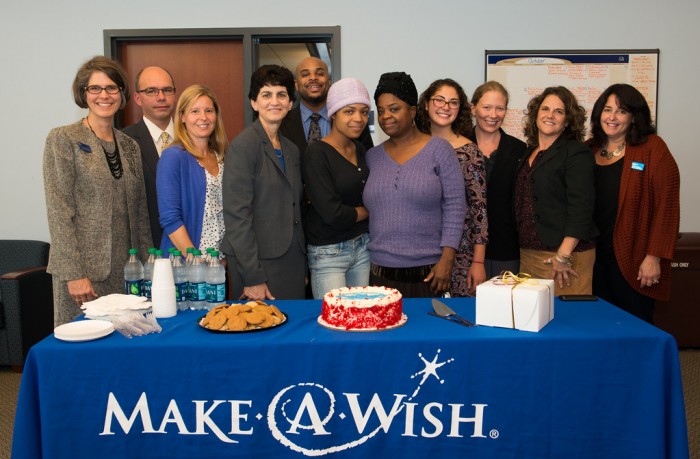 If given the opportunity to be granted just one wish, many people would choose money, fame or power. And even if that wish were limited to something tangible, many would opt for a car, meeting someone famous or taking a long vacation to their favorite destination.
When freshman Anabel Gosseline was posed that question, she chose a different option. She asked to have help in paying her college tuition. And the Make-A-Wish Foundation of Connecticut made that wish come true.
"I chose education because to be successful in life, it is so important to have a degree," Gosseline says.
A ceremony in her honor was recently held in the Michael J. Adanti Student Center Resource Room, which took place the day before her 19th birthday.
"I am so thrilled that Anabel chose to come to school at Southern," says President Mary A. Papazian. "And it says a lot about her that her wish centered on education."
Gosseline was diagnosed with a form of brain cancer in June 2013, around the time that she was graduating from Stratford High School. It has been a long road, but she is doing considerably better now. In fact, she originally had hoped to begin taking college classes in January. But her doctor cleared her to begin this fall on a part-time basis.
She is currently taking three classes, and hopes to go to school full time starting in January. Gosseline says that she would like to pursue a career in oncology pharmacology. "I really would like to give back for the help that I've gotten, especially during the last year," she says.
She also was overwhelmed by the number of well-wishers at the ceremomy. "I was like, 'Wow!' I can't believe so many people came here for me."
Among those who greeted her were members of Southern's Omega Zeta Pi sorority, which is a service-based organization that is affiliated with the Make-a-Wish Foundation; Chelsea Harry, assistant professor of philosophy, and Dawn Cathey, who teaches an Inquiry course — both of whom teach Gosseline.
Harry and Cathey point out their classes have a service theme to them, and that Gosseline has led an effort to write cards to young children who are cancer patients at Yale-New Haven Hospital's Smilow Center.
"She is every professor's dream student," Harry says.
Debbie Artinian, wish manager for the Make-A-Wish Foundation of Connecticut, presented Gosseline with several gifts from her organization, including a crepe velvet cake and chocolate chip cookies, which are her favorites.
Note: The "wish" ceremony for Anabel Gosseline was covered by
Channel 30
,
Channel 61
and Channel 3.