Treasuring a Special Internship Program with Webster Bank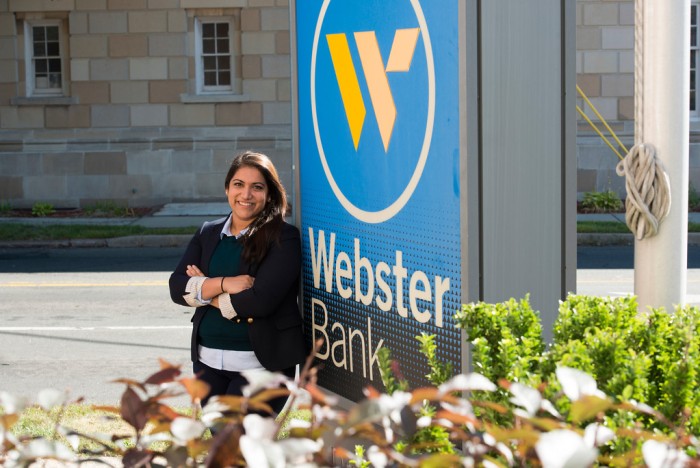 Deepta Ramesh likes having a lot on her plate. In addition to a class and developing her honors thesis, the senior finance major is holding two paid internships this semester – one in the field of marketing, the other in finance.
The latter internship came about after Webster Bank opted to create such a position earlier this year to help with its treasury and payment solutions. It specifically asked Southern students to apply because of the university's treasury management program – the only certified program of its kind in Connecticut, and one of a relative few in the nation, according to James Thorson, chairman of the Economics and Finance Department.
"It's a lucrative internship that we hope will continue in future years," Thorson says. "In addition to being paid for their work, Webster will consider hiring those who complete a successful internship. I congratulate Deepta on her selection, and I thank Webster for this opportunity to partner with us."
To be eligible for consideration, a student must have had a 3.0 GPA or better; be a senior undergraduate or a graduate student; have work experience or class experience with leadership and business skill-related responsibilities and have completed the Essentials of Treasury Management course with a grade of B-plus or better.
The course examines how businesses handle their liquid assets, like cash, with the intent of making sound financial investments. Treasury management is sometimes referred to as cash management.
Ramesh says she went through three interviews before being hired. The first interview included two senior vice presidents, while the second involved a panel of people.
"I guess they thought I was a good fit and offered me the position," she says. "Originally, they asked me to start in the summer, but I had already accepted another internship. But they were accommodating and offered to have me work there during the fall semester."
She says she works full days at the Webster Bank office in Hartford twice a week. During the first half of the internship, she is focusing on data analysis. The second half will involve implementation. The internship will conclude in December, when she will be required to write a five-page analysis and develop a presentation for Webster.
"It's very exciting and I am learning a great deal," Ramesh says. She also says the treasury management course last spring gave her a solid foundation. "Now, it's a matter of putting what I learned into practice and learning how Webster does things."
Ramesh is a South Windsor resident and a member of Southern's Honors College.