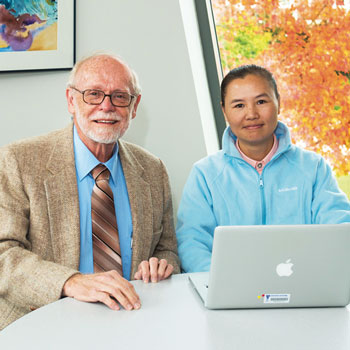 The technology landscape has changed dramatically over the past quarter century and continues to do so on a daily basis. Accompanying these changes are many new issues in the field of computer ethics — intellectual property, privacy, computer security, access to computing resources and downloading music and film off the Internet, to name a few.
During this time, the Research Center on Computing and Society, based at Southern, and headed up by Philosophy Professor Terry Bynum (below, left), has established itself as an international leader in analyzing and promoting the ethical use of computer technology.
The one-of-a-kind center has also advanced computer ethics as an academic discipline through teaching, networking, research, publications and a website that offers articles and papers, multimedia materials and links to other computer ethics resources. To mark the center's 25th year, Bynum is planning events in the fall and spring semesters that address current topics in the field of technology.
President Mary A. Papazian praises Bynum and his faculty colleagues associated with the center: "Their ongoing commitment to exploring the complex issues raised by new technology is a valuable societal contribution – and in so doing, they have given Southern international recognition in this groundbreaking field."
Bynum, who began the center at Southern in 1987, is one of the world's foremost computer ethicists. In 1995, he traveled to England to assist a colleague who was starting a computer ethics research center there and to help put a conference together. ETHICOMP95 became the first in a series of international computer ethics conferences. Bynum says by now there have been 15 of them in 11 countries in Europe and Asia as well as the United States.
In addition to his work with the center and ETHICOMP, Bynum has conducted workshops, given speeches and addresses, produced and hosted video programs and published articles on computing and human values. For 25 years he was editor-in-chief of Metaphilosophy, an international scholarly journal, now edited by Armen Marsoobian, professor of philosophy.
Over the years, many scholars, both international and American, have come to Southern to give presentations and participate in roundtables sponsored by the center.
On Nov. 8, the center held a mini-conference on computer security. Five scholars presented papers in the morning (see below), and in the afternoon, the 2013 Norbert Wiener Address was given by Donald Gotterbarn, director of the Software Engineering Ethics Research Institute at East Tennessee State University. Gotterbarn is also chairman of the Association for Computer Machinery's (ACM) Committee on Professional Ethics and a leading author of the Software Engineering Code of Ethics and Professional Practice, which promotes ethics among software engineers. Bynum says that ACM is the largest computer professional organization in the world. The namesake of the Norbert Wiener Address, according to Bynum, was an MIT mathematician whose study of information feedback systems during World War II was really the beginning of the computer ethics field.
The second event to commemorate the center's anniversary, planned for the spring semester, will focus on the social and ethical implications of MOOCs and other forms of online education. MOOCs ("massive open online courses" aimed at unlimited participation and open access via the Web), have been much in the news lately, as more and more educational institutions join the movement toward online education. In addition to these projects, the anniversary is also being marked by the presence of Chinese scholar Jin Tong (above, right), who is working at the center this year. She and Bynum are now working together on a book on "flourishing ethics," a new ethical theory that, according to Bynum is "informed and grounded by recent scientific insights into the nature of living things, human nature and the fundamental nature of the universe – ideas from today's information theory, astrophysics and genetics."
Bynum is also working on a history of the center and intends to produce a publication in honor of its milestone anniversary.
Presenters for Ethics in the Information Age: – A Mini Conference –
Terry Bynum, "What is Computer Ethics"
Krystyna Gorniak, "Robotic Caregivers: A New 'New Frontier' in ICT Ethics"
Anne Gerdes, "Fighting Emerging Organized Crime: Privacy Issues"
Jin Tong, "On the Citizenship of a 'Netizen'"
Richard Volkman, "Digital Culture, Collective Intelligence and Ethical Individualism"
Fran Grodzinsky, "Deception and Trust on the Internet"