The cover of Jeff Mock's new book is a stark photograph of barbed wire in extreme closeup, the focus on the sharp point of a rough barb – not exactly an image that makes a reader think of poetry. But writer Allison Joseph says Mock's new book, "Ruthless," is "just that—ruthless in its precise and incisive vision of our off-kilter world, cutting through the shams of language and thought to arrive at hard-won humor that makes his readers see his—and their—foibles all the more clearly." The image of the barbed wire speaks to the collection's toughness and incisiveness.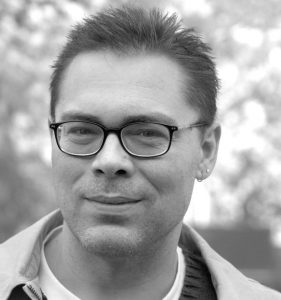 English professor Mock's first published full-length poetry collection, "Ruthless" came out on Jan. 1, and he calls its publication "a relief." He explains that the way poetry books get published is by winning competitions. His manuscript "bounced around for several years," he says, as he sent it to different contests and publishers. It came close to being published on several occasions, sometimes a semifinalist and sometimes a finalist. At last, poet Deborah Keenan selected it as the winner of the Three Candles Open Book Competition.
Although "Ruthless" is Mock's first full-length book, he has numerous other publications. His first book, "Evening Travelers," a chapbook, was published in 1994 by a very small press, with handset type on handmade paper and a handsewn binding. It is no longer in print.
His second book, "You Can Write Poetry," was a commission, designed for a specific audience. A poetry writing guidebook for writing groups and individuals, "You Can Write Poetry," now also out of print, was aimed at beginning writers.
Mock has also published a number of poems in such prominent journals as The Atlantic Monthly, Cincinnati Review, Connecticut Review, Crazyhorse, Denver Quarterly, The Georgia Review, The Indiana Review, The Iowa Review, New England Review, The North American Review, Poetry Northwest, Quarterly West, Shenandoah, The Sewanee Review, The Southern Review and others. He is now working on two other books: one is a book of longer poems of five to 12 pages each, and one is more thematic, a sequence of poems spoken by gods and goddesses that Mock is calling "American Pantheon."
Although Mock remembers hating to write poems in second grade, he says he's been a poet for most of his life. He explains, "writers have to write – it's like an obsession. We don't have a choice. That need to make something – we all have it, and we each find the outlet that serves us best. I think like a poet more than like a fiction writer."
Thinking like a poet, Mock says, involves putting into words those images or moments that "strike us and stick around. Writers put words to those things and see what happens.
Seeing where it goes, finding out what happens, writing to find something out. Things can become clearer in the writing."
He quotes a line from poet Robert Frost's essay "The Figure A Poem Makes": "No surprise for the writer, no surprise for the reader." That little surprise in a poem, Mock says, "is what brings a story alive."
Mock, who has been at Southern since the fall of 1998, teaches undergraduate and graduate poetry courses. He came to Southern from The Gettysburg Review, where he spent seven years as assistant editor.
A co-director of the Creative Writing Program with English Professor Tim Parrish, Mock worked with Parrish to create the English Department's new Master of Fine Arts in creative writing program. He credits his colleagues Robin Troy, assistant professor of English, and CSU Professor Vivian Shipley for their help in developing the program as well.
Mock gave a reading from his new book at the university on April 15, along with writer Steve Almond, best-selling author of the books "Candyfreak," "My Life in Heavy Metal" and The Evil B.B. Chow," among others.