Lee Keylock was "bombarded with poetry" when he was growing up in England. "Whether or not I liked it as a kid, I was exposed to it," he says. It seems that all that exposure is paying off for Keylock, a graduate student in creative writing at Southern: he recently won both the 2009 Leo Connellan Prize for his poem "The Tattie Hawker" and the 2009 John Holmes Poetry Award for his poem "Font."
The Connellan Prize, open to students at the four CSUS universities, is named for the former poet laureate of Connecticut, who was also CSUS poet-in-residence. The John Holmes Award, given by the New England Poetry Club, the oldest poetry club in the country, is presented for a single outstanding poem by an undergraduate or graduate student enrolled in a New England college. Vivian Shipley, professor of English and a prize-winning poet herself, calls the prize "significant."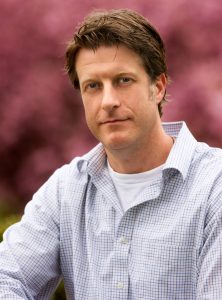 Keylock has been working towards an M.A. in creative writing at Southern but was accepted to the university's new M.F.A. program in creative writing, which starts in the fall, so he will continue his work in that program. He earned his undergraduate degree at Southern, as well as an M.S. in English with teacher certification.
An English teacher at Newtown High School, where he teaches juniors and seniors, Keylock also co-coaches, with poetry slam champion Elizabeth Thomas, Connecticut's youth poetry slam team. Keylock explains that slam poetry is "more urban and hip hop" than what he teaches or writes himself but that "the kids love it."
Slam poetry, performed for an audience and judges, "can be very contemporary," Keylock says. "It can be a response to war, or to something else in the news, and it can be highly personal." The best slam poets, he says, are the ones that work "both on the page and on the stage." The youth slam team Keylock co-coaches is now headed to represent Connecticut at Brave New Voices / International Youth Poetry Slam and Festival in Chicago in July.
Keylock's own poetry is largely inspired by his experiences within the volatile atmosphere engendered by the Irish/English conflict in England during the 1980s, when he was growing up there.
"As a kid in England," he says, "I had jobs picking potatoes and baling hay, and these were the only times in my experience when English and Irish would mix. There were a lot of Irish in my town, and in the '80s, the Irish Republican Army (IRA) was pretty big. There was tension between the Irish and the English. Bombs were going off every week in England. Leaving England and being away from it for so long, I write a lot about that topic now because I have some distance from it."
Keylock left England when he was almost 17, backpacked around Europe and came to New York City by himself when he was 18. Always a reader, he found books to be great traveling companions. He only began writing poetry in earnest about four years ago, once he had finished his teacher certification. "I started writing and just got into it," he says. "I started reading more about poetic structure and form and learning more about the genre. I became more willful in my choices as I wrote."
He started writing "The Tattie Hawker" on his own and finished it in a workshop. The poem draws on the tensions Keylock recalls between the Irish and English in his hometown and portrays an English boy's futile crush on an Irish girl. Having taken poetry writing workshops with both Shipley and English professor Jeff Mock, Keylock gives credit to both for having helped him shape this poem.
Mock describes Keylock's poems as "tough-minded, gritty, muscular and still elegant." Shipley says Keylock's poems "offer the consolation of an intelligent human spirit who speaks of what flails at his heart. He struggles with the blackness and is not broken, showing us that we must not refuse to look away from the world, from its terror, but that we also must not ignore its ravishing beauty."
Keylock received the Connellan Prize at a writers' conference at Central Connecticut State University in April.