Home
Achievements
School of Business Inducts 2019 Delta Mu Delta Members and Honorary Inductee
School of Business Inducts 2019 Delta Mu Delta Members and Honorary Inductee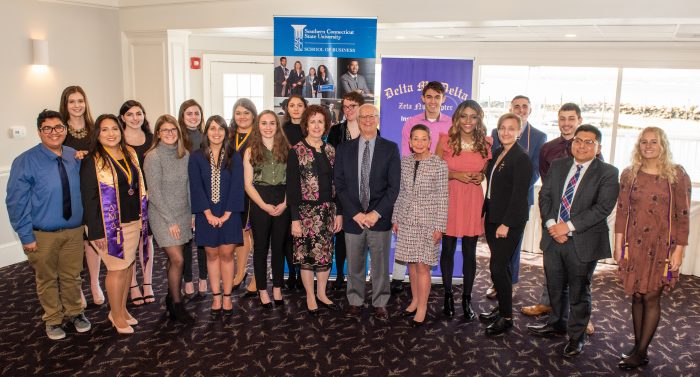 The School of Business inducted the nineteen newest members of Delta Mu Delta honor society on Saturday, November 23, 2019, at Amarante's Sea Cliff.
The students and their families were joined by Professors Jim Aselta and Dr. Wafeek Abdelsayed, who serve as the faculty advisers to Delta Mu Delta and who organized the ceremony, and Dr. Ellen Durnin, dean of the School of Business.
Each year the Southern School of Business Zeta Nu chapter of Delta Mu Delta recognizes an honorary inductee, someone who represents the ideals of Delta Mu Delta and who is a friend to the School of Business. This year's honoree is Lindy Lee Gold.
Gold has been an active and invaluable asset to every organization and community in which she involves herself. She is known for her enthusiasm, her dedication, and her willingness to step up to help. She participates not only as a donor, but takes time from her busy professional and civic schedule to get personally involved in causes and organizations that are important to her. The SCSU School of Business, and especially the Women's Mentoring and Leadership Program, are fortunate to be among them.
Gold, well-known in the Connecticut State Department of Economic and Community Development, serves as a senior development specialist, a position she had held since 1998. Lindy is responsible for business retention, recruitment, development and expansion.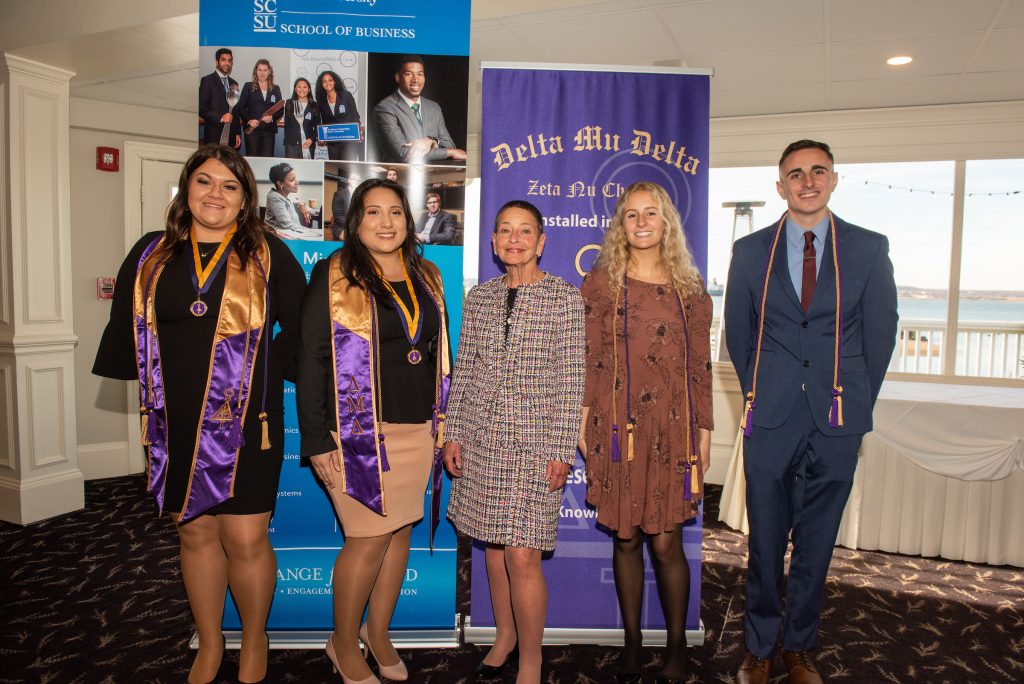 Prior to joining the state office, Gold was director of development and community relations for Mothers Against Drunk Driving, Connecticut State Office. Her professional background also includes work in the travel and investment industries, as well as devoting efforts to directing and coordinating development and renovation of low- and middle-income housing.
Gold's civic accomplishments are vast, including service on the Gateway Community College Foundation. She also serves on the state board of the Anti-Defamation League; as an associate fellow at Yale's Pierson College; and on the boards of the Arts Council, the United Way of Greater New Haven and the Jewish Foundation. Additionally, Lindy serves on the Cultural Affairs Commission City of New Haven; Southern Connecticut State University Foundation Board of Directors; the Housatonic Community College Foundation Board of Directors; and Connecticut Health Investigative Team (C-HIT) board.
Congratulations to the 2019 SCSU Delta Mu Delta inductees: Elise Abu-Sitteh, Christianne M. Accurso, Sage Marie Albino, Katia Dutra Astudillo, Alexandra Grace Bucci, Julie Ann Delucia, Esosa Osaro Enagbare, Rudolfo Hernandez-Velaquez, Andrea Gudino, Satchel Christopher Harrell, Justin Paolillo, Alejandro Jaime Quijada, Gabriela Maria Rodriguez, Eldi Shahini, Kari Ann Swanson, Michaela Hart Tiani, Kyle Raymond Tuttle, Katherine Wojcik, and Alexis Marie Young.