"We Make Cool Stuff With Our Hands"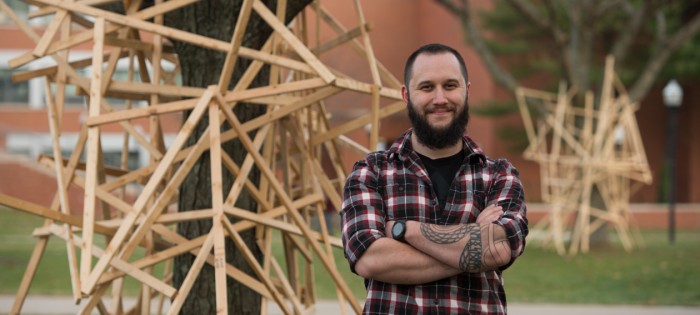 If you've walked past Earl Hall recently, you've seen them: light wooden sticks clustered around a couple of trees, somehow balancing against one another to create a shape. You may have seen a bearded young man placing these sticks into a formation, and you may have stopped to ask him, "What are you doing?"
Jacob Hagedus' outdoor sculpture installation on display outside of Earl Hall has engaged a number of curious people on campus. Since the work is outdoors and public, Hagedus often had onlookers ask him what he was making while he was constructing the piece. A senior majoring in studio art with a concentration in sculpture, he also has a piece installed at the John Slade Ely House Center for Contemporary Art in New Haven as part of a current exhibition of Connecticut students' artwork.
Art Professor Jeff Slomba says of Hagedus that he has "developed a mature work ethic in his artistic practice while at Southern. He transforms common materials and overlooked sites into dynamic interventions that are both structural and expressively intuitive."
Hagedus describes his work as construction and fabrication rather than actual "sculpting." "This is my response to the question, 'what kind of artist are you?'" he says. Sculpture as a word has changed a lot, he says, as have its materials and methods; for example, his piece at the Ely House is made of long fluorescent light tubes, a far cry from the marble and granite many people think of when they hear the word "sculpture." Hagedus believes that working with light is the direction his mature body of work will take. Having access to materials like light tubes, he says, has changed his ability to do his work.
Hagedus originally started working on the wooden piece in the Earl Hall courtyard, and it grew so large he decided he had to build another one. "It's weird to be working outside the comfort of the sculpture studio," he says, and he was nervous at first about putting his work out in the world. But now he is drawn to working outdoors and says he strongly believes that his work will be outside. He says he works intuitively, and doesn't usually have a plan for where he is headed with a sculpture. "I get lost in it," he says. "It's fun."
His fondness for Earl Hall and the work that goes on there prompted in Hagedus a desire to raise awareness about the building. He chose to install his works outside of Earl to draw attention to the fact that "we are making cool stuff with our hands in there. It's one reason I wanted to make this sculpture outside."
Passers-by asked a lot of questions while Hagedus was building his sculptures, and he welcomed the curiosity. "Our role as artists is to make people aware of the medium and get people to ask questions they wouldn't have asked otherwise," he says. "We have an obligation to share what we do with others – it can be so inspiring. I think of raising awareness as a way of giving back."
Becoming a sculptor was not in Hagedus' original plan. He started at Southern as an art education major and planned to be an art teacher. But, he says, his adviser, Rachael Vaters-Carr, "sat me down and said 'you should be a sculpture major.' This changed everything," he says. "I changed while at Southern – I changed my major and am so glad I did. I found something I love to do."
Following his graduation this month, Hagedus isn't sure what he will do next. But, he says, the most important thing he has learned is to "just work and work and work – just keep working. The more I do the work, the more it builds on itself."
The Ely House show is a curated exhibition open to undergraduate college students in Connecticut. About 70 students are represented in the show, and the exhibit remains open until Dec. 21. "The purpose of the exhibition is to give students the experience of being part of a gallery exhibition," Hagedus says. "Galleries can be very hard to get into." Hagedus applied for the exhibition over the summer, at Slomba's encouragement.