Owl pride is running sky high thanks to a growing list of accomplishments that position Southern among the best. Here are some of the university's many exciting achievements and initiatives.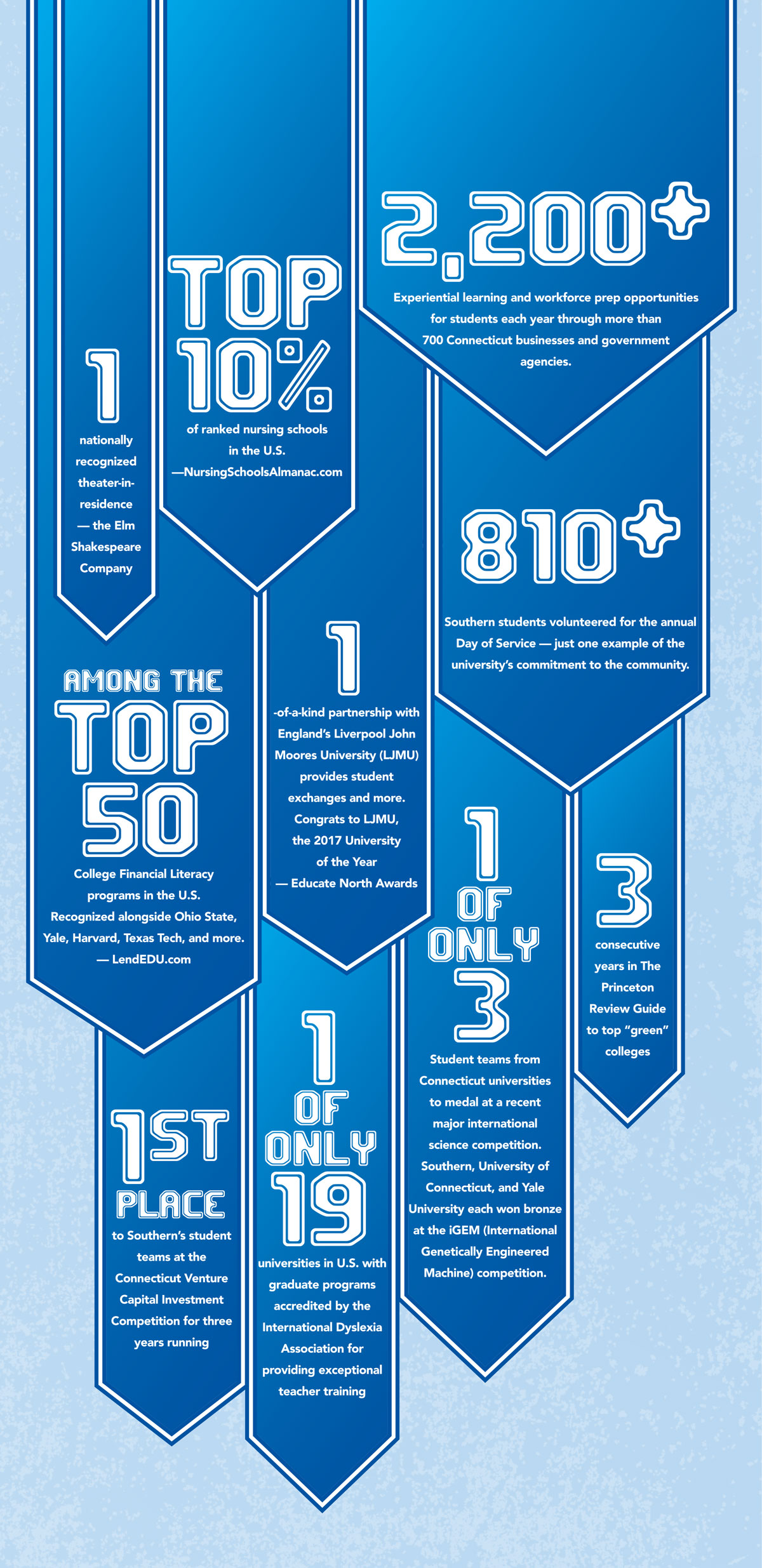 * Southern's student-faculty ratio is 14:1, tied for the lowest among public universities in the state.
* Students receive free supplemental instruction, tutoring and academic success coaching in topics such as time management and study strategies at Southern's Academic Success Center. There were 30,000 visits in 2016-17.
* 150-plus student clubs and organizations offer a wealth of opportunity. These clubs host more than 3,000 events annually. In fall 2017, 3,584 students were club members.
* An innovative trans-Atlantic partnership between Southern and Liverpool John Moores University (LJMU) offers research internships, study abroad opportunities, and faculty exchanges. The partnership provides Southern with unique opportunities at LJMU, a community of more than 23,000 students from 100-plus countries.
* Southern was one of only five colleges and universities to receive the "Excellence in Assessment" designation in 2017. The designation recognizes institutions of higher learning that best proactively use assessment data to strengthen undergraduate education.
* Beginning with the Class of 2020, all first-year students accepted into the Honors College receive a merit-based scholarship covering one-half to full in-state tuition.
*Student retention rates in Southern's Honors College historically have been well-above 90 percent — in step with many of the most-selective private institutions of higher education.
* Gold LEED (Leadership in Energy and Environmental Design) certification was awarded to two campus buildings: the new science building and the home for the School of Business. The certification recognizes construction and design meeting exceptional ecological standards.
* Southern is home to the CSCU** Center for Nanotechnology, the only system-wide center for the field in the state.
* Also housed at Southern, the Werth Center for Coastal and Marine Studies is the only CSCU** center dedicated to faculty-mentored student research that addresses environmental issues along the Connecticut shoreline and Long Island Sound.
* Southern's campus will soon be home to the Barack H. Obama Magnet University School through a partnership with the city of New Haven and its school system. A true win-win initiative, it will provide in-classroom teacher training for education majors and an exceptional learning environment for students in kindergarten through fourth grade.
* In 2016, Southern partnered with CARE (the Community Alliance for Research and Engagement), which was founded at Yale University. In the following three years, CARE has been transitioning from Yale to SCSU's campus — with Southern becoming responsible for CARE's community engagement work. Yale will continue to manage and finance CARE's research agenda while gradually shifting that work to Southern.
* Alumna Jahana Hayes, '05 was the 2016 National Teacher of the Year. Southern graduates also swept many of the state's top teaching awards for 2016, earning honors as Connecticut's "Best of the Year" in the superintendent, teacher, school counselor, and many other categories. Most recently, alumnus Dan Kahl was named the state's "Adaptive Physical Education Teacher of the Year."
* Computer science majors Michael Solati and Robert Crowdis won first place at the 2017 College Tech Challenge — standing out among many of the state's top engineering and programming students. The duo won a $5,000 prize.
* In the past four years, 98-plus percent of students in Southern's accelerated Bachelor of Science in Nursing program passed the NCLEX-RN (National Council Licensure Examination) the first time — among the best records in the state. (State of Connecticut Department of Public Health, May 2018)
* A Southern team was a semi-finalist in the 2017 American Marketing Association's Collegiate Case Competition. Southern was the only institution of higher learning in Connecticut to score among the semi-finalists and finalists — and joined Providence College as one of only two in all of New England.
* Sandra Gomez-Aceves, '17, beat out nearly 500 applicants to win one of only twelve coveted spots at the 2017 ProPublica Data Institute, a seminar for journalists and journalism students. Gomez-Aceves was one of only three of the latter chosen by the Pulitzer Prize-winning organization to participate. The invitation covered all tuition costs.
* There are 11,000 student members in the American Marketing Association (AMA), and recent graduate Julia Rotella,'17, was one of the best, finishing second in the organization's 2017 "Student Marketer of the Year" competition.
* Southern is an NCAA Division II athletics powerhouse. The Owls rank among the top 10 nationally with 80 individual titles and in team championships with 10 titles.
* In fall 2016, Southern's chapter of the Society of Professional Journalists was named the "Outstanding Campus Chapter" for region 1, which includes Connecticut, Maine, Massachusetts, New Jersey, New York, Pennsylvania and Rhode Island.
* Two Southern graduates were among a total of only 10 librarians chosen from throughout the U.S. to receive the 2016 "I Love My Librarian Award," sponsored by the American Library Association.
* Southern previously was recognized at the White House Summit on Computer Science for All.
* In November 2018, Southern celebrated its second annual Social Justice Month with almost 100 events, all designed to further social justice education and awareness on campus.
* Southern is the first breast-feeding friendly campus in the state and the nation. — Connecticut Breastfeeding Coalition
* Southern will provide residential leadership scholarships that cover housing expenses for 10 incoming New Haven Promise Scholars beginning next fall. The selected students — known as Promise Community Ambassadors — will mentor Southern's New Haven Promise Scholars and city high school students. As of December 2017, Southern has had more New Haven Promise Scholars (339) than any other university.
* Sierra Magazine and the Princeton Review have repeatedly cited Southern among America's greenest universities.
* Since being installed on campus, refillable water bottle stations have been used more than 1 million times. That's a lot of plastic kept out of landfills.
* More than 3,000 solar panels were installed on campus through a renewable energy program expected to generate over a million kilowatt hours of electricity annually — with no capital investment or upfront costs to Connecticut tax payers.
* By May 2018, Southern's award-winning Food Recovery Project had collected 33,677 pounds of nutritious, unspoiled and unserved food from the dining hall and other campus dining establishments. The equivalent of 27,500 meals were then delivered to area food pantries and soup kitchens. Over the years, more than 50 student interns from Southern's Office of Sustainability have helped drive the program.
* Southern's organic garden produced 1,500-plus pounds of food from 2016 – spring 2018 — a bounty shared with area soup kitchens and local families through the Community Garden Nutrition Program, a partnership with CARE (Community Alliance of Research and Engagement) and New Haven Farms.
* Southern sends organic waste, including food scraps, to Quantum Biopower in Southington, Conn., where it is converted into energy, soil-based fertilizer, and compost.
* The university has been building communities and empowering lives for almost 125 years. Get ready to celebrate Southern's anniversary in 2018!
**Connecticut State Colleges and Universities