Kalimera from Athens: Day Two, Part One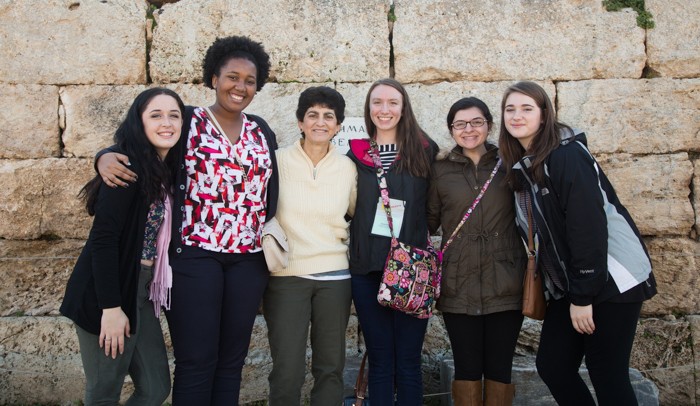 Tuesday dawned sunny and warm, perfect for a trip to the ancient city of Corinth. We boarded our motor coaches at the hotel entrance for the hour-long ride, guided by our Athens-based historian, Yannis, who provided colorful commentary on everything from the number of taxis in Athens (16,000) to the four pillars of the Greek economy (shipping, agriculture, industry, and tourism).
On the way were groves of olive, cypress, and pine trees; mountains disappearing in the mist; car dealers and auto parts stores; oil refineries; and highway signs in a mix of English and Greek. We passed a number of small, ornate roadside shrines, marking the sites of car accidents. Friends and relatives construct these as a thank you to the saints for sparing the lives of those involved in the accidents.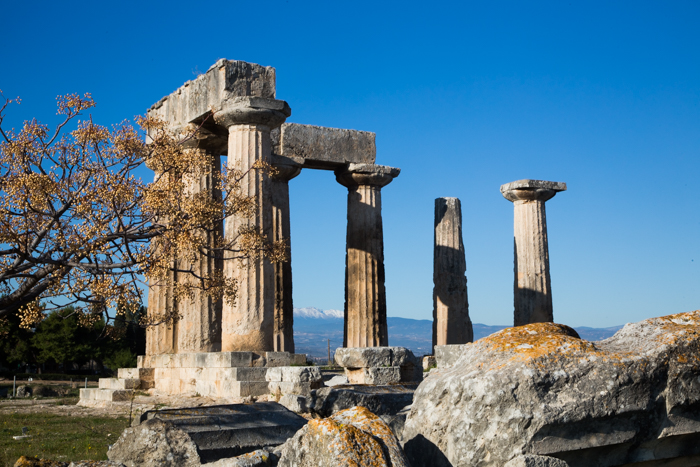 Located on the isthmus that connects mainland Greece with the Peloponnese, and surrounded by natural springs, Corinth was the biggest city in ancient Greece. Ancient Corinth became a center of early Christianity, following visits by Paul the Apostle, a Christian leader who is credited with several chapters in the new testament. The ruins, a few miles from modern-day Corinth, were first excavated in 1892 by the Greek Archaeological Service, and are dominated by the remaining pillars of the Temple of Apollo.
On the way back to Athens, we stopped for lunch and a visit to the Corinth Canal. Constructed in 1893, the canal shortened the trip between Greece and Italy. Now popular among "bungy" jumpers, the canal is four miles long by 70 feet wide, with a height of about 300 feet, and rock walls that are nearly vertical. Several bridges span the canal, offering a breathtaking view.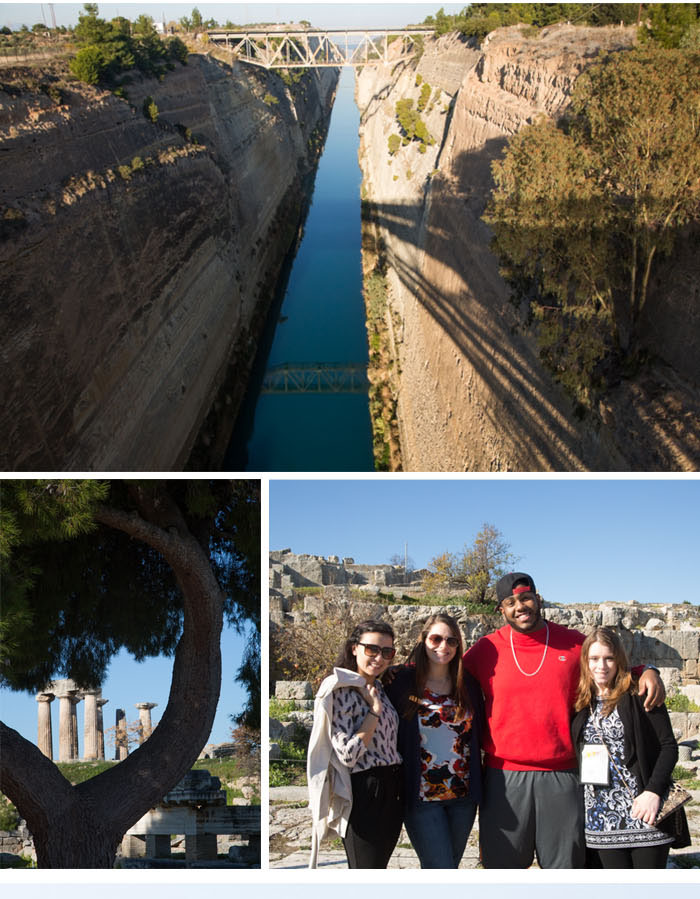 Top: President Papazian and several choir members at the Corinth ruins;
the remaining pillars of the Temple of Apollo; the Corinth Canal; at the Corinth ruins.