Owl pride is running sky high thanks to a growing list of accomplishments that position Southern among the best. Here are some of the university's many exciting achievements and initiatives.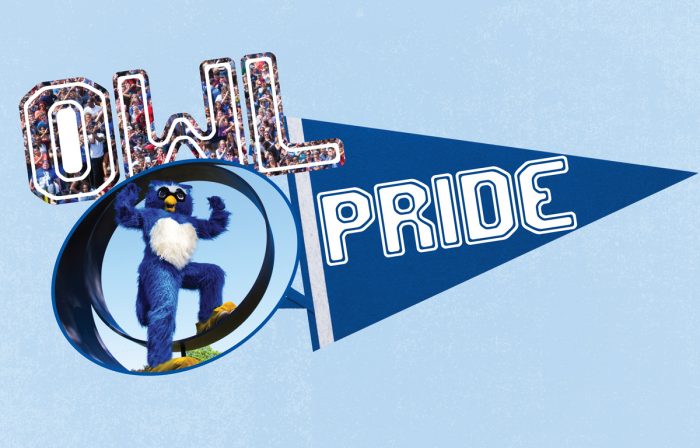 * Southern's student-faculty ratio is 14:1, the lowest among public universities in the state.
* Students receive free supplemental instruction, tutoring and academic success coaching in topics such as time management and study strategies at Southern's Academic Success Center. There were 30,000 visits in 2016-17.
* 150-plus student clubs and organizations offer a wealth of opportunity to students.
* Southern is home to the CSCU** Center for Nanotechnology, the only system-wide center for the field in the state.
* Sierra Magazine has repeatedly included Southern on its list of "Cool Schools," a list of America's greenest universities.
* In 2016, Southern partnered with CARE (the Community Alliance for Research and Engagement), which was founded at Yale University in 2007. In the following three years, CARE is transitioning from Yale to SCSU's campus — with Southern becoming responsible for CARE's community engagement work. Yale will continue to manage and finance CARE's research agenda while gradually shifting that work to Southern.
* In November 2017, Southern celebrated Social Justice Month with almost 100 events, all designed to further social justice education and awareness on campus.
* The Werth Center for Coastal and Marine Studies is the only CSCU** center dedicated to faculty-mentored student research that addresses environmental issues along the Connecticut shoreline and Long Island Sound.
* In the past three years, 100 percent of students in Southern's accelerated Bachelor of Science in Nursing program passed the NCLEX-RN (National Council Licensure Examination) the first time — a record that significantly surpasses all other accelerated nursing programs in the state. (State of Connecticut Department of Public Health, May 2017)
* Southern is one of only five colleges and universities to receive the "Excellence in Assessment" designation this year. To date, only 15 have received the designation, which recognizes those who most effectively use data to enhance student performance.
* Alumna Jahana Hayes, '05 is the 2016 National Teacher of the Year. Southern graduates also swept many of the state's top teaching awards for 2016, earning honors as Connecticut's "Best of the Year" in the superintendent, teacher, school counselor, and many other categories. Most recently, alumnus Dan Kahl was named the state's "Adaptive Physical Education Teacher of the Year."
* A Southern team was a semi-finalist in the 2017 American Marketing Association's Collegiate Case Competition. Southern was the only institution of higher learning in Connecticut to score among the semi-finalists and finalists — and joined Providence College as one of only two in all of New England.
* There are 11,000 students members in the American Marketing Association (AMA), and recent graduate Julia Rotella,'17, was one of the best, finishing second in the organization's 2017 "Student Marketer of the Year" competition.
* Southern is an NCAA Division II athletics powerhouse, having earned 79 team championships and ten individual championships.
* In fall 2016, Southern's chapter of the Society of Professional Journalists was named the "Outstanding Campus Chapter" for region 1, which includes Connecticut, Maine, Massachusetts, New Jersey, New York, Pennsylvania and Rhode Island.
* Gold LEED (Leadership in Energy and Environmental Design) certification was awarded to two campus buildings: the new science building and the home for the School of Business. The certification recognizes construction and design meeting exceptional ecological standards.
* Two Southern graduates are among a total of only 10 librarians chosen from throughout the U.S. to receive the 2016 "I Love My Librarian Award," sponsored by the American Library Association.
* Southern will provide residential leadership scholarships that cover housing expenses for 10 incoming New Haven Promise scholars beginning next fall. The selected students — known as Promise Community Ambassadors — will mentor Southern's New Haven Promise scholars and high school students in the New Haven Public Schools. As of December 2017, Southern has had more New Haven Promise scholars (339) than any other university.
* Southern previously was recognized at the White House Summit on Computer Science for All.
* The university has been building communities and empowering lives for almost 125 years. Get ready to celebrate Southern's anniversary in 2018!
**Connecticut State Colleges and Universities