Arts & Sciences Blog: April 25, 2017
As we approach the end of another academic year, I am proud of all that Arts & Sciences has contributed to our University…and it is you who have made this progress possible. Each department, discipline, and program has offered unique and important opportunities for our students. And while this blog can only highlight a few of our collective achievements, let it serve as a reminder of all the good we do with (and for) our students each and every day. I applaud your work; I respect your accomplishments; and I am deeply grateful to have had the privilege of working with you these past four years. Thank you…and bravo!
STUDENT SUCCESSES & HAPPENINGS
Arts & Sciences is proud of all the Barnard Award Winners and we lead with a shout out to our winners, Sadia Younas (CHE) and Brandon Brush (COM). The Dean's Office is especially attached to Brandon who has worked in the Dean's Office for three years. We will soon be bidding him a teary farewell. Best of luck to all the Barnard Award Winners in their future endeavors!
Each April, we invite to our campus the students that we hope will become Owls in the fall. On Saturday, April 1st, Southern welcomed 646 prospective students and their families to Accepted Students Day. With 1800 people on campus, the Southern community including administration, staff, and faculty showed their Southern pride. Associate Dean Bruce Kalk (A&S) gave an inspired welcome and introduction for the School. Many A&S faculty attended this important event. Thuan Vu (ART), Resha Cardone (WLL), Todd Ryder (CHE), and Mike Nizhnikov (PSY) participated in a panel discussion on the college experience. They were joined by students, Julio Badillo (BIO), Megan Baker (PSC), Betzabeth Castro (THR), and Daisha Brabham (HIS). Nineteen faculty representing thirteen A&S departments and twelve students from seven of those departments also participated in the mini-class presentations. Thank you to all that offered a warm welcome to the students and their parents!
Just one week later, on April 8th, President Joe, Dean Christine Broadbridge (GSRI), Dean Steven Breese (A&S), and Dr. C. Michele Thompson (HIS & RSAC, chair) welcomed over 150 students and their faculty mentors to the 3rd Annual Undergraduate Research & Creativity Conference. The School of Arts & Sciences was well represented with nearly all of our programs participating through oral presentations, poster presentations, or artistic works as part of the Art Crawl. It was an inspiring show of scholarship and mentorship that bodes well for the event to carry on for many more years to come. Thank you all for participating!
Also in early April the Political Science department took 23 majors and Honors College students to the Capitol. Students participated in a reception where they networked with legislators, aides and staff. President Ojakian also dropped by to say a few words and to wish the students well. Following the reception, the students observed the House in session and were recognized officially from the floor just before the session adjourned. Finally, the students were given a tour of the Capitol and the Legislative Office building by Michael Downes (PSC, BS '15; PSC, MS), a Southern Alum and current Director of Communications for the House Republicans. The event was organized by Jonathan Wharton (PSC) and Michael Downes.  It is the second year that the Political Science Department has sponsored this event and there was significant growth in participation between this year and last. The Department is beginning to discuss how to grow the event for next year.
Also headed to Hartford were two Journalism students who accompanied their professors to participate in, "The Yanks Are Coming: Connecticut's Commemoration of the United States Entry into World War I," on this 100th anniversary event. Sandra Gomez-Aceves of Meriden, and Adrianna Rochester of Hartford joined Cindy Simoneau (JRN), chair of the Journalism Department, and Jodie Gil (JRN) to present an exhibit to state officials, veterans and educators about the research conducted by Journalism Capstone students last fall on World War I veterans, war memorials across the state and a variety of stories on Connecticut companies and organizations involved in the war effort. All student work will eventually be published on the State Library website with other documents and war artifacts. The World war I project at Southern will continue next fall with two Journalism Capstone classes.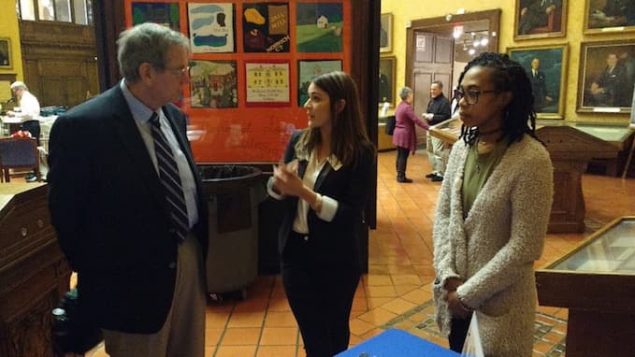 More news from the Creative Writing Program!  Lynn Houston has a poem "She Loves Them Not" forthcoming in Gravel Magazine. Lynn is also on a panel of journal editors at the URI Graduate Conference, and she will give insights to graduate students on best practices for publication submissions, common submissions flaws and the future of academic and literary publishing. Shelby Lanaro had her poem, "God as Woman" published in Dying Dahlia Review. Sean Igoe presented his paper "Understanding Emojis in CMC" at the University of Rhode Island Graduate Conference in early April. Sean has also been accepted into the PhD program in creative writing at URI for Fall, 2017. Congratulations Sean!
In other news of student successes, the History Department is pleased to announce that Dan Fischer (HIS, MA) was accepted into the Mellon Summer Institute for Spanish Paleography at the Newberry in Chicago.  Fischer is one of only 13 people nationwide accepted into the program. Have a great time in Chicago, Dan!
In early March the History Department hosted the annual New Haven History Day Regional Contest.  Troy Paddock (HIS) invited this event to campus and organized the History Department's participation.   Over 200 middle and high school students competed with papers and posters. Southern History faculty, Steve Amerman, Siobhan Carter-David, Marie McDaniel, Virginia Metaxas, Heather Vrana, and C. Michele Thompson served as judges and moderators.
History graduate students, Eric Anderson (HIS, MS) and Emily Gebhardt (HIS, MA) also served as judges, and undergraduates, Megan Baker (PSC), Agnes Bartoszek, Erik D'Aguanno, Linda Darkwah, James Delia, Bridget Frouge, Sarah Gardocki, Marvin Generette, Josh LaBella, Christina LoPreiato, Jamie Kelley, and Angelica Sotomayor also served as judges and/or volunteers.  The History Department hopes this will become an annual event at Southern.
In what has become an annual affair, the four chairs of History Departments at Western, Central, Eastern and Southern (Troy Paddock) hosted the 3rd Annual CSU "Making History" Conference at ECSU. On March 24th faculty and students from the four universities presented their research papers and posters. Southern students were well represented with undergraduates Daisha Brabham, Susan Koral, Michael Szeligowski, Eleni Galanos, Bridget Rogers, John Scaldini, Krystyn Devlin, Ryan Fritz, Pat Comerford, Tom Noonan, Tyler Japs, Linda Darkwah, Chris Herlihy, and Nick Hetzel presenting or joining in a roundtable discussion. Graduate students, Dan Fischer (HIS, MA), Emily Gebhardt (HIS, MA), and Matt Esposito (HIS, MA) joined Southern faculty Marie McDaniel, Troy Rondinone, Jeremy Chandler (ART), and Troy Paddock who also presented their research. Jason Smith, Virginia Metaxas, and Marie McDaniel graciously chaired sessions.
At the recent Spring meeting (April 22nd) of the New England Historical Association[NEHA] held at Salem State University, Matt Esposito (HIS, MA), also presented part of his thesis, "Communication Barriers: The effects of Censorship on the Psychological Health of American Soldiers during World War II."  Great news, Matt! For more NEHA news see below.
Daisha Brabham (HIS '17) has been busy this semester participating in several research events but also writing a play, HOMEGOING, about the History of Black Womanhood in America. As someone who plans to enter the field of Public History, it seemed fitting to her to convert her research into something that could engage a variety of different audiences, particularly the younger generation. The play, beginning with the Yoruba Tradition of West Africa, travels with a number of different African America women such as Venus Hottentot, Billie Holiday and Mammie, detailing the different social constructions that have been created over the centuries. The performance will be a choreo-play, emphasizing physical movement as well as primary source accounts contemporary to the time period. Southern students, as well as two Hill house sophomores have been casted to play the key roles, and six New Haven Middle and High schools have been chosen. The play will take place on April 28-29th 2017 at 7:00pm in ENC112 with doors opening at 6:30pm. Tickets are $5.00 with the 100% of the funds being donated to a local organization that serves African American women. Southern student tickets will be $2.00. Please consider attending.
Many Southern students (including some mentioned above) will be feted at the upcoming Honors Convocation, Sunday April 30th. Please join us in congratulating these exceptional students.
FACULTY SHOUT OUTS
Shafaeat Hossain (CSC) will present his research, "An Empirical Study on Verifier Order Selection in Serial Fusion Based Multi-biometric Verification System," in Arras, France this June at the Artificial Intelligence Conference IEA/AIE 2017–International Conference on Industrial, Engineering, Other Applications of Applied Intelligent Systems. This work was partly sponsored by a MRRC grant. Safe & successful travels to Shafaeat.
C. Michele Thompson (HIS) was recently interviewed, by email, for an article that appeared in the April 5th edition of Scientific American on the use of rhinocerous horn in traditional medicine in Asia and how the fad for this is driving black market slaughter of these animals.
Troy Paddock (HIS) has been elected President of NEHA for 2017-18.  He is the first president of NEHA elected from any CSU school.
In the March edition of Mathenatics Teacher, Marie Nabbout-Cheiban (MAT) was first author on the work, "Revisions of a textbook problem enhance the underlying tasks and foster conceptual understanding" in which teachers are encouraged to use examples that will engage students with real-world contexts while fostering conceptual understanding.
In late March, Byron Nakamura (HIS) chaired and commented on a Panel for the Twelfth Biennial Conference on Shifting Frontiers in Late Antiquity at Yale University.
Also in March, C. Michele Thompson (HIS) attended the annual meeting of the Association for Asian Studies held in Toronto this year, Thompson is an elected member of the Association's Southeast Asia Council and the Executive Committee of the Vietnam Studies Group.
Once again faculty and students were treated to three excellent talks by senior and junior faculty in Arts & Sciences for First Thursdays. Armen Marsoobian (PHI) kicked off the spring semester offerings with "The Presence of Absence: Photography in the Ottoman Armenian Migrant Experience." Darcy Kern (HIS) presented "Religious Pluralism and Reform in the late Middle Ages" in March as part of the SCSU Symposium, What is Reform? 1517 to 2017. In April, Jason W. Smith (HIS) wrapped up the semester's event with "Vessel of Memory: Mystic Seaport Museum, The Whaleship Charles W. Morgan." In this the fourth semester for First Thursdays, we pause to thank Joel Dodson (ENG) who initiated this event to share faculty scholarship in a collegial setting and continues to support such endeavors. Faculty are encouraged to consider presenting their current research and creative endeavors and to contact Joel regarding scheduling for AY 17/18. As always faculty and students are encouraged to attend these presentations to support the fascinating research on-going at Southern.
Vivian Shipley (ENG, CSU Professor) gave a poetry reading on April 1 with Mark Doty at the Paterson Poetry Center as a Paterson Poetry Prize Finalist for Perennial which was also nominated for the Pulitzer Prize. A few days later, Vivian gave a poetry reading at Ringling College of Art + Design followed by writing workshops the next day.
Celebration of Faculty Excellence 2017
On Monday, May 1st, 1-2pm in the Adanti Ballroom, administration, faculty, staff, and students will come together to celebrate the 2017 winners. The School of Arts & Sciences has done quite well this year.
BOR Teaching Award for SCSU – Melissa Talhelm (ENG)
BOR Research Award for SCSU –  Corinne Blackmer (ENG)
BOR Adjunct Teaching Award (SCSU Honoree) –  Lisa Nakamura (HIS)
J. Philip Smith Award for Outstanding Teacher (F/T) – Sarah Roe (PHI) and Margaret Sargent (COM)
J. Philip Smith Award for Outstanding Teacher (P/T) –  Jennifer Lee Magas (ENG)
Faculty Scholar Award – Giuseppina Palma (WLL)
Robert E. Jirsa Service Award – Troy Paddock (HIS)
Outstanding Faculty Adviser Award – Natalie Starling (CSP)
Joan Finn Junior Faculty Research Fellowship recipient –  Matthew Miller (EGMS)
Joan Finn Junior Faculty Research Fellowship recipient – Michael Knell (ESC)
Mid-Level Faculty Research Fellowship recipient – Corinne Blackmer (ENG)
Senior-Level Faculty Research Fellowship recipient – Elliott Horch (PHY)
Million Dollar Club Inductees – Barbara Aronson (NUR) and Elliott Horch (PHY)
A special note of thanks to the members of the various committees for their time and thoughtful deliberations in making these recommendations for my approval.
The Faculty Scholar Committee, chaired by William Lunn (EXS)
The Robert E. Jirsa Service Award Committee, chaired by Maria Diamantis (MAT)
The Research and Scholarship advisory Committee (RSAC), chaired by C. Michele Thompson (HIS)
The J. Philip Smith Outstanding Teaching Award Committee, chaired by Bonnie Farley-Lucas (COM)
Please take a moment to look at the A&S Strategic Plan.
Thank you to the co-chairs of this committee, Craig Hlavac (MUS), Therese Bennett (MAT), Christine Broadbridge (GSRI), and Bruce Kalk (A&S), for guiding such a collegial project. For their discerning work we also thank the committee members: Rachael Vaters-Carr (ART), Joseph Manzella (ANT), Nicholas Edgington (BIO), Jiongdong Pang (CHE), David Petroski (COM), Imad Antonios (CSC), Michael Knell (ESC), Patrick Heidkamp (EGMS), Vara Neverow (ENG),  Steven Judd (HIS), Terese Gemme (HON), Frank Harris (JRN), Raymond Mugno (MAT), Karen Burke (MDS), David Pettigrew (PHI), Karen Cummings (PHY), Patricia Olney (PSC), Julia Irwin (PSY), Jessica Kenty-Drane (SOC), Michael Skinner (THR), Giuseppina Palma (WLL), and Tricia Lin (WMS). All of you should be very proud of the work that you accomplished and the academic tone you have set for the future.
EVENTS
In early March, the Department of History, the Multicultural Center, and the Black Student Union presented an evening with George Edwards, the founding member of the Connecticut State Chapter of the Original Black Panther Party for Self Defense. Siobhan Carter-David (HIS) hosted a 2 ½ hour interview followed by a public Q&A. This well-attended event touched on several important events and those in attendance addressed not only historical information but relevant issues still reverberating today.
Also in early March in celebration of International Women's Day, Pina Palma (WLL, ITA) (through the support of a Faculty Development Grant) invited Ombretta Frau from Mount Holyoke College to talk on the subject, "Accidental Heroines: Spinsters in Early 20th Century Italy." As part of the "Strong Women, Strong Voices" lecture series Dr. Frau presented her important research on this topic.
Just across the way the Werth Center for Coastal and Marine Studies sponsored the 14th Annual Long Island Sound Seminar Series with Koty Sharp, Assistant Professor of Biology at Roger Williams University, presenting a talk, "Exploring New England's Reefs: Using the Coral Astrangia poculata to Shed Light on Tropical Coral Microbiomes." A few weeks later this coral was in view at the Werth Center Aquarium Open House.
On March 21st, Southern's Science Building (SCI 111) hosted the Werth Center Aquarium Open House. Werth Center faculty and students provided information on the fish and invertebrates in the tanks, demonstrated how the organisms are fed, toured the basement filtration systems, and allowed students to interact with organisms in the touch tanks. Sean Grace (BIO) supplied samples of the temperate coral (Astrangia poculata) for viewing. The coral continues to thrive in the touch tank. The following students provided information and tours during the event: Nick DeVito (BIO), Hollie Brandstatter (EGMS), Nicole Woosley (BIO), Matthew Connors (EGMS), Mallery Breban (BIO) and Cassandra Bhageloo (BIO). Marine Sciences faculty, Vince Breslin (EGMS) and James Tait (EGMS) also participated in the event.   This Open House is part of a year-long celebration of the fish in the tanks. If you missed the birthday/anniversary cake, take a moment to walk through the Science Building and say hello to the fish in the tanks. Students and faculty are welcome to stop in the lab for viewing or questions when students are conducting water quality testing or feeding the fish.
The following day STEM-IL and the School of Education presented "Project EcoLearn: Virtual Enviroments & Augmented Reality for STEM and Inquiry Learning," with Amy M. Kamarainen, Senior Research Manager from Harvard Graduate School of Education. Dr. Kamarainen shared research findings from recent projects (e.g., EcoMOBILE, EcoXPT, & EcoMOD) and future directions for using digital technologies for student engagement in and out of the classroom. A hands-on exploration followed her presentation.
Mary Brown (ENG) (with Elsie Okobi, EDL) through the support of a Faculty Development Grant presented on April 21st, a one-day workshop, "Bringing GIS into the Humanities and Education Classroom." During the morning session, participants worked through a cookbook-style manual developed for this workshop by the University of Connecticut's Center for Land use Education and Research (CLEAR). Geospatial Extension Educators from CLEAR assisted participants while leading them through interactive, hands-on learning. Participants also learned how to search for and incorporate existing GIS-based materials into their lessons. Participants left the workshop with a better understanding of how web GIS can be used as an effective tool in their classrooms and with resources, including a detailed manual and web links, to help ensure successful implementation in their curriculum.
Finally, we cannot post this blog without mentioning something about the big events associated with the Inauguration of President Joe. Among the many events scheduled for the week of celebration culminating with the inauguration are the Saturday celebration of service for students to work in New Haven neighborhoods; Sunday's Celebration of Philanthropy to honor the current awardees of scholarships and those who have established them; Monday's remembrance with the University Choir Concert in honor of Holocaust Memorial Day and the 100th Anniversary of the founding of the New Haven NAACP; Tuesday's celebration of Student Leadership; Wednesday's celebration of Faculty Scholarship; Thursday's Student Appreciation day and New Haven Accepted Students' day; and Friday's Inauguration followed by a celebratory picnic. Do not forget to RSVP!