What Should I Backup to OneDrive?
There are many reasons why files on your computer may be lost or corrupted, and not all are easily fixed. When data loss occurs, often the only option is to restore from a backup. The best way to protect your data is to make sure copies of your files are stored somewhere else.
Here are some tips to help you choose what you need to backup and what you don't.
Please Backup:
Your User Folder

Windows 7 or 10: C:\users\yourusername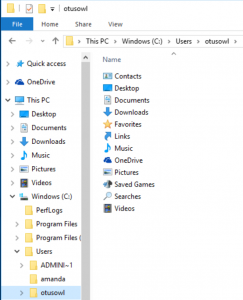 MacOS: Macintosh HD\users\yourusername aka "Home"
Other Data Folders

If you have programs that save files in other areas, you will need to locate those files and save copies.
Do Not Backup:
Your Programs or Applications

Many of these can be easily reinstalled. If there are certain programs that contain critical information stored within them, research how a data export can be done and save the exported file as your backup.

Your Windows folder

On a Windows computer, this folder contains many system files that can be easily reinstalled with a new operating system.

Folders that are already backed up with a cloud service (Dropbox, Google Drive, etc.)

These files stored on your computer are backed up online which can be restored to your computer again later.