Women's Soccer in Spain: Blog Entry 6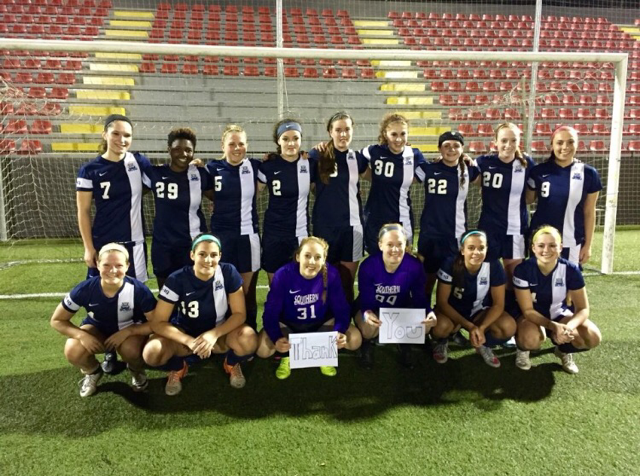 This entry was written by Maeghan Howard and Hannah Bodner
Day 6 – March 24, 2016
This morning the team woke up around 9:30am for breakfast at the hotel. The hotel breakfast, much like the last hotel in valencia, offers a wide selection of food and includes a chef who takes personal requests. After breakfast we had a team stretch, led by Coach Katie. Groans were heard all around as we were asked to reach to our toes. Everyone was visibly sore and tight from the tough and physical game we had played the night before.
After the stretch we all headed back up to our rooms, expecting to quickly get our wallets and bags and leave for shopping in downtown Barcelona. It did not go this smoothly, however, 13 of us piled into the elevator and we noticed a red flashing sign that read 800 kilograms. We had gone over the weight limit and as the elevator doors began to close, 2 of us managed to slip out. Despite our last minute effort to go under the weight limit, the doors shut and the red light remained on. 11 of us were stuck, our lives flashing before our eyes. About 8 minutes passed and we managed to pry open the doors before the fire department needed to be called to come save us.
With this traumatic experience behind us, we left for downtown Barcelona. Here we were given 4 hours to walk around, shop, and eat. Most of us were loured into small tourist shops with trinkets, magnets and soccer jerseys that we had planned to get for family and friends. Our favorite store, however, had to have been Nike. We walked in with wide eyes, many of us wishing we had taken more money off of our debit cards, some of us wishing we hadn't. It's safe to say that Nike had a good sales day as most of us walked out with either jackets or shoes.
After the Nike store we headed to the market area for lunch. The market has pretty much any kind of food you can imagine, which is perfect for our team's wide variety of preferred tastes and foods. After eating lunch, most of us went to get the juice that can be found everywhere in the market. This is fresh fruit juice and comes in many different flavors, definitely one of the teams favorite parts of the market.
After the market we headed back to our hotel and most of us took a quick nap before we got ready for our game against Sant Andreu. When we got to the field we were excited and impressed to find that it was surrounded by stadium seating. Naturally we all took out our phones and recorded videos and snapchats to show our families and friends.
During the game our team was able to connect well together and play as one unit which helped us to come up with the result we were hoping for. It was a competitive game, but we were able to come out on top, with a score of 2-1 (goals from Caroline and Keri). Playing against 2 Spanish teams gave our team an experience that we are all extremely grateful for. Both teams were very technical and had a style of play that we have never played against. Playing against them was not only fun, but also taught us many things about the game.
After our game we went to the train station below our hotel and quickly ate dinner. I'm sure tonight we will all sleep well and wake up ready for the eventful day ahead of us.
Maeghan Howard and Hannah Bodner