Women's Soccer In Spain: Blog Entry 1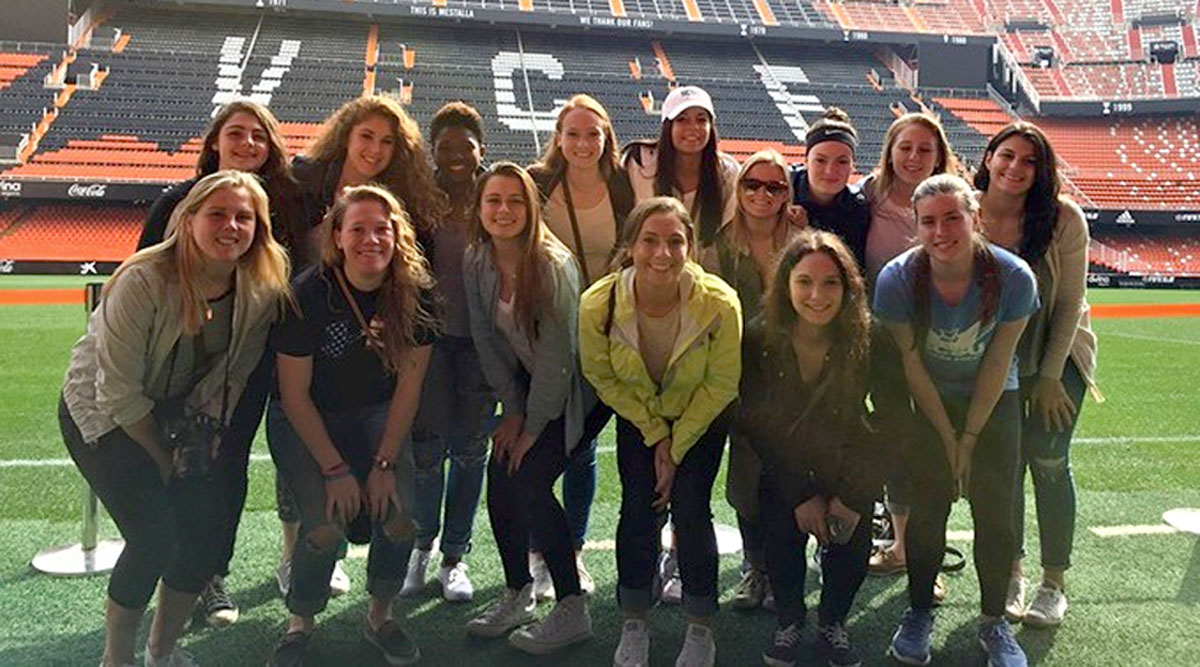 The first entry below was written by Maeghan Howard and Hannah Bodner:
Today was a tiring, yet exciting day for the Lady Owls. We started our journey by meeting in the Moore Field House to set off to JFK with Alex Deangelo and Coach Legates, two volunteers that drove the vans back from the airport (Thank you Porter and Chris Legates!!). After a successful check-in, no time was wasted before searching for our first meal, with most choosing the classic american cuisine, McDonalds. The outlet station was taken over by our team, of course, lounging under the overhang and frequent walk-by clicks to check the percentage in which our iPhones were at. After about three hours, it was time to start boarding the plane. Any nerves about flying were quickly forgotten when we walked on the plane to realize it was equipped with personal TV screens and countless music and movie selections and Wifi. The six and a half hour flight was a breeze.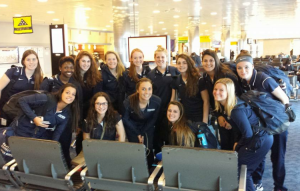 Upon arriving in Spain, despite the minimal amount of hours slept on the plane, our grins were wider than we could've imagined they would be. We found our luggage efficiently and met our tour guide Joey, who will be with us for the rest of the trip. Several players then exchanged currency in the airport during this time.
The next two hours were spent on a bus to Peníscola where we had about an hour and a half of free time to visit the castle and eat lunch. In Spain they eat lunch a bit later than us (around 1-2 p.m.). This was abundantly clear as our hungry bellies were searching for any open place to eat. As soon as we found the first open café, about 12 of us piled in. Struggling to find the words to communicate to our waitress, we managed to order our first Spanish meal. We were a little late to meet back at the bus, but it was ok because we were on Spanish time now!
Another two hours were spent on our bus heading towards Valencia. Once we got to our hotel, Joey spoke a few words to the group and immediately started handing room keys out to each pair. We eagerly went to our rooms, some to find great street views, and others to find extra beds. We were then given the choice to rest before dinner or explore our new surroundings. Obviously this group chose to explore the new streets of Valencia. After changing quickly in our rooms, we met up in the lobby minutes later. We headed towards the right as Joey suggested, later to find out left was the direction we intended to go in. However, we were not disappointed when we found a local restaurant. There we tried several tapas and some local beverages. Some of the tapas included: calamari, chips and salsa (which, come to our surprise, are fries and a garlic and a ketchup type red sauce) and croquetas. Special shoutout to Victoria Conde's father who is the master at making these wonderful croquetas. After about an hour and a half, it was time to head back to the hotel to meet the coaches and Joey for dinner.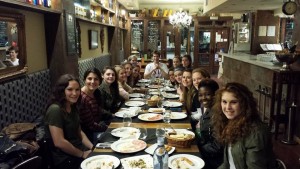 Typically, dinner in America has an appetizer or two for the group and a main course, followed by an optional dessert. This was not the case for our first Spanish dinner. We were having tapas for our first night. Plate after plate kept being placed in front of us, never knowing which was our last. Plates included: a continuous supply of bread (Taylor Bilyak's personal favorite), Spanish ham, fried shrimp, eggs and black sausage, chorizo, pork, fish crépe, and a dessert dish that had chocolate cake, cream puffs, tart cake, and vanilla ice cream. Dinner was then followed by a generous homemade herbal shot meant to help with digestion, a traditional Spanish drink after a big dinner.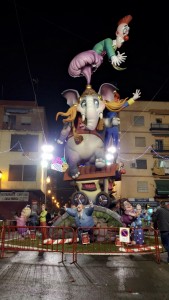 Knowing that our curfew was 11:00 p.m., we searched the streets for any sign of Las Fallas. This is a festival in Spain where groups of people spend the year creating a sculpture. On this day the sculptures are displayed and around midnight all but one are burnt. The streets are filled with fireworks throughout the entire day, and as we were able to experience, people of all ages gathered together and paraded to celebrate the festival. We were able to watch one of the statues burn, standing a bit too close at first. Ropes of fireworks were wrapped around the sculpture and as soon as the rope was lit several miniature explosions occurred, sending us jumping back in surprise and excitement.
After we got to experience part of this cultural festival, we headed back to our rooms for a much needed long night of sleep. We were excited to see what day 2 had in store for us.