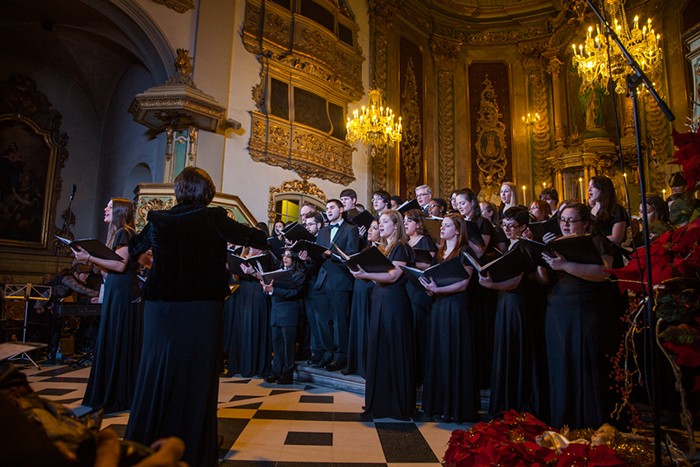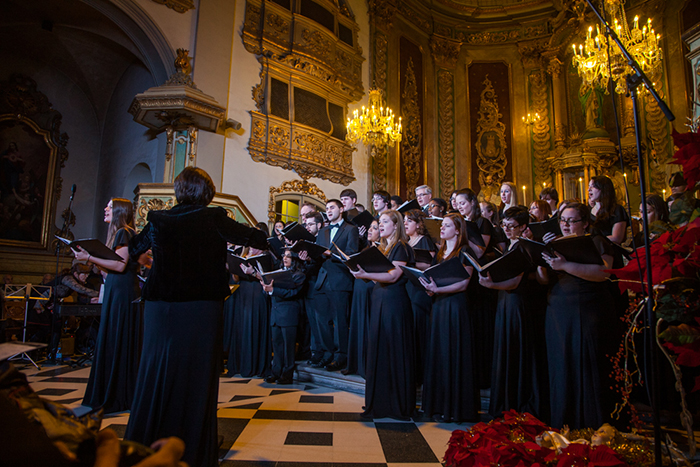 Southern's globe-trotting University Choir, led by Director Terese Gemme, travels to Greece this Sunday, thanks to the vision and support of Walter Stutzman and the Stutzman Foundation.
The choir has previously traveled to Ireland, England, and Spain, working with internationally-known guest conductors such as Simon Carrington and Craig Hella Johnson. This year's 53-strong choir will be made up of current students, SCSU alumni, and longtime community members, and will once again be working with Simon Carrington. Also traveling with the group through Jan. 4 will be students from the Honors College class "The History of Athens."
By arrangement with host company KIconcerts, our choir will be performing in several venues around Athens, including, by special invitation from the city, a Gala New Year's concert at Syntagma Square. On Jan. 2, the choir will perform as part of a special holiday program at the Piraeus Municipal Hall, a classic architectural gem.
In addition to a busy rehearsal and concert schedule in Athens, the choir will travel to the islands of Hydra and Aegina, Delphi, and Corinth. This exciting trip will once again enhance the students' musical education and global awareness, while providing them with a life-changing experience.
"Being able to perform great music with new friends from around the world in historic venues is awe-inspiring, and these trips, with their combination of musical inspiration, cultural exploration, personal discovery, and community-building experiences have been life-changing events for everyone,' Terese Gemme said. "As an educator and as a musician, I can't think of any more worthwhile endeavor."
And KIconcerts President Oliver Scofield added: "SCSU is a choir that does more than sing for the sake of singing; through performance SCSU engages its students with the larger world as ambassadors of peace, bridges between cultures and custodians of better futures for humanity."